Durango Arts Center stages 'Rocky Horror'
LOS ANGELES – The shooting death of a cinematographer on the set of the set of the Alec Baldwin movie "Rust" is a reminder of the dangers that can exist on film and television sets. As aut...
LOS ANGELES – Peter Scolari, a versatile character actor whose television roles included a yuppie producer on "Newhart" and a closeted dad on "Girls" and who was on Broadway with longtime f...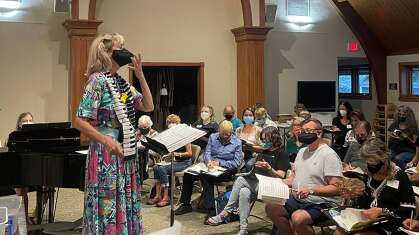 50th season anniversary resumes with 'Viva Vivaldi!'
NEW YORK – Since returning to Broadway's "American Utopia" after the pandemic pause, David Byrne has noticed a few things about his audience: It seems younger, a little more diverse and peo...
Gaslight Twin Cinema 102 E. Fifth St., Durango, 247-8133, www.allentheatresinc.com Dune Paul Atreides, a brilliant and gifted young man born into a great destiny beyond his understandi...
In "Daughter of the Morning Star," the 17th book in Craig Johnson's well-loved Longmire series, Walt and Henry Standing Bear, otherwise known as the Cheyenne Nation, are out of Walt's distr...
Highlight of the Week Durango Craft Spirits is once again the place where iAM MUSIC will take over for an afternoon/evening of performances. There will be two shows on Saturday: an early sho...
LOS ANGELES (AP) — Warner Bros. has unveiled its trailer for "The Batman," which features Robert Pattinson's first bone-crunching turn as a DC Comics superhero. The trailer unveiled Saturd...
The 11th annual 10 Minute Playfest will be staged at 7 p.m. Friday (Oct. 15) and Saturday and at 3 p.m. Sunday at Durango Arts Center, 8023 East Second Ave. This year's lineup includes: "All...
Merely Players theater company will hold auditions for its spring production of "Matilda: The Musical." Adult auditions will be held from 6 to 9 p.m. Nov. 2. Youth auditions (ages fifth grad...