Judith Reynolds
Position: Staff reporter
3rd Ave. Arts to conclude winter music season Friday
DATE: Apr 11, 2019 | CATEGORY: Music
Concerto winner and a premiere on ambitious program
DATE: Apr 11, 2019 | CATEGORY: Music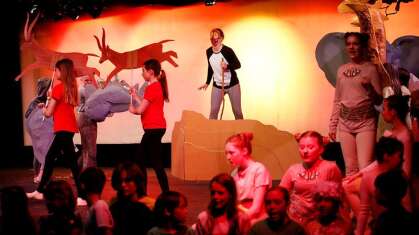 Lions and tigers and buzzards, zebras, giraffes, gazelles, elephants, wildebeests, macaws, tree frogs, field mice and fireflies. That's a selection of the animals, birds and inse...
"Bigger than a Buick." That's a line from "My Favorite Year," the Dougherty-Flaherty-Ahrens musical running through this weekend at Fort Lewis College. It's repeated more than on...
For Benjy Stone, 1954 was "My Favorite Year." As he makes clear, "not the best year, but my favorite." For the 1992 Broadway musical of the same title, the distinction between bes...
Of course, the poster child for the Durango Bach Festival is none other than the Baroque composer himself. A stylized four-part graphic illuminates the festival's website and brochures. A hu...
There are four reasons to see Saturday's MET Live in HD performance of Donizetti's "Daughter of the Regiment" – (and one not to). Donizetti's 1840 comedic opera, "The Daughter...
A sultan, a faithless queen, emirs, wazirs, lords, grandees, pirates, carnivals and shipwrecks. A pair of star-crossed lovers. Beauty and the Beast. Tom Thumb. And, most of all, one very sma...
DATE: Feb 22, 2019 | CATEGORY: Music
Theater company opens award-winning play at Durango Arts Center
Animal lovers, rejoice: A concert just for you is on the immediate horizon. Titled "Wild Kingdom," the concert will feature "music about all things that scurry, bound and fly," sa...
DATE: Feb 7, 2019 | CATEGORY: Music
The MET Live in HD presents Bizet's 'Carmen'
Annual event to leave venue at Purgatory
DATE: Jan 17, 2019 | CATEGORY: Music