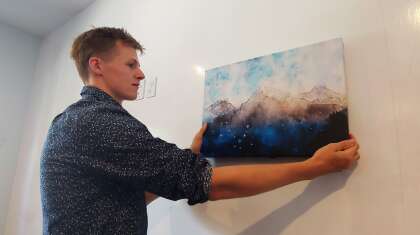 Distributed mode loudspeaker tech transforms images into audio-visual experiences
The Silverpick Lodge recently changed ownership. The new owners, Jamie Matthews and his wife, Mary Clare, are from Austin, Texas, and have strong ties to Colorado, having lived and spent tim...
DHM Design is happy to announce the promotion of Garrett Watkins within its Durango office to associate. With a degree in Architecture, Garrett began his career with a focus on the interact...
On Friday, from 11 a.m. to 1 p.m., Comfort Keepers In Home Care employees, clients and community members will be celebrating their new office space at 691 County Road 233, Suite A5 in Durang...
NAMBÉ, N.M. – Carmaker Tesla has opened a store and repair shop on Native American land for the first time, marking a new approach to its yearslong fight to sell cars directly to consumers a...
John A. Rothchild was recently designated as a diplomate of the American Board of Dental Sleep Medicine. The ABDSM is the national testing organization for dentists who treat snoring and obs...
The Community Foundation serving Southwest Colorado offers pandemic recovery grants through the Community Emergency Relief Fund to nonprofits across Southwest Colorado. $300,000 has been de...
ALBUQUERQUE – Advocates for the oil and gas industry and the environment are at odds over the latest draft of proposed regulations to tamp down on smog-causing pollution. A New Mexico Envir...
Region 9 Economic Development District was recognized with a 2021 Aliceann Wohlbruck NADO Impact Award. The award program honors regional organizations for their creative approaches to adva...
La Plata County Historical Society named Roseann McDermott its new development director. McDermott will support LPCHS with all aspects of resource development. LPCHS owns and operates the A...
Cannabidiol beverages now available from Alaska to Florida
Councilors discuss parameters for income range that would be targeted