Blue Mountain Tribe's song, video gaining worldwide attention
NEW YORK – The Rolling Stones announced on Thursday the relaunch of their U.S. "No Filter" tour, which had been derailed by the pandemic, beginning in St. Louis on Sept. 26. "I'm so excited...
SunRay Park and Casino will resume hosting Comedy Nights at 7 p.m. Saturday, July 24, at the casino, 39 County Road 5568. Listen to the comedy of Don Barnhart and Guy Fessenden while enjoyi...
LOS ANGELES – Biz Markie, a hip-hop staple known for his beatboxing prowess, turntable mastery and the 1989 classic "Just a Friend," has died. He was 57. Markie's representative, Jenni Izum...
DATE: Jul. 16, 2021 | CATEGORY: Music
Rochester Hotel's Secret Garden will again host The Community Foundation's Community Concerts series from 5 to 7 p.m. Wednesdays in August. Nonprofits to be benefited by the series are Bear ...
LONDON – Two former members of the Sex Pistols are suing singer Johnny Rotten for the right to use the band's songs in an upcoming television series about the anarchic punk rock icons. Guit...
DATE: Jul. 15, 2021 | CATEGORY: Music
Summer Fest and arts and crafts bazaar feature 80 vendors
Crossover music, chocolate and an outdoor picnic start Friday
DATE: Jul. 15, 2021 | CATEGORY: Music
Dinner and Family Concert at to be held at Community Concert Hall at Fort Lewis College
27th annual festival to be held in September in Telluride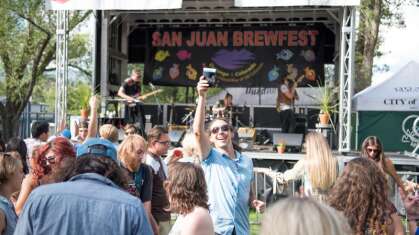 August 2021 festival will feature fewer breweries but same number of beers
DATE: Jul. 13, 2021 | CATEGORY: Food
The American Indian Cultural ArtsFest will take place from 10 a.m. to 3 p.m. Saturday, July 24, at Aztec Ruins National Monument, 725 Ruins Road, Aztec. The event will feature diverse artis...
Subscribe
Sign up for our daily email newsletter or to receive breaking news delivered to your inbox: