Durango youth football players get their seasons underway
DATE: Sep 2, 2021 | CATEGORY: Sports
Wolverines to host home opener Saturday against Englewood
DATE: Aug 31, 2021 | CATEGORY: Sports
Barnes rushes for 4 TDs, nearly 200 yards in win
DATE: Aug 31, 2021 | CATEGORY: Sports
DATE: Aug 27, 2021 | CATEGORY: Gallery
Durango High School scores 58-0 victory to begin season
DATE: Aug 27, 2021 | CATEGORY: Sports
Ignacio hosting Roaring Fork at 11 a.m.
DATE: Aug 27, 2021 | CATEGORY: Sports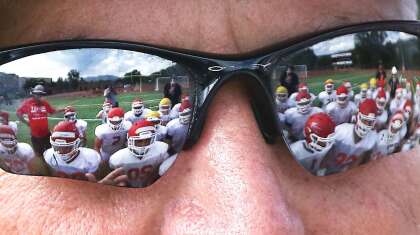 Defending state champs won't have an easy game during title defense
DATE: Aug 20, 2021 | CATEGORY: Sports
ENGLEWOOD, Colo. — The Denver Broncos had to move their only scheduled stadium practice indoors Sunday because of smoky skies from the California wildfires that made Denver's air among the...
Bayfield to kick off Aug. 27 in Blanding, Utah
DATE: Aug 6, 2021 | CATEGORY: Sports
Jake Butt, the once-promising tight end whose football career was waylaid by six knee operations, announced his retirement from the NFL on Thursday, saying he could no longer hide the fact that he'd lost his passion for the game he loves.
RICHMOND, Va. (AP) — Washington Football President Jason Wright said Thursday the organization has significantly trimmed the list of potential team names, with the unveiling expected before ...
DENVER (AP) — Steve Atwater was in his second season with the Denver Broncos in 1990 when then-public relations chief Jim Saccomano approached him a few days before their home opener against...
DATE: Jul 29, 2021 | CATEGORY: Sports