Bus allows family business to reach other parts of La Plata County
For the last five years, 425 Degrees Take & Bake Pizza at Elmore's Corner east of Durango has been providing a family-owned option for cook-it-yourself pies, especially for residents of eastern La Plata County.
Husband and wife co-owners Micheal and Tiffany Gunn were living in Denver when Michael's dad called him and asked if he'd like to start a take-and-bake pizza place. They had previously operated a pizzeria in Denver. Gunn's father knew the owner of the convenience store at Elmore's Corner, and when the owner of the store expressed interest in leasing part of it for food, the Gunns leapt at the opportunity. The pizza business began in June 2015, and the Gunns took over the whole store in January 2016, Michael Gunn said.
Take-and-bake seemed like a good idea because while the area has many pizza options, there are very few that specialize in uncooked pies.
"We thought that it was more of a unique idea ... you have all these choices for cooked pizzas, but as far as take-and-bake – where you take it home, throw it in the oven and have it hot and ready at home, rather than driving while it gets cold – there's a niche market for it," Gunn said.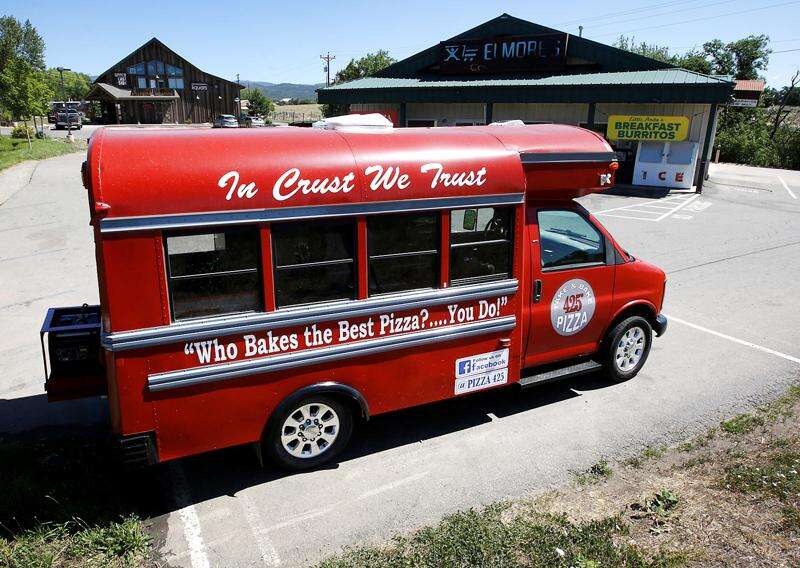 After several years of running the business, they started talking about having nights where they travel out to various neighborhoods and offer pizzas on the spot, Gunn said. The location at the intersection of U.S. Highway 160 and Colorado Highway 172 is convenient for commuters east of Durango, but not for other residents of the county.
"Everybody out here was saying how they loved our pizza. Well, we want the rest of the county to be able to enjoy it as well," he said.
When he eventually found a bus on Craigslist, the plan was set in motion. The bus, which is now painted red, can be found at Hermosa Creek Grill on Tuesdays. The family is still seeking locations to set up shop on other days in other neighborhoods.
In addition to its take-and-bake pies, which cost from $16 and up, 425 offers cooked pizza by the slice from 10 a.m. to about 6 or 7 p.m., Gunn said. The eatery also makes Cheezy Bread, garlic knots, buffalo wings, ice cream pies and cookie dough.
Of its specialty pies, perhaps its most unique is the "Nacho Grande."
"We use picante sauce as the sauce, cheddar cheese, beef, crushed-up chips and your choice the veggies," he said.
ngonzales@durangoherald.com