Units expected to be ready by or before summer 2024
Excavation for an affordable workforce housing project that will erect 66 deed-restricted townhomes in Bayfield is scheduled to break ground on Oct. 3.
The Pine River Commons project will be located 2107 Bayfield Parkway. Assuming a mild winter is in store for Southwest Colorado, units should be ready for sale by early spring or summer 2024, Bayfield Haga LLC project manager Brad Blake said Friday.
He said Bayfield Haga is aiming to target workers earning 120% area median income, although the unit sale prices will be partly determined by the town of Bayfield's and the developer's ability to secure grants to help fund the project.
"That's a bigger task than we had hoped it would be just because there's so much demand for grant money," Blake said. "But the more grants that we can get, the better price point we will have."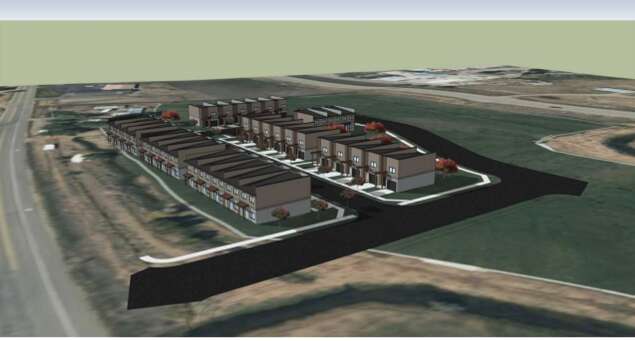 He said the goal is to secure infrastructure grants right away. Bayfield Haga is working with the town of Bayfield to apply for strong community grants on the development's behalf. The developer is also working with the Colorado Department of Local Affairs to explore more grant opportunities.
Bayfield Haga founder Charlie Albert said he'd like to rate the townhomes at $350,000 with funding aid from state grants. If those grants can't be secured, he thinks he will at least be able to keep them below $400,000.
The Pine River Commons is a very large affordable workforce housing development for the town of Bayfield, where working people have struggled to find housing for decades, Blake said.
Blake said some townhomes, each around 1,300 square feet, will have two bedrooms while others will have three, and each unit will have two bathrooms and a garage.
"It'll be in a great location because it's just on the far side of Bayfield near the Evening Porch (assisted living facility)," he said.
The townhomes are within walking and biking distance of the Pine River Library and Bayfield schools, he said.
Blake said Albert is passionate about building homes for Bayfield-area workers.
Albert, who oversees Bayfield Haga and his nonprofit Escuelo San Mateo, is 85 years old and said he doesn't need to save money for retirement.
"We're just trying to do (the development as) more of a chairlift to people that work hard," he said.
Blake said the town of Bayfield has been easy to work with. Like Albert, town staff members are interested in increasing Bayfield's affordable workforce housing stock.
Prospective homebuyers are encouraged to pre-apply for units with HomesFund, with applications opening possibly in October, he said.
"They (HomesFund) have some really, really excellent programs for people to get some down payment money for their house and also low interest loans," Blake said.
He said Bayfield Haga will likely engage with a real estate agent at some point, but agents charge a "pretty big chunk of change" to sell homes, which increases project costs, and so the developer is still weighing its options.
cburney@durangoherald.com