Chef Michel Poumay cooks up pastries with personality, professionalism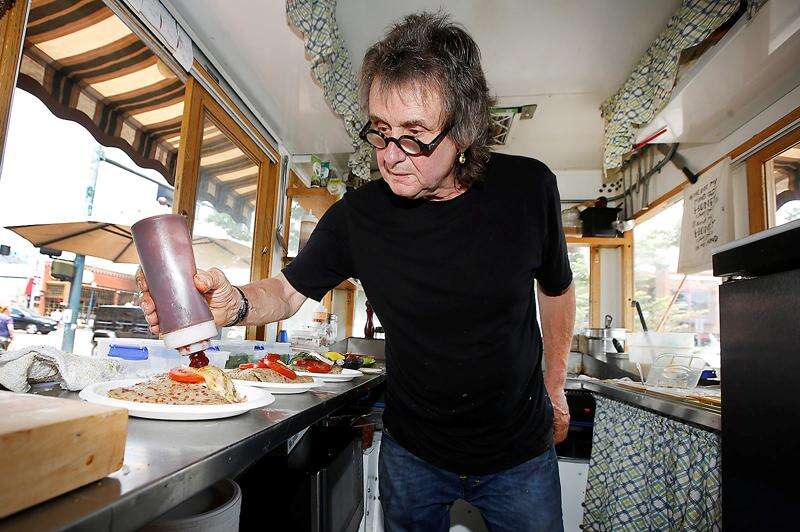 It's a sweltering summer afternoon – 93 degrees with endless sunshine pouring onto Durango's Main Avenue, which buzzes with energy from tourists and locals alike. At the southeast corner of Main venue and College Drive, the heat and sunshine seem to only intensify the allure of the little outdoor restaurant stand and its whimsical courtyard garden with petunias and geraniums.
Sitting with her family and shielded from the sun by a large umbrella at one of the stand's several tables, 8-year-old Chloe Lalama isn't concerned with the weather. She's too busy delighting in the treat in front of her – a sugar and cinnamon crepe prepared by Michel Poumay, chef, owner and sole operator of the creperie Michel's Corner.
"I like crepes," Chloe says with a huge grin. "And I want to be a French pastry chef."
Her 11-year-old brother Rai also chose a sweet crepe, opting for chocolate, banana and almond.
Chloe's mother, Rachel, explains that they're visiting from Tucson and have wanted to eat at Michel's since they arrived, and this was their chance. And for the Lalamas, the crepes did not disappoint.
"These are better than any we had in France," says Shelby Lalama, Rachel's husband and father of Chloe and Rai.
There may be good reason for that, given Poumay's background and nearly lifelong exploration of the culinary arts.
During his childhood in Liège, Belgium, Poumay quickly figured out that a traditional academic education was not for him.
"I didn't want to go to school," Poumay said with a laugh, "but my father told me I had to learn a profession."
Luckily enough, Poumay's father worked in the hotel business, and Poumay was able to explore various areas of the hospitality industry. Soon enough, Poumay found his calling.
"I ended up in the kitchen," he said. "I loved the kitchen."
Since that moment, Poumay has followed a path paved with smart professional choices, good business deals and distinguished culinary awards and honors, such as accolades from Wine Spectator and being named one of the 33 lifelong Master Chefs by Belgium's Culinary Society.
As Poumay recounts, and according to previous reports in The Durango Herald and Denver Post, he was trained in French cooking at the Ecole Hoteliere de Liege-Culinary in Belgium, after which he worked at a Honduran hotel opened by his father, and moved to the United States in 1972.
In the U.S., "there was a demand for guys like me," Poumay said. "The American public was changing their eating habits, and French cuisine was becoming very big."
After jobs in Denver, Aspen and Las Vegas – a time during which he prepared meals for the likes of the queen mother and the chancellor of Germany – Poumay eventually made his way back to the Aspen area in the early 1980s, where he became the chef, and eventual owner, of the successful Chez Grand-Mere in Snowmass. He sold that restaurant in 1993, and soon thereafter, Durango property developer Jim Jackson enticed Poumay to open a new Chez Grand-Mere in Durango in 1996, located where T's Smokehouse now operates at 3 Depot Place.
Though Durango's Chez Grand-Mere proved popular, after more than 10 years, Poumay found himself tired. "It was a destination restaurant, but it was hard to maintain," Poumay explained. "I said to myself, 'I can't do it anymore.'"
But soon enough, inspiration struck.
"I've got an idea," he remembers thinking. "I want to have that corner."
And since Michel's Corner opened in 2009, there's been no looking back. Through just word-of-mouth advertising and positive user reviews on websites such as TripAdvisor.com and Yelp.com, the little stand has carved out its distinct place within the Durango culinary and community landscape.
According to some, this has as much to do with Poumay's personality as it does with his crepes.
"Michel carries a certain aura about him," says Ryan Lowe, chef and general manager of the Ore House. "He's an amazing man and incredible individual."
Lowe says that Poumay manages to assert his talent and capabilities without giving credence to the menacing chef caricature so often depicted in popular culture.
"This is a highly demanding field that requires you to carry yourself in a certain way – I think chefs can be intimidating," Lowe said. "But right away, Michel debunks that in his authenticity."
Lowe also sees the success of Michel's Corner as an invitation to other Durango chefs to experiment with the boundaries of traditional restaurants.
"It's important for us to recognize in all communities that there are all kind of dining experiences," Lowe says. He contends that Poumay's permanent spot for his food-truck-like stand is significant because "we need more and we need to balance fine dining with casual spots that give chefs a chance to start."
Amy Jackson of the Durango property management company Jackson & Jackson, which owns property along Main Avenue, agrees.
"Michel's Corner stands out because it is so lovely. People like to sit outside café-style," she said, while also noting that the stand's popularity comes largely from Michel's personality. "You've got to love him. He's a character."
For Poumay, the reward comes with being in control of his schedule and staff, as his staff is only him. But because of this, he also directly sees the gratitude of his customers.
"People are so happy with what I give them," Michel said. "They appreciate to get a taste of what I can do for only $12."
Contact Paige Gray at blankpaige@gmail.com.
Michel Poumay: Behind the Chef
What is your favorite thing to cook? I love cooking all wild games (hare, elk, venison) but especially small birds (partridge, quail, woodcock, guinea hen, pheasant).
What do your friends and family ask you to cook the most? I make a mean vegetarian lasagna.
Do you have a favorite chef? Paul Bocuse was always my favorite chef since I was trained in French cooking.
Do you have a favorite ingredient? I think sea salt butter or sweet butter from Normandy (depending on what you are preparing) is a must.
What would you like to cook but have never tried? Always would love to prepare authentic Asian food (which is my favorite ethnic food). Also sushi.
Michel's Corner is at 598 Main Ave. The restaurant's hours are 10 a.m. to 3 p.m.,Tuesday though Saturday.