Swordplay and showmanship drew crowds at Friday's Snowdown Tournament and Renaissance Fair
"The Adventurous Knight shall use his foil and target," wrote Shakespeare.
Indeed, the knights of Friday's Snowdown Tournament and Renaissance were a highlight of the festivities, as they drew their swords and axes and whatever other weapons they had with them to fight one another.
The weapons were real, not props the participants picked up from Party City. The sound of the metal swords and axes clanging against armor and helmets drew oohs and ahhs from the crowd. Many flinched and backed away from raw brutality of the fighting, even though the crowd was already moved a few feet back from the arena for safety reasons.
An arena was set up in the parking lot of the Durango Transit Center as the central focus of the Renaissance Fair, which also had a few vendors, a band, and other Shakespeare-era inspired acts involving fire performers and magicians.
Those expecting to watch cosplay-type duels with plastic swords and maces were surprised to find a more demolition derby-esque setup in which several teams of knights were thrown into the arena to fight one another until only one knight was left standing.
"Holy moly!" said one spectator when a knight hit another so hard on the back of the helmet, it sent the wounded knight careening to the ground. "That looks painful!"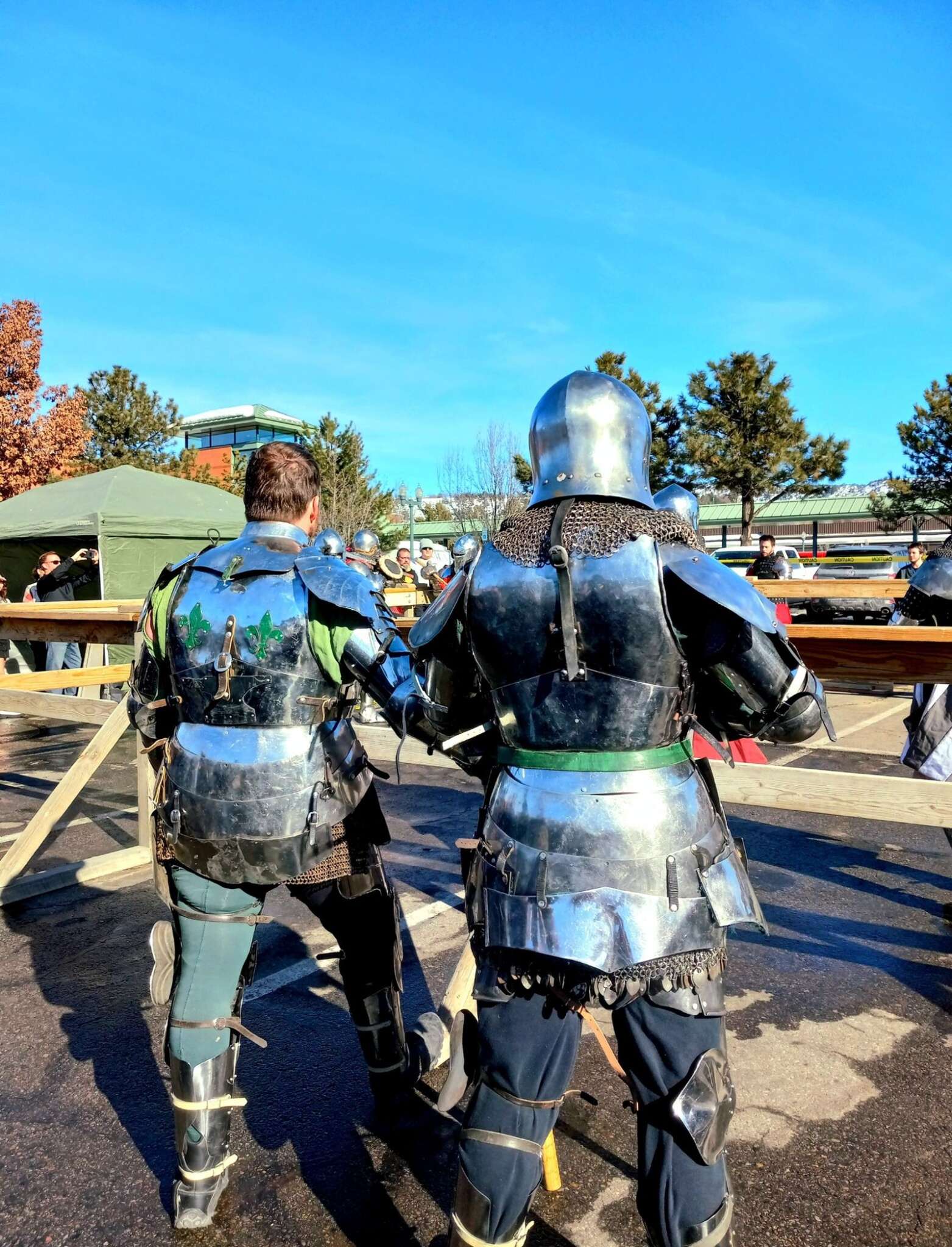 Thankfully, the wounded knight was able to get up after a minute with some help from his teammate. It was unclear whether many of the knights who were knocked to the ground were actually wounded or whether they struggled to get to their feet under the weight of their metal armor.
Watching with fascination and awe from the crowd was Mancos resident Danette Dillon, who has been attending Snowdown since 1984.
"It's been so fun this year," she said. "I really like the theme. I think it's been one of the better ones in recent years."
Dillon's daughter, son-in-law and granddaughter, who traveled from Denver to join her for the Durango holiday, were also enjoying the Shakespeare-inspired theme. The entire family dressed in Renaissance-era attire as they watched the knights of Snowdown fight one another "to the death" for the entertainment of onlookers.
"It's pretty crazy, isn't it?" said Dillon with a laugh. "But that's Snowdown. We love it."
molsen@durangoherald.com