Conditions improve in 2019, but reports neglect long-term trends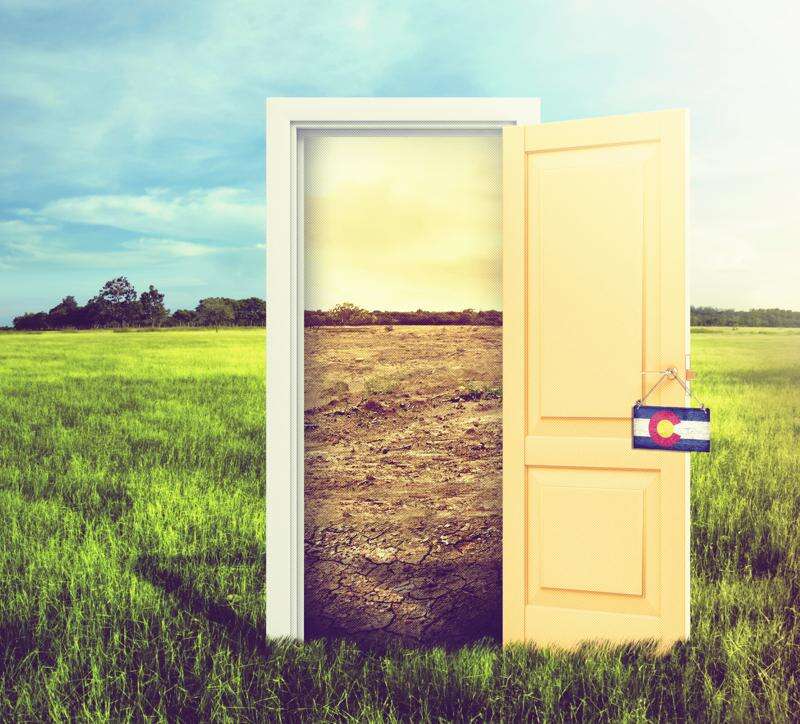 Despite media reports and proclamations on social media in recent days, weather and climate experts say: Colorado's drought is not over.
The U.S. Drought Monitor on Thursday released its weekly "drought map" that showed, for the first time since the service was created in 2000, Colorado was free from all listings of drought, after a winter of heavy snow and a spring filled with precipitation lifted the state out of the red.
The Drought Monitor's outlook prompted media reports and chatter on social media that Colorado's long drought was over. But that conclusion is inaccurate and doesn't tell the whole story of Colorado's drying out in the face of climate change, according to several weather and climate experts who spoke to The Durango Herald this week.
The Drought Monitor's weekly outlook is a snapshot of current conditions and doesn't take into account long-term trends, said Richard Heim, a meteorologist for NOAA's National Center for Environmental Information, who created last week's drought map.
Take a look at this historic map. Since the US Drought Monitor began in 2000, Colorado has never been completely void of D0-D4.

Today we're at the lowest point we've ever seen. Only .01% of the state in D0! You can't even see it on the map! pic.twitter.com/RGJ3miL8QF

— ColoClimateCenter (@ColoradoClimate) May 23, 2019
Each week, climate experts at NOAA look at indicators of drought – such as snowpack, stream flows, soil moisture, long-term weather outlooks, etc. – and determine whether that set of criteria are trending toward wet or dry conditions. Then, a level of drought, if any, is placed on a region on a scale of 0 to 4.
"Drought is a very interesting phenomenon because it's not the presence or occurrence of something, it's the lack of something," Heim said. "And it takes a while for drought to develop and for people to notice it."
The Drought Monitor listed Southwest Colorado in a drought in fall 2017 and, with a practically non-existent winter, put the region in the most extreme level of drought conditions in spring 2018 in what turned out to be the second lowest water year in recorded history.
And there Southwest Colorado remained until this winter put on its best Jekyll and Hyde, resulting in the third largest snowpack since 1986 to hit the San Juan Mountains. As a result, the Drought Monitor started to reduce the severity of drought over the past few months.
But one year of epic snowfall does not end or reverse the long-term trend of drought in Southwest Colorado and other parts of the state, said Taryn Finnessey, a senior climate change specialist with the Colorado Water Conservation Board.
"Just because we have one good year … doesn't negate the realities we're seeing with consistent warming trends," she said.
Colorado's average temperature has risen 2 degrees in the last 30 years and is expected to increase another 2 to 4 degrees by 2050, driven by climate change and fossil fuel emissions. And higher temperatures can increase the intensity and duration of droughts.
Southwest Colorado and the Colorado River basin are particularly vulnerable to these changes. It led to the Colorado River Research Group to assign a new word to explain the region's new normal.
Reagan Waskom, director of Colorado State University's Colorado Water Institute, said the term "drought" no longer explains what is taking place in the Colorado River basin.
The research group's study emphasized that the Colorado River basin isn't in a normal drought cycle that is expected to end. Instead, the region's arid climate is only expected to further dry out, and with rising global temperatures, there doesn't seem to be any reversal to that pattern in sight.
Spikes in precipitation might happen from year to year, but research shows the region is in a "period of transition to an increasingly water scarce environment," according to the report.
This new reality has led climate experts to better define the Southwest's drying out through the term "aridification."
"At a certain point, when drought just lingers year after year … you have to quit calling it drought and start thinking about it as a drier and more arid presence," Waskom said.
The Drought Monitor's Heim also said drought maps may no longer be based on reliable, historical data given these changes.
"If the climate is changing, and the historical record is no longer a good reflection, then that's something that has to be looked at," he said.
Given these realities, it's important to always be planning for a world with less water, Waskom said. Reports that a drought is over only serves as a disservice in misleading the public and makes water conservation and sustainability practices a harder sell.
"The public will forget about drought pretty quickly," Waskom said. "But we live in a dry land, where it is getting hotter and drier, and we should continually be in front of our thinking how we manage our water resources."
Indeed, Finnessey said drought has lasting impacts, and it takes a long time to recover forest health and agriculture.
And while most of Colorado's reservoir and water supplies are expected to replenish, there is always the question, what if 2018 had repeated itself?
"We are constantly preparing for the next event, knowing we have no idea when it will come, and if it comes, how long it will last," she said. "We can't always count on a 2019 to save us."
jromeo@durangoherald.com
Poll: Despite a wet start to 2019, are you concerned about a long-term drying trend in the region?
Yes - 945 - 64.99%
No - 509 - 35.01%