Constant snowfall improves dry conditions but taxes city, state workers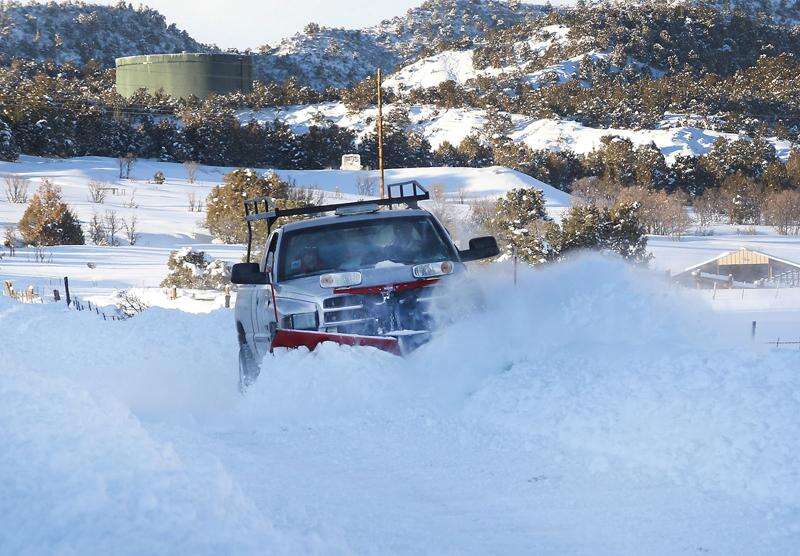 Get ready for more snow.
Dennis Phillips, a meteorologist for the National Weather Service in Grand Junction, said Wednesday will offer a bit of respite for residents in Southwest Colorado digging out of a snowstorm that lasted from Monday and into much of Tuesday.
But snowfall is expected to start up again Wednesday evening, and forecasters are saying Thursday could bring another round of significant snow accumulation to the region.
"There could be big-time snow Thursday into Thursday night," Phillips said.
Southwest Colorado, reeling from drought since fall 2017, could use the snow.
As of Tuesday, snowpack in the Animas, Dolores, San Juan and San Miguel basins was at 118 percent of historic averages. And a weather gauge at the Durango-La Plata County Airport has recorded 3.41 inches of precipitation since Jan. 1, nearly 2 inches above the historic average.
But the region remains in an extreme drought, and despite the welcome snow, this winter is well below snowpack during the 2016-17 winter season.
Susan Behery, a hydraulic engineer for the Bureau of Reclamation, said it will likely take snowpack hitting 150 percent of historic averages to refill Vallecito Reservoir.
<![CDATA[
If you're unable to view the PDF document above,
click here
to view it in a new tab
]]>
"Even though it feels like a really great year so far, it's about average," Behery said. "But because the last decade has been so dry, it just feels really good to have average."
Drought issues aside, the constant snow is taking a toll on local resources.
Plowing the way
"These storm blasts have been a challenge, for sure," said John Palmer, Colorado Department of Transportation maintenance deputy superintendent. "Its been all hands on deck."
Palmer said patrols are out on 24-hour operations – on rotating 12-hour shifts – and it will stay that way until dry road conditions return. CDOT also has some crew members overlap shifts to keep coverage consistent. Every equipment operator has been working or on call since Thursday, he said.
Palmer said it is possible to call on other areas of the state for help, but the southwest district likes to stay self-sufficient. Gearing up for the next round of storms, he said CDOT is ready to shift resources within the southwest district if necessary.
"It's all about being prepared and being ready – even if that means putting our mechanics in plows," he said. "They're trained to operate the equipment, and they can do it if needed."
City runs dry, streets remain wet
Levi Lloyd, Durango's director of city operations, said funds used to remove loads of snow from downtown streets are likely to run out after Thursday's storm.
The city budgeted $47,000 this year to remove truck loads of snow from the downtown, which is less than past years because of budget shortfalls plaguing the city. While snowplowing is done by city staff, snow removal has to be contracted out, costing the city $7,000 to $10,000 a night.
After the funds run out, Lloyd said snow will remain in the middle of the road. He said storms in March are usually warmer, so it is more likely the snow will melt quicker.
Of even more concern, Lloyd said, is not having money to remove snow from storms in November and December, before the city's fiscal year resets.
Snow not the only thing falling
Tom Eskew, arborist and owner of Heartwood West Tree Service, has been working in Durango since 1992. But, he said Thursday's storm was a first of sorts.
"That particular storm caused the most damage to trees I've seen since I've been here," he said. "They just dropped."
The wet, heavy snow snapped tree limbs and branches all over town. Eskew said he received at least a couple dozen calls from residents seeking his help, though no one reported serious damage from downed trees or branches.
The key to preventing downed trees and limbs is to properly maintain and thin trees to eliminate weak limbs and branches, he said.
School calendarsDurango School District 9-R has used up two of four snow days built into its calendar.
The Ignacio School District is looking to extend its school year – either by adding minutes to school days, holding school during previously scheduled off days or adding a day or two at the end of the year.
The Colorado Department of Education requires 1,080 hours of instruction for high schools and 980 hours of instruction from kindergarten to eighth grade.
Ignacio Superintendent Rocco Fuschetto said Ignacio also has not built snow days into its calendar, and he plans to meet with principals and the school board to determine how the district will extend its calendar.
The board may add a day to the end of the year, extend school days or hold school during an off day through the end of the school year, Fuschetto said.
"I'll talk to the board and the principals, and we'll figure it out," he said.
Bayfield Superintendent Kevin Aten said the district is on a tight calendar this year because $40 million of construction work at three different schools narrowed the window for the school year.
Bayfield schools have eliminated early release days, and Aten said the district's calender can handle an additional five more snow days.
Parking meters still checkedSnow days don't necessarily translate into free parking downtown, said Wade Moore, the city of Durango's parking operations manager.
If parking meters are clear and accessible, the city will still enforce the rules, Moore said. But if the meter is buried in snow, it's a different story.
"If people can't physically get to them, we don't enforce it," he said.
Staying safe
Colorado State Patrol Capt. Adrian Driscoll and La Plata County Sheriff's Office spokesman Chris Burke said there have been a number of slide-offs and minor accidents during the past few days.
Durango Police Cmdr. Ray Shupe did not return repeated calls seeking comment.
Driscoll and Burke, however, said there haven't been any serious crashes or major injuries.
"So far, so good," Driscoll said.
Kyle Jahnke, towing manager for Bo Dean's Towing, said the company responded to about 15 slide-off calls Monday. Many reports came from Hesperus and Wildcat Canyon.
jromeo@durangoherald.com
Herald Staff Writer Patrick Armijo contributed to this report.
Colorado Snowpack Feb. 19 (PDF)
The Colorado Department of Transportation reminds motorists to check for updated weather information:
Visit
for real-time road conditions, highway closures, average speeds, photos, live cameras streaming traffic, trucking information and more.
Call 511 to listen to recorded information about road conditions, projected trip travel times and trucker information.
Receive free email/text alerts at
; choose from a list of subscription options at the "get connected" tab.
Follow @coloradodot on Twitter for traveler information and other news.
Like CDOT at
to receive news and traveler information.
Visit
www.codot.gov/travel/winter-driving
to get information about road conditions, what to keep in a vehicle during the winter, how to safely pass a snowplow, commercial-vehicle requirements, seasonal closures, snow removal and avalanche control.
Herald Staff