Jet stream keeping rains north and west of Four Corners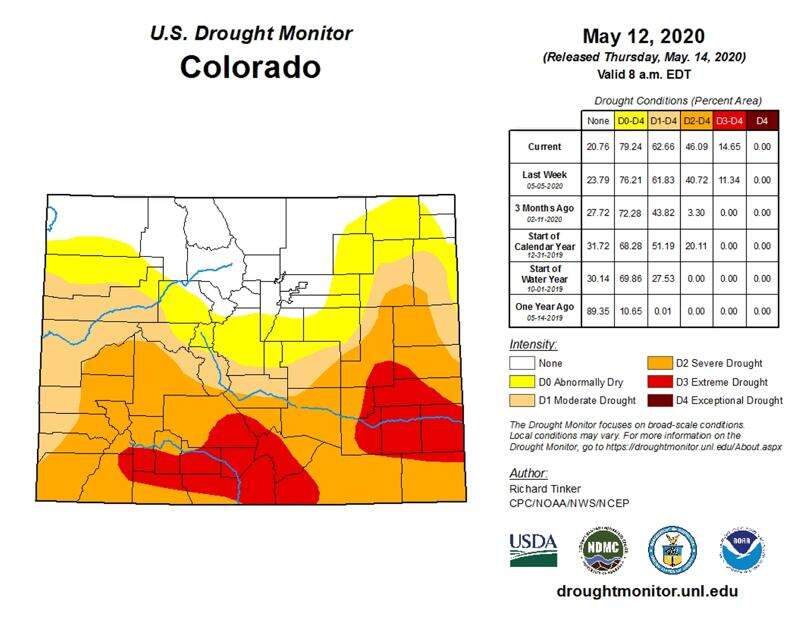 Portions of northeastern La Plata County have been placed in extreme drought and the remainder of the county, along with Montezuma County, is listed in severe drought, with the National Weather Service seeing no relief from the unusually dry May coming soon to the Four Corners.
"The jet stream over the Western United States is further north and west than normal this time of the year, and that's keeping storms north and west of Colorado," said Michael Charnick, meteorologist with the National Weather Service in Grand Junction.
Red flag warnings for high fire danger are in effect for Southwest Colorado until noon Wednesday. Breezy conditions Wednesday afternoon are expected to increase the fire danger.
Red flag warnings are issued when relative humidity drops below 10% to 15% and winds exceed 10 to 20 mph.
"We're setting up for a dry early summer, and that definitely will have impacts on the fire season," Charnick said.
The lack of May rain is especially problematic because June is the driest month of the year in Durango with an average of only 0.7 of an inch of rain.
Other than the slight chance for light rain in the high country Tuesday night, the weather forecast for Southwest Colorado looks dry through at least May 24, Charnick said.
According to the United States Drought Monitor, northeastern La Plata County and the north half of Archuleta County are in extreme drought. Montezuma County and the remainder of La Plata County are listed in severe drought.
At the request of local fire chiefs, La Plata County enacted Stage 1 Fire restrictions on May 12 in unincorporated areas of the county, as well as lands owned by county.
The restrictions include:
A ban on burns, burn barrels and agricultural burning. Some agricultural producers are exempt from Stage 1 fire restrictions.A restriction on smoking, which must be confined to enclosed vehicles or buildings, in developed recreational sites or in an area 3 feet in diameter clear of flammable vegetation.A ban on the use of explosive material, such as fireworks, blasting caps or incendiary devices.Stage 1 fire restrictions are now in place in La Plata County, U.S. Forest Service land and the Southern Ute Indian Tribe land.
Richard Bustamante, fire manager for the San Juan National Forest, said the agency enacted fire restrictions in early April, anticipating high fire danger.
Last week, Bustamante said public lands around Durango are experiencing "unprecedented use" by recreationists, comparable to crowds seen during the Fourth of July holiday. Even with restrictions in place, he said Forest Service crews are finding a high number of abandoned campfires.
Bustamante told The Durango Herald Stage 2 fire restrictions are likely in the upcoming weeks.
parmijo@durangoherald.com