Forest Service says issue critical given high wildfire conditions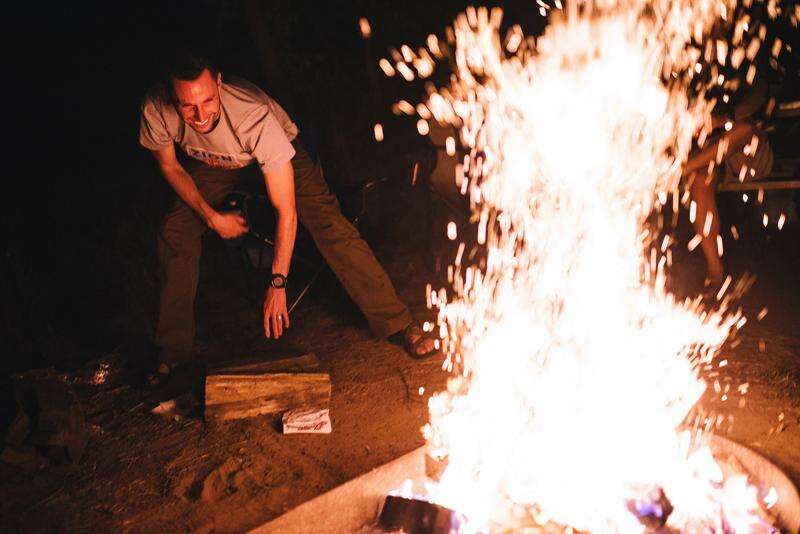 Illegal campfires have been a constant issue in the San Juan National Forest in recent weeks, elevating concerns about potential wildfire during a time of extreme drought.
Current restrictions ban all fires, whether in developed campground fire rings or at dispersed camping sites throughout the San Juan National Forest.
But that hasn't stopped people from building campfires.
In May, a total of 58 fires were reported to the Forest Service: 17 in the Columbine district, 16 in the Pagosa Springs district and 25 in the Dolores district.
The reports included a mix of abandoned fires, where people left the blaze burning; unattended fires, where people were in the area but not actively watching it; and active fires, where people were burning at their camps.
Of the 58 fires, 21 reports came over the Memorial Day weekend, resulting in nine citations, which carry a $330 fine each, and three warnings.
"Generally, our law enforcement will try to educate," said Heather Cave, a fire prevention specialist with the Forest Service. "But it could be our law enforcement feels the best educational message to get the point across is a citation."
The Forest Service was unable to provide data about where people who were issued citations live. But the agency said national forest lands are seeing incredible use for this time of year.
"There has been an increase in recreation use, but people are really doing a good job of calling in fires that are restricted right now," said Esther Godson, Forest Service spokeswoman. "Maybe we're more hyper-alert as a community."
Fire restrictions are stringent this year because fire danger is incredibly high, with conditions mirroring other years with catastrophic wildfires, like 2018.
"There is definitely a lot of worry, stress and awareness," Godson said. "We're pretty scared of a repeat of that crazy fire year (2018)."
Snowpack in Southwest Colorado, which was below average, is already almost gone, melted off earlier than usual. And despite scattered rains the past couple of days, soil moisture has been unable to recover from an unusually dry spring.
June, typically Southwest Colorado's driest month, is when the majority of catastrophic wildfires break out. The Missionary Ridge Fire started June 9, 2002; the West Fork Complex Fire on June 5, 2013, and the 416 Fire on June 1, 2018.
That's why the Forest Service has been so adamant about curbing illegal campfires, Cave said. On top of regularly scheduled patrols, off-duty Forest Service staff members have volunteered on their days off to look for people with fires.
Also, if the public abides by fire restrictions, it allows firefighting crews to focus on naturally ignited blazes. Since May 21, a total of nine fires have been caused by lightning strikes that required action to put out. Five of those have been on the San Juan National Forest and four Southern Ute Indian Tribe lands.
The Forest Service is in full-suppression mode given the current novel coronavirus outbreak and the desire to avoid complications that would come with an all-out fire attack.
The COVID-19 outbreak demands people isolate as much as possible to reduce the spread of the virus. But a typical wildfire response requires firefighters to work in close contact under stressful conditions in the presence of hazardous smoke – all activities to be avoided in a global pandemic.
Across the region, jurisdictions have put in place their own fire restrictions.
The city of Durango has banned all open fires. La Plata County is in Stage 1 restrictions, which prohibits open burns and campfires. In the Durango Fire Protection District and Upper Pine River Fire Protection District, residents may have fires smaller than 3 feet in diameter in fire rings. And last week, San Juan County, Colorado, implemented Stage 1 fire restrictions.
A call to Bureau of Land Management spokesman Eric Coulter was not returned Thursday.
Hal Doughty, chief of Durango Fire Protection District, said most people within the agency's jurisdiction have been compliant, though there aren't many campgrounds and fires would be limited to people's backyards.
Issues with illegal fires have emerged at the homeless camp near Purple Cliffs. But Doughty said the Purple Cliffs camps create a dilemma – people living at the site often require fires for cooking or staying warm.
"We want to keep the community safe from the ravages of fire, but I'm not sure it's ethically right for someone homeless to not have a fire to cook or stay warm," he said. "It's a real ethical dilemma for us on how to enforce."
Bruce Evans, chief of Upper Pine River Fire Protection District, also said the public has been good about complying with restrictions. For his fire crews, lightning strikes from recent storms have been a more pressing issue.
"It's Mother Nature that's giving us the challenge," he said.
jromeo@durangoherald.com