Durangoan looking forward to new role as cycling director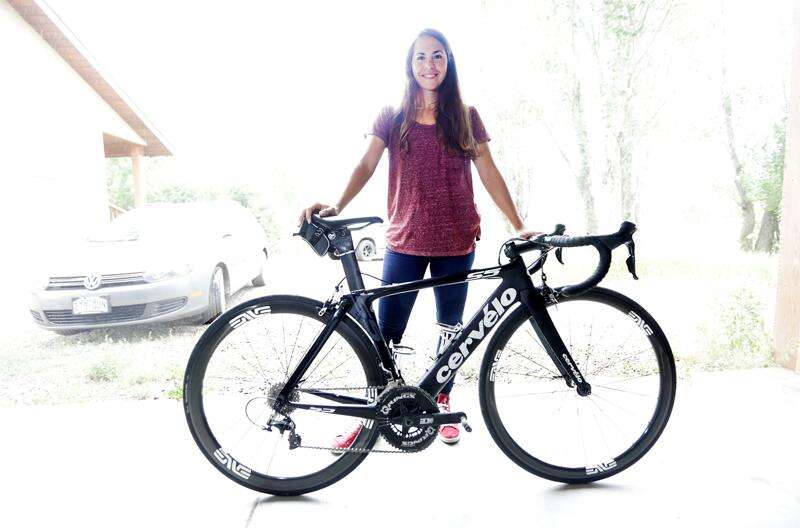 Carmen Small never planned to be a professional cyclist. Ten years after signing her first professional contract, she called it quits on her racing career, but her future in professional cycling is as bright as ever.
Small, a 37-year-old from Durango, officially announced her retirement from professional road cycling this week. The announcement came months after her final race, as she suffered a devastating concussion March 11 at the Ronde van Drenthe in the Netherlands. Still struggling with the symptoms more than six months later, Small was ready to make the announcement and continue her full transition into race directing for Team Virtu Cycling in Denmark.
"I decided a long time ago I would stop," Small said. "I still go back and forth with it. It's hard to be at all the races I've once raced. Being at the world championships and not racing was hard. At the same time, it's OK. I'm still getting to do what I love, and that's be in cycling. I'm not leaving it bitter or with bad feelings.
"A small piece of me maybe will never want to quit. I'm a super competitive person, so it's hard to walk away from that."
Small signed her first professional cycling contract in 2007. She won two UCI Team Time Trial World Championships with the Specialized-lululemon team in 2013 and 2014 and claimed a pair of USA Cycling Time Trial National Championships in 2013 and 2016 with a pair of silver-medal finishes in 2014 and 2015. She also claimed first in the 2015 Pan American Time Trial Championships, along with a slew of victories in USA Cycling events on the National Racing Calendar.
"The two national championships and then the two world championships that she acquired, it was such a thrill," said Small's father, Alan, who lives in Durango. "At one time, I was a national biathlon champion, myself, and I know it's such a thrill to reach the top of the pedestal. I was so happy for her because of all the training and hard work she did for it."
The championships were not the memory that stood out to Small most, though. She looked back to the 2015 North Star Grand Prix, formerly the Nature Valley Grand Prix before 2013, when she raced alongside the men in the NRC event. Small won the women's race in Minnesota in 2012 and 2014, but there was no women's race in 2015. Without a race on her June calendar that year, she received a special offer to compete in the men's race with Elbowz Racing Team. She finished the event, the first time a woman had ever competed in the pro men's field at that event.
"It was a race, but it wasn't," Small said. "It was a unique experience at that higher level. I had raced a lot with guys on the region level in a criterium here or there. To jump into a stage race like that, an NRC, for me it was a different experience. I know women had done NRC events with the men in the past, but the support and people I met that came from that, it was kind of eye-opening. There was a lot to be learned. It's not like I won or did something spectacular, but that is one of the most epic events in my career."
Small first contemplated retirement in 2011 but decided to make a push for the 2012 Olympics. After falling short of that goal, she pushed on with eyes on the 2016 Olympics. She raced on the World Tour in Europe and produced several top results. Despite all of her success and national title earlier that year, Small was left off the Olympic roster in 2016. She had hoped to make the Olympic race in Rio de Janeiro the last of her career. When she lost an arbitration hearing to contest being snubbed, Small turned her focus to the next stage of her career and completed a UCI Sports Director Course, and then signed with Team Virtu Cycling, where she would still race while transitioning into a sports director role. After her crash in March, Small returned home to Colorado for treatment, but her symptoms remained. In 2016, Small also suffered from atrial fibrillation, often called a-fib, which is an irregular heart beat than causes poor blood flow. She didn't disclose the heart issue and went ahead with a plan to get back on her bike.
When she returned to Denmark in early June, it was clear her concussion symptoms were still too problematic to compete, and she decided to step away from the saddle and into the team car to begin her career as a director.
"I can't hit my head again, bottom line," she said in May. "If the next time happened, I don't know what it would be like. I was asking myself, 'Do I race again?' I was already taking a risk with the a-fib last year. I know I increase that risk by doing this activity. That happened, my head thing. I don't know if it's worth it. It's just a sport at the end of the day. It's not like I have some dream of going to the Tokyo Olympics in 2020. That happened, it's done. There's no dream or long-term goal I'm waiting around for."
While many cyclists go all-in at an early age hoping to sign a pro contract, Small took a different path. She first started competing in gymnastics at age 7 in Durango and stayed heavily involved in the sport. She then discovered kayaking and was competing in the river by age 12. Small also attend junior nationals for cross-country skiing, inspired by her father's career. Every time she went to nationals, she came home with a medal. She had a bike but used it merely for transportation. There was no youth program such as Durango DEVO in the area at the time to help get young bicyclists involved in competition.
Small always loved to run. She graduated from Durango High School in 1998 and continued her education at Colorado State University. At CSU, she began competing in triathlons.
"Her ability clicked with me when she was doing triathlons," Alan said. "When she was at CSU, she asked me if I wanted to go to Phoenix for triathlon nationals. She was eighth overall, but she just excelled at cycling. When I came home, I told her mom (Donna Nazario) she was going to give up triathlon and go straight into cycling and excel at that. I was her banker for a long time. Buying bikes, wheels, this and that. It was money spent out all for the good. She wasn't just good when she did something she became the best at it, and it started when she was a gymnast competing two classes ahead of her age."
Small's father knows she will take that passion and competitive spirit into her next endeavor as a director. Small was granted a four-year visa and will move to Denmark full time in November. She said she gets the same rush directing the team from the car as she did when she was in the front of a peloton in the final kilometers of a big race, and sometimes she wishes she could change bodies with her team riders in those moments.
Before signing her first pro contract, Small taught math at Broomfield and Frederick high schools on the Front Range and also taught three semesters at Community College of Denver. That passion for teaching and instructing never left Small, though she considers her days as a math teacher as a previous life.
Though she won't be the one hammering her pedals to the finish line, Small's career in cycling is far from over, and the teacher still lives inside one of Durango's brightest stars. "It's weird; I have this sense of worth from cycling," Small said. "It's not cycling that defines me, but it does. I've been doing it 10 years-plus. I do miss teaching, but now I'm managing these people in a different way, and I like that.
"I knew after my career was done I wanted to go into directing. I'm going to see how this next year goes. I have a lot to learn, and it will take time. Over the last five years or so, I've learned not to make plans, because they never go to plan."
jlivingston@durangoherald.com