Air attack, favorable weather conditions help achieve 10 percent containment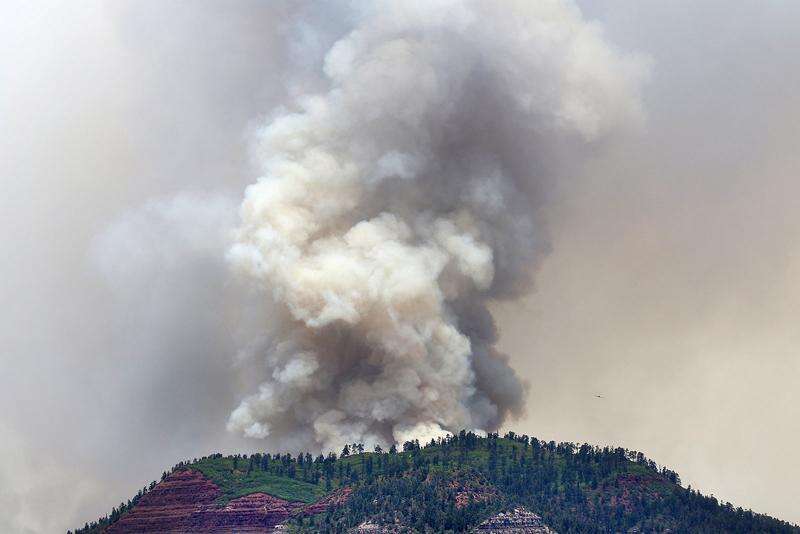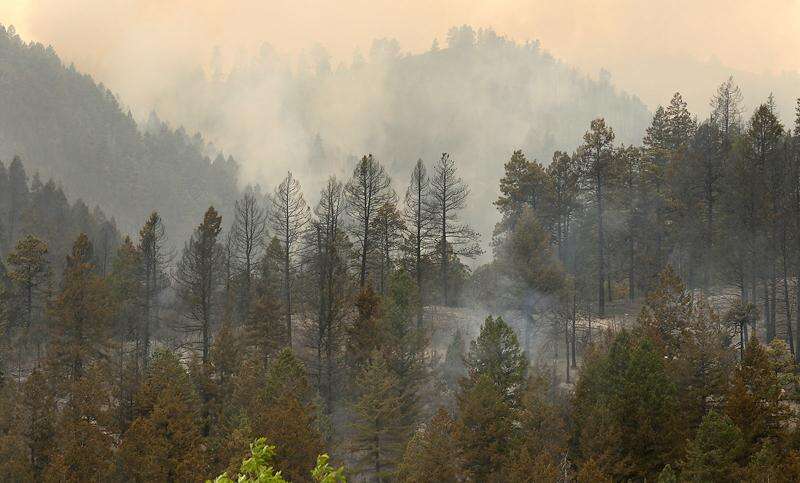 Federal firefighters put on an air show Saturday, using helicopters and air tankers to keep the 416 Fire from crossing U.S. Highway 550 north of Durango and achieving 10 percent containment on the 2-day-old fire.
"The fire is actually doing quite well for what we wanted to accomplish today (Saturday)," said Jim Mackensen, a spokesman for the Type III incident team fighting the fire. "The crews have made a lot of progress back at the heel of the fire where it started, so it won't be a threat coming back down south."
The fire grew from about 1,100 acres Friday night to 1,974 acres by end of the day Saturday. The 10 percent containment occurred on the southwest perimeter near the Mitchell Lakes area.
"They're pushing the line up that direction," Mackensen said. "We're not there yet, but that's the goal."
Evacuation and pre-evacuation notices remained in effect and unchanged Saturday. About 825 homes are evacuated and 760 homes are on pre-evacuation notice. There was no time estimate for when residents might be able to return home, said Megan Graham, spokeswoman for La Plata County.
Efforts Sunday will focus on keeping the fire on the west side of Highway 550, where a large majority of evacuated homes are located, and to seal off the bottom end of the fire so that it won't progress further south, he said.
A Type III federal interagency team, which has been in command of the fire since Friday evening, will hand off control to a Type II incident team at 6 a.m. Sunday, Mackensen said. A Type II team is able to summon greater resources and has a more robust command staff than a Type III team.
The team will continue to rely heavily on an air attack to battle the blaze, Mackensen said.
"We'll still be using the heck out of them to buy us time, knock down hot spots, and to try and keep this thing going in the direction that we want it to go to," he said.
The northern and western edges of the fire will be problematic for firefighters to contain, Mackensen said.
"There's not a lot of opportunity to put line construction in place," he said. "Really rocky, nasty, steep drainage, broken country. I think that's going to be a challenge for this next team coming, and they're going to have to do some serious strategy work on how they're going to attack this thing."
Local crews will continue to provide structure protection in subdivisions on the east side of Highway 550 and keep the fire from jumping the highway. No spot fires jumped the highway Saturday.
On Friday, five spot fires jumped the highway but were successfully extinguished by grounds crews.
Open this map full screen.
About 250 firefighters worked the fire Saturday, Mackensen said. No injuries or accidents have been reported.
Weather conditions aided firefighting efforts Saturday. Winds stayed between 3 and 5 mph for most of the day, a marked difference from the 30 mph wind guests crews contended with on Friday.
"Winds have been behaving and helping out the effort," Graham said. "It's a lot better than it was yesterday (Friday)."
Firefighting efforts were expected to last until about 9 p.m. Saturday night. "Usually around then, the fire behavior starts to moderate," Mackensen said.
Firefighting engines were assigned to patrol Highway 550 throughout the night to ensure spot fires don't cross the road, Mackensen said.
Hundreds of residents were given short notice to evacuate Friday as the fire advanced north in the Animas Valley near Shalona Hill.
"Evacuations went quite smoothly," Mackensen said. "We haven't had a lot of complaining. We appreciate everyone's understanding. We're in a very severe fire season and it's not going to get better for some time. We just ask everybody to be patient with us and support us the best they can."
Mackensen said the team has had brief conversations about holding a community meeting to update residents, but no such meeting had been planned as of Saturday night.
"I'm sure we'll have a community meeting in the near future," he said.
The Durango & Silverton Narrow Gauge Railroad suspended all coal-fired steam passenger service through at least June 10 as a precautionary method. All guests of the train will receive full refunds.
U.S. Highway 550 remained closed in both directions, with no estimation for reopening, Graham said. Drivers in Durango who need to go to Silverton must take a 177-mile detour over Lizard Head Pass. County Road 250 north of Baker's Bridge is open to local traffic only in both directions.
The fire started around 10 a.m. Friday. The cause remained under investigation.
La Plata County is under Stage 2 fire restrictions, which means no campfires, even in developed campgrounds. A "state of local disaster" was declared Friday evening by La Plata County. The declaration means the county can access additional funds and resources from the county's payroll to cover costs of operation during the disaster, Graham said.
Federal firefighters estimated cost of battling the blaze was $691,000 as of Saturday night, Mackensen said.
Fire crews are hoping favorable weather conditions will continue to aid them. There's a 40 percent chance for rain Sunday afternoon, and winds of 10-15 mph with gusts that could reach 20-25 mph, said Jimmy Fowler, with the National Weather Service in Grand Junction.
Graham said despite the low containment number, crews had a successful day Saturday battling the blaze.
"It was a good day on the fire," she said. "We're feeling good about progress that was made today. The Type II team will be able to pick it up and run with it."
asemadeni@durangoherald.com
Evacuations
Residents from Bakers Bridge at County Road 250 north to Electra Lake are under mandatory evacuation orders.
Residents from north Electra Lake to Meadow View Drive are under pre-evacuation notice. This includes Purgatory, Durango Mountain Resort, Cascade Village, Celadon, Red Tail Mountain Ranch, and Elkhorn Mountain subdivisions.
An evacuation center is open at Escalante Middle School, 141 Baker Lane in Durango; it is open from 8 a.m. to 8 p.m. A second evacuation site is open at the Silverton School, 1160 Snowden St., in Silverton.
Evacuees are asked to check in either at Escalante Middle School or at Silverton Visitor Center, 414 Greene St., in Silverton, from 9 a.m. to 5 p.m., to receive resident credentials. These will be necessary for re-entry after the 416 Fire's resolution.
Help with animals
Livestock can be evacuated to the La Plata County Fairgrounds at 2500 Main Avenue. The emergency call center at (970) 385-8700 can help coordinate pick-up of livestock.
Small animals are being accepted at the La Plata County Humane Society, 1111 South Camino del Rio, Durango (970) 259-2847.
Accommodations
The Red Cross can arrange shelter for those who need it. Call (800) 417-0495.
Donations
To donate clothes and household donations, go to Discover Goodwill, 1230 Escalante Drive. To make a financial donation, call the Community Foundation Serving Southwest Colorado at (970) 375-5807 in the name of the Community Emergency Relief Fund.
Travel
U.S. Highway 550 remains closed just north of Hermosa around Honeyville to just south of Purgatory. All traffic should take different routes west, including Highway 145 Lizard Head Pass: Highway 62 Ridgway to Placerville; Highway 145 Placerville to Dolores; Highway 184 Dolores to Mancos; Highway 160 Mancos to Durango.
Webcams
To get a view from various webcams around the area, visit
https://durangoherald.com/webcams
.
Official information
The fire information hotline is (970) 385-8700.
The fire is now recorded and being updated on
, an interagency incident information management system. According to InciWeb, 149 personnel are working on the fire.
Air quality
The Colorado Department of Public Health and the Environment has issued an air-quality health advisory for wildfire smoke for portions Southwest Colorado until 9:00 a.m. Sunday.
Winds were expected to turn calm overnight Saturday. As the winds calm, smoke could drain south along the Animas River and produce moderate to heavy smoke overnight through Sunday morning in more populated areas including Hermosa and Durango.
If smoke is thick or becomes thick in your neighborhood you may want to remain indoors. This is especially true for those with heart disease, respiratory illnesses, the very young, and the elderly. Consider limiting outdoor activity when moderate to heavy smoke is present. Consider relocating temporarily if smoke is present indoors and is making you ill.
As temperatures cool in the evening, inversion conditions worsen and smoke in low lying areas may become thicker, especially if the outdoor air is still. It tends to be worst near dawn. To limit exposure:
Close bedroom windows at night.
Prepare for nighttime smoke by airing out your home during the early or middle of the afternoon when smoke tends to be more diluted. Use your best judgment. If smoke is thick during the day, follow the tips above.
Mail
The fire is affecting about 540 homes that the United States Postal Service delivers to. Mail is being held at the post office, 222 W. Eighth St. If you need medications or other important items that are in the mail, go to the post office to pick them up. You must have your identification.