County declares 'state of local disaster'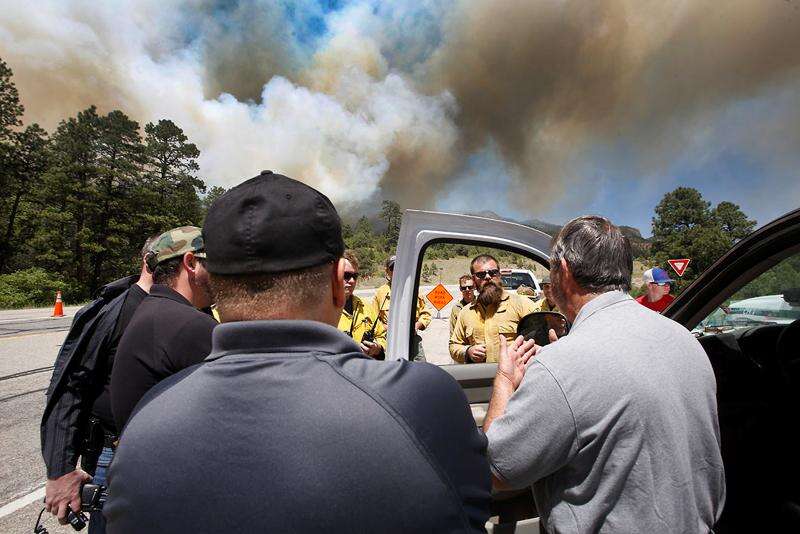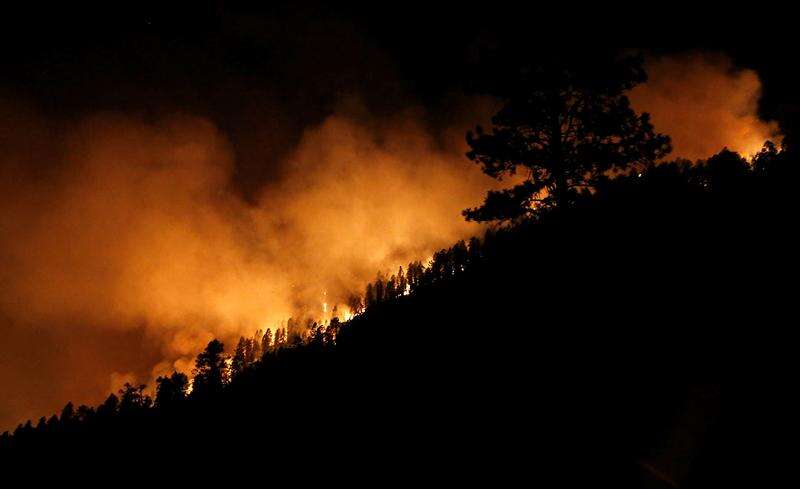 HERMOSA
About 825 homes were evacuated and 760 more were placed on pre-evacuation notice Friday about 10 miles north of Durango where a fast-moving wildfire consumed more than 1,100 acres in nine hours.
The 416 Fire was reported about 10 a.m. near the Iron Gate subdivision and quickly put up a column of smoke that was visible from downtown Durango and other parts of La Plata County. By Friday afternoon, the column of smoke had grown so massive that fire officials were concerned it would collapse onto itself and spread ashes onto the east side of U.S. Highway 550, where most of the homes are located. Smoke drifted more than 60 miles to the northeast, past Pagosa Springs.
No structures had burned as of Friday night, and no homes were in immediate danger, said Scot Davis, spokesman for the San Juan National Forest.
The Colorado Department of Transportation closed Highway 550 about 1 p.m. Friday, and it remained closed overnight. The closure will be re-evaluated Saturday, said CDOT spokeswoman Lisa Schwantes.
Firefighters planned to monitor the blaze Friday night and hit it again Saturday morning with aircraft. Residents in the vicinity of the fire are urged to be on high alert.
County Manager Joanne Spina proclaimed a "state of local disaster" Friday night for the unincorporated parts of La Plata County. The declaration activates emergency plans and authorizes the use of funds under those plans. Spina will recommend county commissioners extend the declaration for seven days or more.
The Durango & Silverton Narrow Gauge Railroad said it will cancel Saturday train operations as a result of the severe fire danger.
"Due to the current conditions, due to the Stage 2 restrictions, we decided to cancel services tomorrow (Saturday)," said John Harper, general manager with the D&SNG.
Early scanner reports said the fire started near the train tracks, but no official cause has been released.
"As of right now, it's still under investigation as far as what was the exact start," Harper said Friday afternoon. "We're working with all of the different agencies as far as how we're going to move forward."
Train passengers who were in Silverton had to be picked up by buses Friday night. But because Highway 550 was closed, the buses had to take a 177-mile trip from Durango, to Mancos, to Dolores, to Ridgway, to Ouray and finally to Silverton.
Erratic winds pushed the fire in unpredictable directions, said Butch Knowlton, director of La Plata County's Office of Emergency Management.
"It's almost a minute-by-minute situation up here," he said about 4:15 p.m. "We make plans and then the wind changes on us, and then we have to change our plans."
The primary objective Friday was to keep the fire on the west side of Highway 550 near Shalona Hill, away from several hundred homes on the east side of the highway, including subdivisions near Shalona, Rockwood, Tamarron, Glacier Club and Electra Lake.
At least one small spot fire crossed the highway, but it was extinguished, Davis said. Spot fires occur when embers fly out of the main body of the fire and start new fires. The fire remained on the west side of the highway Friday night.
Residents from Bakers Bridge at County Road 250 north to Electra Lake Road were under mandatory evacuation orders. Residents from north Electra Lake to Meadow View Drive were under pre-evacuation notice. That includes Purgatory, Durango Mountain Resort, Cascade Village, Celadon, Red Tail Mountain Ranch and Elkhorn Mountain subdivisions.
An evacuation center was opened at Escalante Middle School, 141 Baker Lane in Durango; and a second evacuation site was to open at the Silverton School, 1160 Snowden St., in Silverton.
Durango Fire Protection District initially responded to the fire, but a federal team took over command Friday afternoon. A Type II team was expected to be assigned to the fire Saturday.
Up to 15 aircraft were working the blaze Friday, including helicopters and air tankers.
Federal and local fire officials reminded residents it is illegal to fly drones near the fire area. At least one drone was seen flying near the south end of the fire, and the La Plata County Sheriff's Office was sent to try to contact the pilot.
"We have got to get the drones out of the air," Davis said.
La Plata County and federal land agencies entered Stage 2 fire restrictions Friday, which prohibits campfires, even in developed campgrounds and recreation areas.
By Friday night, the huge column of smoke that towered over the north Animas Valley settled down and was expected to fill the Animas Valley and many other valleys across the region.
San Juan Basin Public Health advised that smoke in the air is particularly dangerous for the very young, elderly or people with heart and lung conditions. People who are concerned should stay inside and reduce outside physical exertion.
People for the Ethical Treatment of Animals, or PETA, also advised that residents in areas affected by smoke and ash should keep their animals indoors and avoid outdoor activities, such as running with dogs.
"It looks like Kilauea," said Tom Eskew, who was working Friday morning in the Hermosa area, referring to the volcano in Hawaii. "It makes Hermosa Mountain look like a volcano right now."
Herald Staff Writers Shane Benjamin, Maria Carrasco, Claudia Laws, Amy Maestas, Alex Semadeni, Mary Shinn and Ryan Simonovich contributed to this report.
Evacuated areas
Iron Gate subdivision
Electra Lake area
Chris Park
Haviland Lake
Between Bakers Bridge and Electra Lake Road
Glacier Club
Tamarron subdivision
On pre-evacuation notice
North Electra Lake to Meadow View Drive
Purgatory and Durango Mountain Resort
Cascade Village
Tail Mountain Ranch subdivision
Celadon subdivision
Elkhorn Mountain subdivision
Closures
U.S. Highway 550 is closed until Saturday morning, the situation will be re-evaluated at that time.
Purgatory is closed for Saturday activities.
Durango & Silverton Narrow Gauge Railroad operations are closed Saturday.
Community resources
La Plata County government hotline for residents evacuating: (970) 385-8700.
Livestock can be evacuated to La Plata County Fairgrounds, 2500 Main Ave.
Four Corners Back Country Horsemen will assist with horse and livestock evacuations, call (570) 228-1340.
Small animals can be evacuated to La Plata County Humane Society, 111 South Camino del Rio.
Donations of clothing and household items accepted at Discover Goodwill of Durango, 1230 Escalante Drive.
Financial donations can be made to the Community Emergency Relief Fund by calling (970) 375-5807.
Tips for pre-evacuation
For people who received a pre-evacuation notice, these steps can improve their safety and expedite departure should an evacuation become necessary.
Inside the house
Gather medications.
Pack a bag with clothing and essentials.
Shut off air conditioning and fans.
Shut all windows and doors before leaving.
If you have time, gather paperwork and photographs that cannot be replaced.
Outside the house
Gather flammable items and bring them inside (patio furniture, children's toys, door mats, trash cans, etc.).
Move propane barbecue appliances away from structures.
Connect garden hoses to outside water valves or spigots for use by firefighters.
Fill water buckets and place them around the house.
Don't leave sprinklers or water running; this can affect critical water pressure.
Leave exterior lights on so your home is visible to firefighters in the smoke or darkness of night.
Back your car into the driveway with vehicle loaded and all doors and windows closed. Carry your car keys with you.
Animals
Locate your pets and keep them nearby.
Prepare livestock for transport and plan to move them to a safe location early.
Pack food and medications for your pets.
Insurance
Take pictures of the interior of your house to remember and document personal possessions.
Determine what is sentimental and can't be replaced.