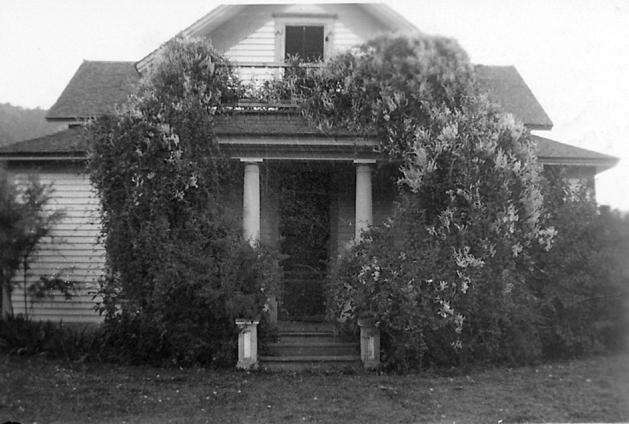 In more than 14 years, this Neighbors gig has taken me to birthday and anniversary parties, luncheons, banquets, teas, garden parties, golf tournaments, croquet competitions, fishing and even visits to llamas and Icelandic ponies.
But on Sunday, I attended my first birthday party for a house. The 130th birthday of the Kerr House in Hermosa, to be exact. Hostess Marie Roessler, who refers to herself as the caretaker of the home rather than the owner, had really prepared for the event. Not only did she track down descendants of the home's prominent builder and first resident, Thomas A. Kerr, she also managed to catch up with some of the home's former owners and even a few renters.
Among those attending were Kerr's granddaughter Margaret Jump and her son and daughter-in-law Steven and Sabrina Jump, from Arvada; great-granddaughter Cynthia Hayes and her husband, Robert, from Denver; great-granddaughter Carol Cicmanec, who brought the Kerr family Bible, with her husband, Jim, from Albuquerque; and winning the award for farthest traveled for the party, great-granddaughter Betty Martin and her husband, Brian, from Baltimore.
People were asked to wear nametags identifying their relationship to the house – in addition to the previous categories mentioned, there were categories including friend, neighbors, history buff and so on.
Roessler, with some help from her friends, put out a huge spread of food and served champagne for a toast to the "birthday girl" on the occasion of her 130th birthday. She doesn't look her age.
That's because during the 20 years Roessler has owned the home, she has restored it. The restoration presented some challenges, including a foundation that had not passed the test of time and worries about lead paint. (It was determined to be a better idea to leave the paint on the walls.) But she tried to remain true to the period when it came to items such as the wallpaper.
The restoration also led to the discovery of numerous artifacts, ranging from pieces of china to an old doll, which were on display.
Sylvia Zurko on accordion and concertina, along with Don Loweree on mandolin, provided a soundtrack for the party that was in sync with the house's early life. It made me want to sit down in the parlor to enjoy the concert, but there were artifacts to look at, rooms to tour and people to meet.
Roessler also has done her homework, researching Kerr's life, so packets were available for those like yours truly who wanted to learn more.
Thomas Kerr's obituary, which ran in October 1918, said he came to La Plata County in 1876, starting out in the first county seat, Parrott City before purchasing the acreage in Hermosa. The headline said he came with $12 (about $800 in today's dollars).
He was a prominent farmer in the valley, with more than 1,000 fruit trees in his orchard and a greenhouse with steam heat, so he could sell produce year round. One article called the greenhouse a "Garden of Eden."
Kerr is perhaps best remembered for serving as a La Plata County commissioner in the late 1870s and early 1880s, when the county included what are now Archuleta and Montezuma counties. With that kind of square mileage, many commissioner agendas contained long discussions about roads.
Kerr was commissioner when the county seat moved from Parrott City to Durango after a vote in November 1881. (Parrott City voted 71-1 to retain the county seat, but Durango voted 605-9 to move it. The rest, as they say, is history.)
Kerr and his first wife, Isabell (also spelled Isabelle and Isabel) Tyler Kerr, a descendant of President John Tyler, had 12 children before she was killed in 1892 after being crushed when her wagon overturned. The Kerr descendants at the party all came from that family.
Kerr married Mary Zimmerman in 1895. (Zimmerman was pretty brave, becoming a stepmother to such a large brood.) They had five children together, but sadly, none lived to adulthood.
Kerr died one week after his 69th birthday in 1918 after being crushed by an automobile.
His obit said, "Owing to the influenza epidemic, only the immediate members of the family and a few close friends attended the services, which were held at the grave in Greenmount Cemetery."
Margaret Jump's parents left Southwest Colorado to live in Arvada in 1922. (She still lives in their house, so that dwelling has been occupied by the same family for more than 90 years.) As far as they are aware, no Kerr descendants live here anymore. But they all said how much they appreciated the chance to come visit the house where it all started.
And so did the rest of us.
HHH
Celebrating the last of the Virgo birthdays as we move into the cusp are Diane Donovan, Paul McGurr, Lori Jackson, Pat Campbell, Andy Kraftherfer, Ward Lee, Todd Sieger, Ken Malcolm, Steve Jackson, Ulys Gardella, Lucille Smith, Anna Marie Bishop, Diane Trembly and Greer Smith.
HHH
It looks like Mother Nature likes a garage sale for a good cause. Today is supposed to be gorgeous for the Interact Club of Durango High School's annual garage sale to benefit Habitat for Humanity of La Plata County. It runs from 7 a.m. to 3 p.m. in the school's parking lot.
The students will also have a bake sale to fund some of its philanthropic efforts.
The young people are accepting donations for both sales and are requesting that they arrive early in the morning as the sale is starting. Please donate only things that are truly salable – they don't have a budget for taking things to the landfill afterward.
Interact is the high school version of Rotary International. Its goal is to inculcate the spirit of community service, both local and global, in young people, hoping it will become a lifetime habit.
HHH
If you have a child or know a child or young person who is artistic and loves a good read, here's a contest that's right up their alley.
The Friends of the Durango Public Library is holding a Bookmark Contest. There are two age groups, elementary/middle school and high school, and students are asked to design a bookmark that includes a book- or reading-related saying. The artist's name will be included, and the back of the bookmark will contain the schedule of Friends of the Library book sales for 2015.
The deadline is Oct. 1 at the library, 1900 East Third Ave.
The winner in each age group will be announced at the library's Literary Festival Community Reception on Oct. 10, and will receive a Kindle Paperwhite. The Friends are planning to distribute at least 2,000 bookmarks next year, so these will definitely be seen.
The Friends of the Durango Public Library do so much for the library throughout the year, sponsoring programs, providing funding for books and services and in general, helping fill a gap between decreasing funding and the increasing need for services.
President Nancy Peake tells me that the organization donated $7,000 for the Literary Festival, to help bring in bestselling author Augusten Burroughs of Running with Scissors fame. Promoting the book sales (and our patronising them) will help refill the coffers for the next cool occasion.
HHH
It's officially autumn for the anniversaries of Will and Carol Connelly, Nick and Anne Spencer and Curtis and Anne Swanson.
HHH
Here's how to reach me: neighbors@durangoherald.com; phone 375-4584; mail items to the Herald; or drop them off at the front desk. Please include contact names and phone numbers for all items. Follow me on Twitter @Ann_Neighbors for ideas and information.