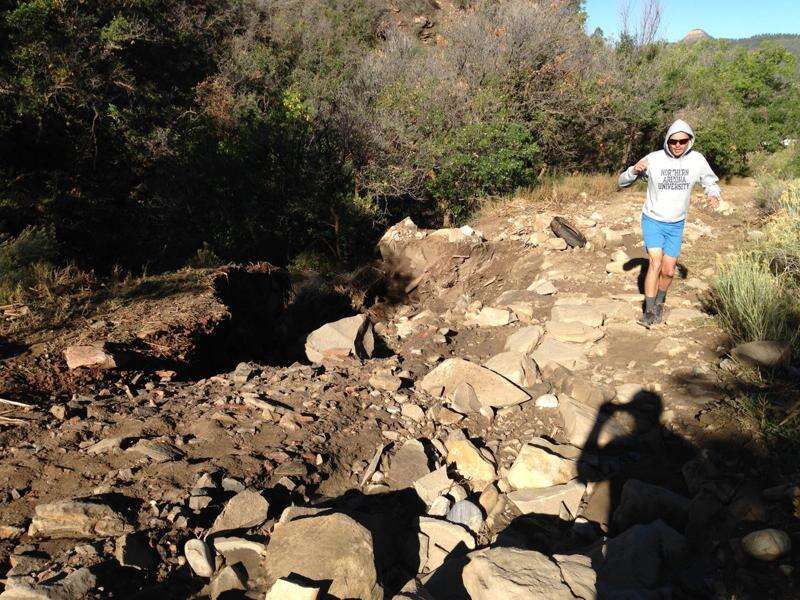 Construction work will begin Monday to repair the west end of Horse Gulch Road so that emergency vehicles can access an often-used trail system that has been the scene of periodic medical emergencies.
That end of Horse Gulch Road (County Road 237) will be closed Monday through Thursday, the city said in a news release today. The first 1,200 feet of road, from the city's recently opened parking lot and trailhead to near the start of the Meadow Loop will be closed.
La Plata County Road and Bridge, in conjunction with the city, will attempt to restore the road to how it was before late-September rains sent a torrent of water down the gulch and left a boulder-strewn road with several bites taken out of it.
The goal is to make it so emergency vehicles can get through, Ron Moore, the city's parks and cemetery manager, said today.
"We just want to keep it as natural and confined as we can," Moore said.
Work will include repairing a couple of bites taken out of the road and water bar work to redirect runoff into the gulch, Moore said.
In the news release, the city requested the public to use a different entry point into Horse Gulch during construction. The city will have a park ranger at the site to help with safety issues involving the public.
Horse Gulch Road is used by hikers, runners and mountain bikers to access a large system of city-owned trails.
Work hours at the site will be from 7:30 a.m. to 5 p.m.
Long-range plans involve looking at another possible emergency access route into Horse Gulch, Moore said.
johnp@durangoherald.com