Blaze west of Silverton remains under investigation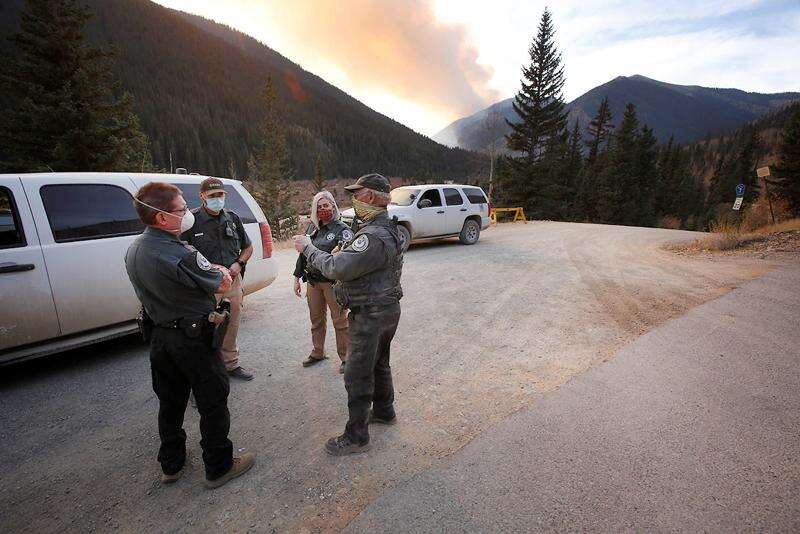 The Ice Fire experienced little growth and was 30% contained as of Thursday night despite high winds that swept through the region.
"There was a little bit of activity, but it was basically inside the fire lines and not a threat," U.S. Forest Service spokesman Andy Lyon said in an interview with The Durango Herald on Thursday night. "Considering how much wind was on it, it was not very active at all."
The Ice Fire broke out Monday afternoon, about a quarter mile up the popular Ice Lakes trailhead, about 6 miles west of Silverton.
As of Thursday, the fire had burned about 600 acres, but most of that new growth is from burnout operations on the fire's boundaries in an attempt to box it in the South Mineral Creek area, said Incident Commander Brad Pietruszka.
Burnouts are a firefighting strategy where an area is intentionally burned along a containment line, so when the wildfire hits, there are no fuels to burn and it can't spread.
Firefighters reached 30% containment, mostly along the fire's southern edge at South Mineral Creek Road. Avalanche chutes and burnout operations are being used to contain the fire at its western and eastern flanks, Pietruszka said.
The Ice Fire is not expected to spread to the north because the terrain runs into rocky peaks with no vegetation. So far, the fire has petered out once reaching grasses above tree line, Lyon said.
While suppression efforts so far have been successful, high winds are again in the forecast for Friday, which have the potential of causing the Ice Fire to increase in size.
Luckily, humidity and cold temperatures at night are setting up conditions during the day that aren't resulting in uncontrollable fire spread.
"A little bit of humidity increase can make a big difference," Lyon said.
The good news, Lyon said, is that precipitation, most likely snow, is in the forecast for Sunday, which could stall the fire.
"It's not out, it's not over, but the closer we get to the moisture this weekend, the better we're feeling," he said.
Lyon said the cause of the fire remains unknown and under investigation.
No evacuation orders have been issued for the town of Silverton, but emergency management officials are encouraging residents to be alert of the situation should the fire take a turn for the worse.
"2020 still has some challenges to present our community," said San Juan County Sheriff Bruce Conrad. "We're feeling pretty positive about where things are going."
An air-quality health advisory for wildfire smoke is in effect for San Juan County until 9 a.m. Friday.
Fire danger has remained high throughout the summer in Southwest Colorado, and Stage 1 fire restrictions remain in place in the San Juan National Forest, which prohibit campfires and smoking in certain outdoor areas.
The Forest Service asks the public to not stop on the highway to take pictures or fly drones, which force aerial attack aircraft to divert from an area. All public lands that border Mineral Creek are closed to the public.
jromeo@durangoherald.com