All residents of 9 units in housing complex displaced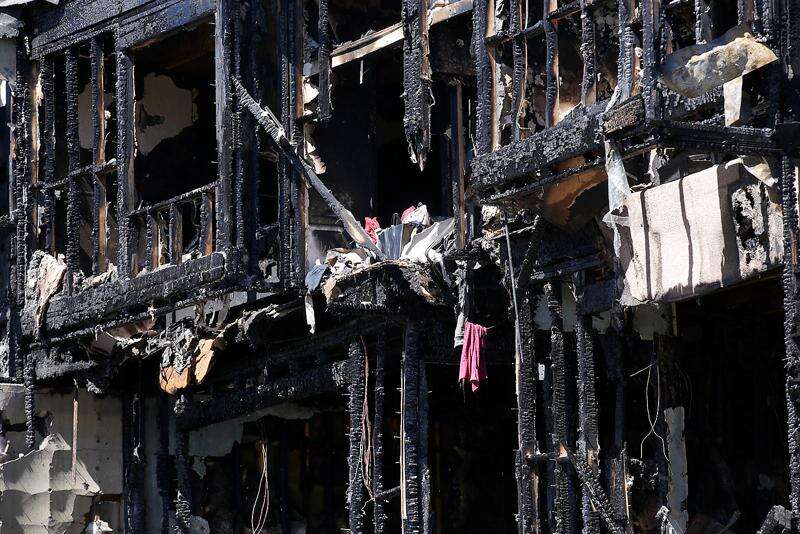 Fire investigators were awaiting the arrival of insurance representatives to sift through the debris of a deadly townhome fire that killed one man and sent three people to the hospital early Wednesday.
Another 18 residents of the Tercero Townhouse units in west Durango were displaced by the early morning fire.
The victim was identified Thursday as Kevin Abeyta, a 24-year-old Durango native and restaurateur, said La Plata County Coroner Jann Smith. His body was found in a heavily damaged part of the housing complex and was removed after it was safe for firefighters to go into the area, said Hal Doughty, chief of Durango Fire Protection District.
Three people – one adult and two children – were taken to Mercy Regional Medical Center. From there, the adult and one child were flown to Denver-area hospitals, suggesting their injuries are serious or critical, Doughty said. One child remained at Mercy for observation, he said.
The names of those injured were not released, and the fire department did not have updates on their conditions Thursday afternoon. Fire Marshal Karola Hanks confirmed there have been no additional fatalities as a result of the blaze.
Firefighters responded to the call at 1:48 a.m. in the 2100 block of West Third Avenue. The fire broke out in a center unit, sandwiched by other units. Flames quickly spread to adjoining units, creating inferno-like conditions for firefighters. They went into a defensive mode, meaning they blasted the blaze from the outside with water and foam, Doughty said.
Firefighters performed a quick search of units, which left three people unaccounted for as of 4:30 a.m. Wednesday. Two missing individuals were located, giving firefighters a good idea of who died in the blaze. Their suspicions were confirmed as the result of an autopsy performed Thursday in Durango.
Firefighters arrived 5 minutes, 1 second after receiving the call. About 35 crew members and volunteers responded. They used about 18,000 gallons of water.
A towering plume of smoke billowed into the night sky as neighbors gathered to watch around 2:15 a.m. Some tenants raced to get cars out of driveways; one car was completely torched. Thirty minutes later, firefighters appeared to have gained control of what was described as a "terrifying situation."
Doughty said the investigation into the cause of the fire is in its early stages, but it appears it started in an occupied unit.
"We don't have anything specifically pointing toward foul play or an accelerant (being used), but we also don't have any evidence clearing that from being the case," he said. "This investigation is truly in its infancy, and we don't have enough information to say one way or another with any degree of certainty."
Firefighters have so far been unable to "dig" into the debris to investigate the cause, Hanks said. That is because insurance companies have a legal right to witness the dig, and the soonest they can be available is 9 a.m. Friday, she said.
One thing firefighters will look for is how the fire spread so fast. The housing complex had firewalls separating units, which "did a great job of limiting fire travel on the inside of the building," Doughty said. But it's possible exterior finishes and the age of the building played a role in the fire's rapid spread.
Tercero Townhouse consisted of nine units with 19 permanent occupants, Hanks said. Four units sustained structural damage, including two that were heavily damaged. Abeyta's body was found in Unit No. 2123, which is where he lived, Hanks said. An adult and two children were staying with Abeyta, but Hanks couldn't confirm if they were the same individuals taken to Mercy with injuries.
The units were built before modern sprinkler codes, Doughty said. Had a sprinkler system been installed, it's likely the fire would have been held at bay long enough for firefighters to put it out, he said.
At least some of the apartments were equipped with smoke detectors, he said.
"I can't absolutely verify there were smoke detectors present in all of the apartments," he said. "But we know there were smoke detectors present in some, because we could hear them going off when we were fighting the fire."
Doughty commended firefighters and police officers for working together to evacuate residents.
"Those are all elements of a really successful operation that happened in this case," Doughty said.
Most residents found shelter by 3:35 a.m. Wednesday, either with neighbors or at Needham Elementary, where Red Cross offered services. Some residents needed blankets for warmth after standing outside for several hours, stricken with panic.
Hanks said none of the 19 residents will be able to return home in the foreseeable future, if ever. The units that sustained the most damage are in the center of the complex, and rebuilding could be a challenge, she said.
"The middle portion of the building is missing," Hanks said. "I have structural damage to four of the seven lower units."
Donna Kramer, a 14-year resident of Tercero Townhouse, said she was awakened by someone yelling, "Help, help, fire, fire!" She got out of her unit and waited with neighbors in a car to stay warm.
"We're grateful for a loud neighbor," she said. "We're glad it didn't spread down the neighborhood."
Herald Sports Editor John Livingston contributed to this story.
shane@durangoherald.com
A GoFundMe site has been set up to help the family of Kevin Abeyta, who died early Wednesday in a Durango apartment fire. The site raised $2,385 of a $10,000 goal as of Thursday evening. To view the site, visit www.GoFundMe.com and search for "
Kevin Abeyta
."
Abeyta and his husband, Tonny Del Solar, were co-owners of Los Amigos Del Sur, a Mexican restaurant that opened in April in the Main Mall, 835 Main Ave. The restaurant plans to reopen at 9 a.m. Friday.