Reclamation manager looks back at Silverton's mining past
Larry Perino, a Silverton native and one the last remaining Sunnyside Gold Corp. employees based in the former mining town, announced he will retire at the end of April, capping a nearly 40-year career in the mining industry around San Juan County.
"I want to spend time traveling around while I'm still young enough," Perino said. "But I'll still be in Silverton quite a bit."
Perino, 67, is a second-generation Silvertonian. His grandfather immigrated to the United States from Italy and settled in Silverton and ran a dairy farm. His father worked at a number of mining operations in the region, not as a miner but as a mechanic, tram supervisor and in other various roles.
For most of his life, Perino got to live in Silverton during its mining heydays. Growing up, the town was twice the size of what it is now (about 600 residents). And because everyone's father worked in the mines, there was a socioeconomic balance.
"People made really good money, and it was a good place to live and grow up in," he said.
Perino attended the University of Colorado-Boulder from 1969 to 1975, earning a civil engineering degree. Despite his upbringing, he didn't want to work in the mines.
"But when I graduated, the economy took a dive, and there were not many construction or civil engineering jobs," he said. "I was offered a job with the mine here (Silverton), so I came back ... and found out I liked it more than I thought I would."
Mining in the San Juan Mountains around Silverton kept at a steady pace throughout the late 1970s and 1980s, with Perino holding jobs as a construction engineer, chief engineer and mine superintendent, to name a few. Like his father, he never truly worked as a miner.
But the industry, as well as Silverton's economy, took an irreparable blow in 1991 when Sunnyside Gold Corp. shuttered the last operating mine, the Sunnyside, taking with it the town's main source of jobs, culture and identity.
"It was sad to see everything you grew up with changed overnight," Perino said. "Families just started to migrate away, and the town shrunk."
Perino held on with Sunnyside, but instead of working out ways to mine the mountains, the mindset shifted to repairing the damage done by mining, which has been responsible for degrading water quality in the Animas River.
In the late 1990s, Sunnyside Gold still employed about 15 workers to head reclamation efforts. Perino has estimated that Sunnyside Gold has spent in excess of $15 million in cleanup efforts since 1991.
But in 2002, Perino stood as the last remaining Sunnyside Gold employee in Silverton, after the mining company entered a consent decree with the state of Colorado to install three bulkheads at the American Tunnel, which released it from any liability as to water quality in the Animas River basin.
Kinross Gold Corp., an international mining conglomerate, bought Sunnyside Gold in 2003.
But everything took a turn in August 2015, when the Environmental Protection Agency triggered a blowout at the Gold King Mine, releasing 3 million gallons of wastewater laced with heavy metals into the Animas and San Juan rivers.
It's believed by many familiar with the geological makeup of the region that the bulkheads Sunnyside Gold installed in the 1990s caused the Sunnyside Mine pool to back up, resulting in adjacent mines starting to discharge wastewater, such as the Gold King Mine.
It's a claim Sunnyside Gold has adamantly denied, but regardless, it has dragged the mining company back into the fray of those potentially responsible for the costs of cleanup in the EPA's Bonita Peak Mining District Superfund site.
Since the Superfund site was declared in fall 2016, Sunnyside Gold has been brought into a number of lawsuits, namely from the states of New Mexico and Utah, and the Navajo Nation. Sunnyside Gold has also attempted to slash the Superfund site to remove mining areas it owns, and has even called for the EPA to be recused as the agency leading the cleanup.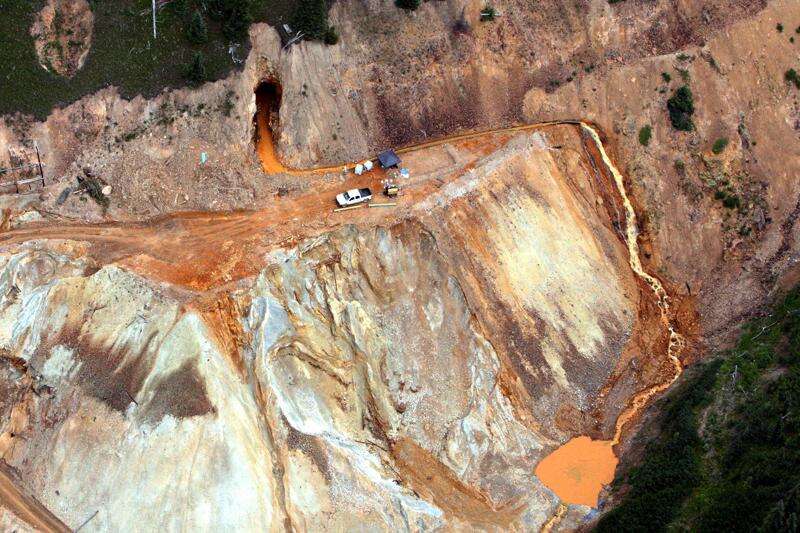 Perino, for his part, said he's still waiting to see the EPA's comprehensive cleanup strategy before forming any opinions on the Superfund site. He said he will remain in his role as a resident of Silverton in serving on the Citizens Advisory Group, a group formed to give input to the EPA on Superfund matters.
"I support improvements in water quality, but I don't necessarily support totally removing the cultural and historical past if you're not going to have measurable improvements in water quality," he said.
Perino would like to see mining return to Silverton, bringing back well-paying jobs to support families living in town. But that's not likely to happen, he admits.
"I won't say mining's dead, but it would be very difficult to find a deposit big enough to justify mining again," he said. "I hate the idea of being a strictly tourist community ... but I don't know how we're going to thrive. Silverton is always going to be a difficult place."
jromeo@durangoherald.com