Pagosa Springs wears down Bayfield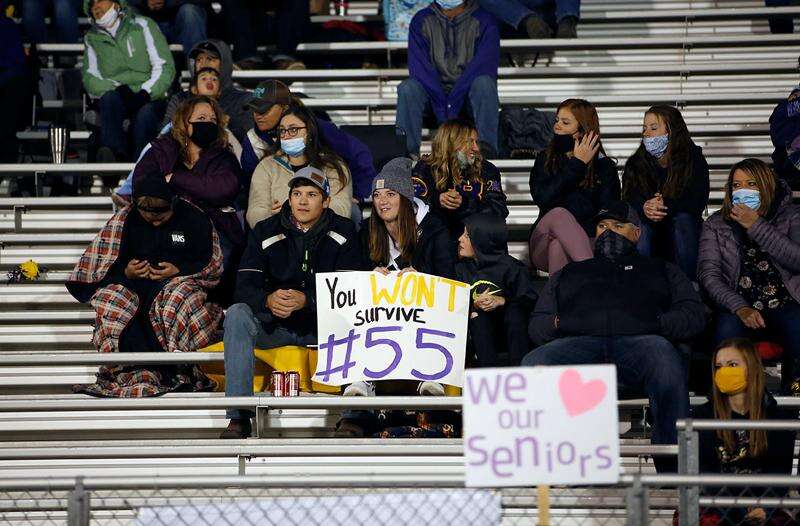 BAYFIELD – One possession separated the Pagosa Springs Pirates and the Bayfield Wolverines in the first half Friday night. It turned out to be a critical possession to define the game.
Shortly after Bayfield quarterback Isaac Ross hit receiver Crosby Edwards on a 56-yard touchdown pass to give the host Wolverines a 14-13 lead with a little more than two minutes to go in the first half, the visiting Pirates mounted a brilliant two-minute drive with only one timeout to work with.
Pagosa Springs quarterback Grant Aucoin methodically marched the Pirates down the field with passes to go-to receiver Mitchell Lewis, and Aucoin would hit Lewis on a 6-yard touchdown pass with one second to play in the second quarter to give the Pirates back the lead. Aucoin would rumble into the end zone on a 2-point conversion run, and Pagosa Springs had a 21-14 lead at halftime.
The Pirates got the ball first in the second half and again found points, this time on a 34-yard touchdown pass from Aucoin to Lewis on a crucial fourth-and-8. That was enough to turn the tide of the game, as Class 2A sixth-ranked Pagosa Springs would secure a 42-14 victory on Friday night at Wolverine Country Stadium.
It was the second time in as many years Pagosa Springs (3-0, 2-0 2A Southwestern League) beat the Wolverines (0-3, 0-2 2A SWL) after having not beaten BHS since 2006.
"It feels amazing," Aucoin said. "I know last year it was the first time we had beat them in 13 years. Now to beat them two years in a row, we're trying to flip that streak."
BHS head coach Gary Heide thought the end of the first half was big, but he still had confidence in his team going into the second half.
"I really felt confident up 14-13 with a few minutes to go in the half," Heide said. "We thought we would go into halftime with the lead. I don't know what difference that would have made. It's too bad the wheels came off after that. Even when it was 28-14, if we put together a drive, you can come back and put pressure on the other team. But we turned the ball over twice."
Aucoin finished the game 9-of-19 passing for 138 yards and two touchdowns with two interceptions, while he ran for 83 yards and two more touchdowns. Lewis hauled in seven passes for 156 yards and two scores. He also ran for a touchdown.
"He's so dependable. I can throw it up and he will come down with it," Aucoin said. "He's fast, strong and overall a good wide receiver."
Ross finished 7-of-15 passing for BHS. He threw for 108 yards, one touchdown and two interceptions. He didn't complete a pass in the second half, as he was under pressure each time he dropped back.
Not much separated the teams in the first half aside from Pagosa Springs' final drive. Both quarterbacks passed for 108 yards, one touchdown and one interception in the half, and both teams turned those interceptions into touchdowns.
Pagosa Springs got on the scoreboard first on a two-play, 79-yard drive. Aucoin hit Lewis on a 54-yard pass, but Bayfield made a touchdown-saving tackle from behind to stop Lewis. But, one play later, Aucoin scored on a 25-yard run to make it 7-0 with 6:15 to go in the first quarter.
But Bayfield answered right back. Ross hit Edwards on a 20-yard pass, and then Cade Carlson rumbled inside the Pagosa 10-yard line on a 43-yard run. He scored a few plays later on a 1-yard run, and it was 7-7 with 2:07 to go in the first quarter. That's how the quarter would end.
Action heated up in the second half. Pagosa Springs running back Dylan Tressler heated up with runs of 15 and 56 yards. But Pagosa would miss a 37-yard field goal by Edwin Monterroso to give Bayfield the ball on its own 20
Two plays into the Wolverines' drive, Ross was intercepted by Pagosa's Aidan O'Donnell. The Pirates took advantage. Aucoin hit Lewis on a 14-yard pass on third-and-1 to get the ball to the 1-yard line. Aucoin scored on a run on the next play. But Bayfield would block the extra point try to keep the deficit at 13-7 with 3:49 to go in the half.
Bayfield quickly had to punt on its next possession, but Cael Schaefer intercepted Aucoin quickly. Aucoin had Lewis wide open deep down the field, but the ball was under thrown. Schaefer hauled it in. One play later, Ross hit Edwards on the big 56-yard TD. Zane Liddell made the extra point, and BHS had a 14-13 lead with 2:02 to go in the half.
But Pagosa Springs mounted the brilliant scoring drive to make it 21-14 at intermission.
"Right as I broke, I knew I was going to be open," Lewis said of his last-second touchdown reception. "I did the same route the week before and I dropped that same exact pass in the end zone. I knew it was open, and I wasn't dropping it this week. That was a huge momentum booster. We fought through adversity and really needed it."
It looked like Bayfield's defense might get off the field on Pagosa's first drive of the third quarter. But Lewis made two big plays, and Aucoin found him wide open on fourth down for the 34-yard score. With a 28-14 lead halfway into the third quarter, Pagosa Springs' defense settled into the game.
On a third-and-5 run, Bayfield's Schaefer was hit hard and fumbled. Pagosa Springs' Caleb Laverty picked it up and ran to the Bayfield 21-yard line.
Schaefer made amends with his second interception of the game to get the Wolverines back the ball, but Ross would toss up a pass as he was slammed to the turf, and Aaron Aucoin would intercept the fluttering pass for Pagosa Springs. The Pirates would take the ball right back on the Bayfield 25. This time, the turnover again turned into points.
It was Tressler's time to get in the end zone, as he ran 9-yards for a score to make it 35-14 with 11:55 to go in the fourth quarter. Tressler was held to six yards in the first quarter, but he finished the game with 202 yards and the touchdown.
"Hats off to Pagosa. They have good schemes and good players all the way around and big linemen on both sides of the ball," Heide said. "(Tressler) deflated us a bit. Any time a team can get a running game going, everything feeds off that. They were able to consistently run the ball and we weren't."
Lewis continued his monster game on Pagosa Springs' next drive that went 76 yards. He scored on a 1-yard TD run to make it 42-14 midway in the fourth quarter. That added to his two receiving scores.
BHS had only 32 yards of offense in the second half. Twenty of those yards came on one run by Schaefer. Banged up and tired, the depth problems for the Wolverines showed for a third consecutive week.
In a Week 1 loss to No. 1 Delta, Bayfield was up 16-0 before falling 32-16. BHS trailed No. 4 Lamar only 14-7 at halftime in Week 2 before a 41-7 defeat.
BHS will look for answers and an opponent next week. The scheduled Week 4 foe was Manitou Springs. But, after a positive COVID-19 test led the Mustangs to miss the first two weeks of the season, the school decided to cancel the fall season. That leaves BHS with a hole in the schedule next week. Heide said the Wolverines will look for a new opponent to replace Manitou Springs.
"I thought it would be a different story this week," Heide said. "I really want another game next week. We could have somehow won one of these games. Anyone can upset somebody. We would like to play next week and keep a positive attitude and go try for a win."
Pagosa Springs will head to Lamar for a key top-10 league clash next week.
"This feels good, but we're going to keep rolling," Lewis said. "That's a huge game next week to show people who we are."
jlivingston@durangoherald.com