No. 10 Wolverines have two tries versus Alamosa
Unable to break through against Pagosa Springs senior Taylor Cotts during the second game of Tuesday's home doubleheader at Wolverine Field, the resiliency about which Bayfield High School head baseball coach Bert Miller proudly praises – and which he expects to be available this weekend if needed – peaked most preeminently.
Unexpectedly trailing the Pirates (whom they'd just defeated 11-1) 1-zip through three-and-a-half innings, Lance Mazur's solo homer leading off the bottom of the fourth inning not only leveled the score but triggered a seven-run surge as BHS' hard hitting mixed with multiple PSHS fielding miscues overwhelmingly reversed momentum in favor of the home team.
And a defensive play-of-the-year probable in the top of the fifth all but secured a two-game sweep.
With one out, Pagosa Springs struck back with consecutive singles by Hunter Pouyer and Kaison Clifford, generating a run. Tyler Bowdridge then belted a double to center but Clifford could only advance to third base. That brought up, off all people, Cotts.
Removed from the mound following Bayfield's offensive breakout, the Pirates' captain lashed a Jackson Queen pitch toward Wolverine shortstop Isaac Ross. Unable to spear the shot outright, Ross whirled around in reverse attempting to locate the upward-deflected ball. Spotting it overhead but tracking away to his right, Ross then dove headfirst, finally completing the catch.
"I guess God just gave me the lucky bounce' on that one," said Ross, still amazed two days later at practice.
Remembering Bowdridge had been on second but possibly not able to have seen the snag, Ross then instinctively winged, while rolling over on his back, a risky throw to alert second baseman Cade Carlson, who had only a short distance to stretch in order to reel in the toss and roll up Bowdridge, denying Clifford a chance to score.
"Isaac somehow made it to me; it was an awesome play," Carlson said. "I didn't even expect him to catch that. All I saw was he turned around, fell catching it, and I was screaming at him to throw to me because I saw that their guy was taking off to third; he didn't expect it either."
"Probably should have thrown it to third," admitted a grinning Ross. "I couldn't see Cade; I was throwing it to the base hoping he was there, but he got there. That ball was going to go to right field and we could have been in trouble."
If not on the scoreboard, then likely back in the dugout with the boss, whose expectations of the Wolverines – along with the players' own – have only elevated during a current six-game winning streak putting the squad in prime position to clinch the Intermountain League crown Saturday at home versus Alamosa.
"They've found themselves down in a lot of games, and they've fought back and won those games," Miller said. "They're playing together as a team very well, and those were big wins against Pagosa; they set us up in a very good spot."
With the Mean Moose, which dealt Bayfield their first loss, 8-5 back on May 15 at the Salida Invitational, having suffered a loss to Montezuma-Cortez and still needing to face both Centauri and PSHS once more in league play, the stakes are mathematical: The Wolverines (11-2, 6-0 IML) need to defeat Alamosa (8-4, 3-1 IML) once in two tries to lock up the title.
"They're a good team," said Miller, "and when you give a good team five, six outs in an inning they're going to score some runs. We didn't play error-free against Pagosa, but we played pretty danged well. They've came a long ways from when we lost in Salida – it was one inning with two or three mistakes put together; we're hoping we've put those mistakes behind us.
"I hope we can get the one win, but two would be awesome."
Since a 14-3 mercy-rule loss at Class 4A Durango three days after losing to Alamosa, Bayfield – which began the Pagosa twinbill ranked No. 10 in the CHSAANow.com Class 3A poll – has outscored the opposition by an aggregate 78-37 margin, so it would seem that batting and general offense, if properly disciplined, shouldn't be too much a concern.
"With Alamosa, there were a lot of balls that we could have taken that would have helped in our favor," lamented Mazur, part of BHS' excitable sophomore core. "So, it's about us being more selective in the count in our at-bats. Getting hits and putting the ball in play; that's all we have to do."
Carlson said the team knows it can rely on some of its leaders when needed most, including red-hot sophomore first baseman Noah Chamblee, whose 3-for-7, one-run, one-RBI work overall against the Pirates actually constituted an off day.
"We just need to put the bat on the ball;," Carlson said. "(Alamosa) had some good pitching, but we didn't capitalize on it too much."
Ross said hitting the curveball will be the key but said the team has worked on that all season.
"Definitely helps with (assistant coach Clay Miller) and (assistant coach Hub Brandon) throwing to us; they both threw in high school, they were pretty good, and it's pretty much what we see in league," Ross said. "Clay throws a lot faster than what we see, but it helps us get timed up with other people."
With Alamosa's losses also including setbacks against two plus-level 4A teams (Battle Mountain, presently 9-5 overall, and Montrose, 8-4) and a one-run, non-league home loss to current 3A No. 9 Lamar (presently 10-2), pitching will have to set a confident tone for Bayfield, and Miller will count on anchors Mazur and Queen to do so.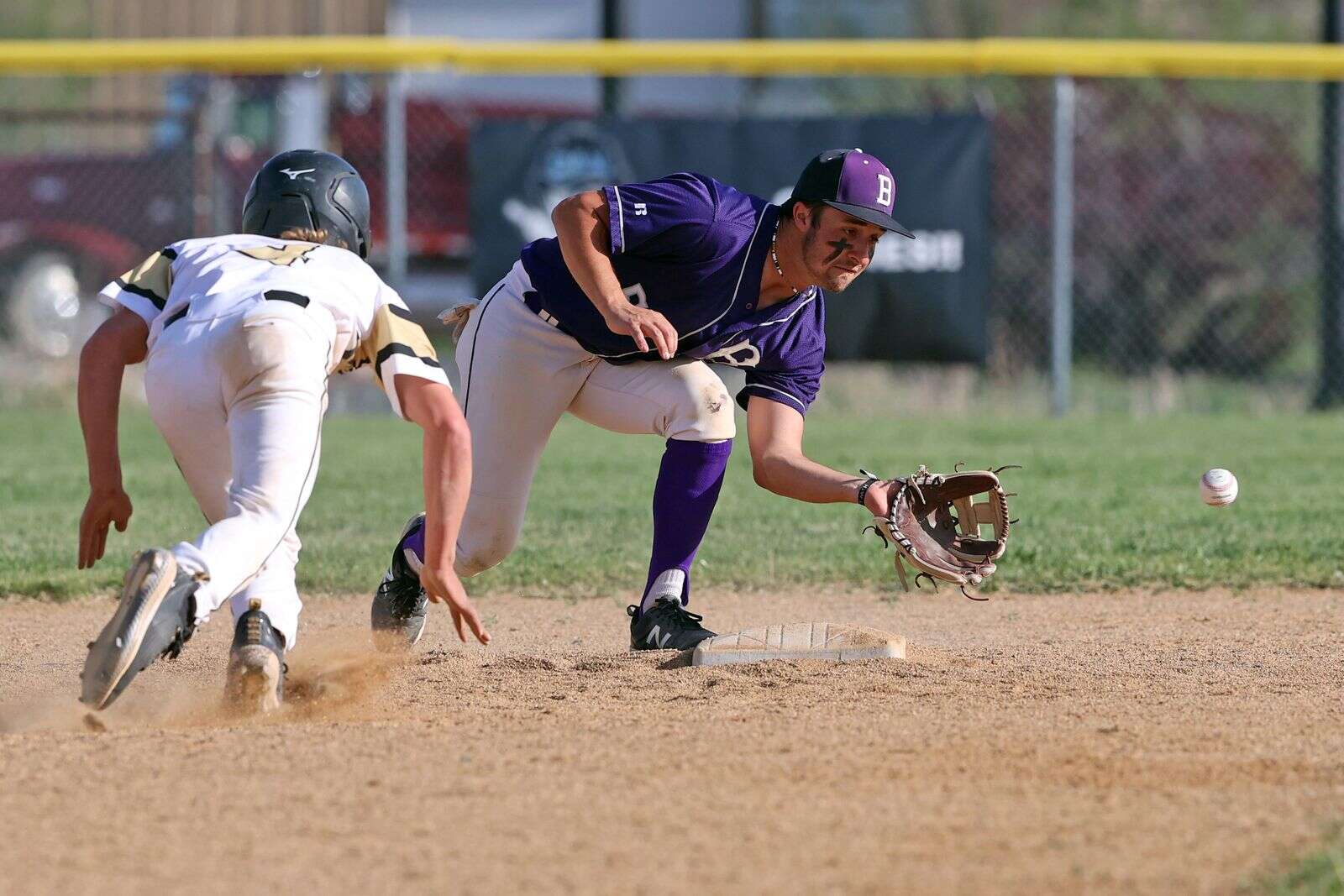 "Lance had been struggling, and he threw a great game against Pagosa (a 5-inning, complete-game win in Game 1 with nine strikeouts against four hits and two walks) and hopefully that's the start of something," said Miller. "He's starting to put it all together now.
"Jackson has thrown awesome all year long," Miller said of Queen, who earned the Game 2 win over PSHS working six innings and scattering as many hits while walking one Pirate, beaning one, and fanning six. "He's a sophomore also, throws strikes, has a good curveball and an awkward arm angle and throws very well. He gives us quality innings.
"We've lived and died with these sophomores all year. I'm just hoping against hope we play our game Saturday."
Carlson said the team is ready to show its talent at home this weekend.
"I'm fired up," said Carlson. "I don't even think we should have lost two games this year, but this is a really good chance our team has. The first time, we had a lot of errors in the outfield and in the infield; we definitely need to clean that up because they put the bat on the ball pretty well. I'd say we're definitely ready."
BOOM(ING) STICKS: During the Wolverines' 11-1, 10-2 sweep of Pagosa Springs (4-9, 2-5 IML), Mazur went a combined 3-for-7 with two runs scored and five driven in from the 3-hole in Miller's lineup. Sixth in the order, sophomore center fielder Caden Wood went 2-for-5 with a double, a walk, a hit-by-pitch, and two runs scored. Hitting eighth, sophomore catcher Nic Twedt was 2-for-4 with a double, walk, and three runs.
Atop the order, Carlson and Ross went just 3-for-12 with two walks but did total five runs.
X-FACTORS AGAINST ALAMOSA: Providing a surprise spark all day from the 9-hole, sophomore rightfielder Andy Monger finished 2-for-5 against PSHS, with a double, three runs and four RBI…. Junior pinch-hit specialist Andrew Peacock again made the most out of a plate appearance, knocking a fourth-inning RBI-single in Game 2, plating Dante Candelaria—inserted as a courtesy runner for Chamblee, who'd singled immediately after Mazur's aforementioned motivating blast….
Junior Devin Avery, who sewed up Queen's Game 2 win working a hitless seventh inning and striking out two, could prove vital relief should either BHS ace falter against the Mean Moose who, interestingly, have not yet this season played a non-tournament doubleheader (Bayfield, meanwhile, has already played four—winning all eight games).
"I'd be remiss if I didn't talk about Devin," said Miller. "Every time we've needed somebody to come in, stop another team from rallying, Devin's been our guy. Throws strikes, throws the ball hard…. He may be our best pitcher—and he works strictly out of the 'pen!"
DID YOU KNOW: Since Alamosa joined the 3A Intermountain for the 2011 season, the Mean Moose are 3-15 against Bayfield in regular-season league play, but have been the Wolverines' chief challenger for IML supremacy—last besting BHS for the championship in 2018, posting a 10-0 circuit record against Bayfield's runner-up 7-3—every year since arriving, including in '11 when AHS, BHS and now-2A Monte Vista all finished 6-2.
A 9-2, 15-5 sweep of the Moose in '19 gave the Wolverines a 10-0 loop mark while Alamosa finished 8-2. As everyone knows, the 2020 season was canceled by the global COVID-19 pandemic—leaving Bayfield Baseball, going into Saturday's action, owning a 77-7 regular-season Intermountain record since 2011 (AHS' stands at 63-19) and seven undisputed IML titles.