Senior cross country runner found confidence to realize his potential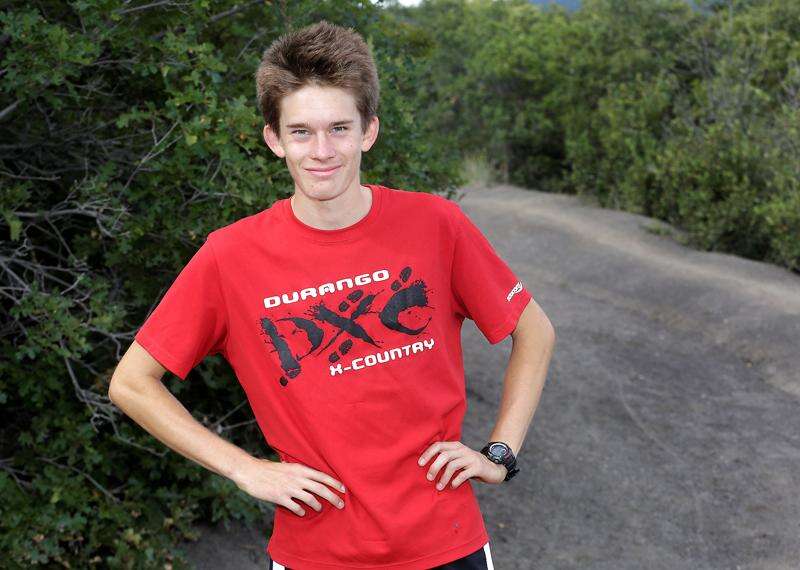 Benjamin Lachelt scratched the surface of the runner he could become at the state cross country race last season.
He ran at the front of the Durango High School pack in 14th at 17 minutes, 26 seconds.
"That race was kind of the turning point in my racing," said Lachelt, son of Gwen Lachelt and Trisha Rickey. "That was the hardest race I've ever run, and I decided that's how I needed to race."
Lachelt then took that mentality into the spring track and field season and his summer training to emerge on a different level.
After skipping the Demons' first race of the season with an injury, he took second at the Battle Mountain Husky Invitational and won Friday's Southwest Sunset XC Classic.
It was the first cross country race Lachelt had won in his high school career.
"It's been coming. I still don't think he knows quite what his true potential is," DHS head coach David McMillan said. "He hasn't always had the confidence to really throw it down. He's always looked up to (Nicholas Turco). Nick's been a real role model for Benji and a consummate gentleman."
Lachelt and Turco are both seniors, along with the majority of Durango's varsity candidates.
They've come up through the Demons' program encouraging each other and competing with each other.
"We see Benji being one of our top runners running as hard inspires us to try to run as hard as he can," said DHS senior Jordan Helms, son of Elizabeth and Tony Helms. "We're all pushing ourselves."
They're pushing each other, too.
DHS has traditionally run in a pack emphasizing team finishes, but that hasn't stopped internal competition from flaring.
"We're running as a team together, but we also have these little rivalries," Lachelt said.
Turco represents that rival for Lachelt.
But the individual never rises above the team and its long-term goals, which include the state championship that eluded the Demons last season and appears within striking distance this season.
"We're all pretty close together. At the beginning of the season we talked about a mission statement that we summed up 'be the best you can be,'" Lachelt said. "That's shown in these races."
Even among the dominant team performances, it's hard to ignore what Lachelt is doing.
He already has turned in a faster 5-kilometer time than his state finish last season, and the Demons still have three more regular-season races, including their annual visit to the Desert Twilight in Phoenix in three weeks.
"The exciting thing for me is there's no order that's been established," McMillan said. "Benji beat Nick two weeks in a row but may not beat him the next race."
Not if Lachelt can help it, and now he knows how to drop the hammer.
kgrabowski@durangoherald.com
Who is your favorite athlete?: Skier Ian Compton
What is your favorite Outdoor activity?: Skiing and mushroom foraging
Do you have any hidden talents?: Kendama
What is the song you can't get out of your head right now?: Eazy E, "Boyz-n-the-Hood"
What teacher has had the greatest impact on you?: Ms. Haller and Mr.
You are going out on a date, where do you go?: Skiing at Hesperus
What is the worst place you've had to travel to for a game?: St. Vrain Invitational. it rained for hours
Who is your celebrity crush?: Lolo Jones
What are your go-to pizza toppings?: Pineapple
What is a place you haven't visited you most want to?: Papua New Guinea