Demons sweep home invitational at Hillcrest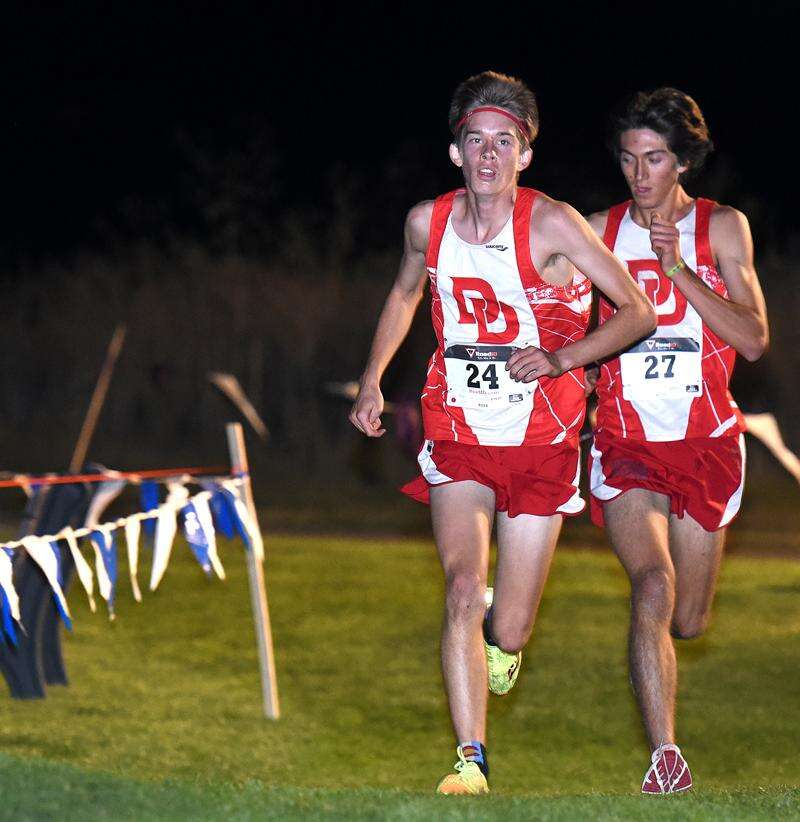 The machine rolls on.
The Durango High School cross country team swept the inaugural Southwest Sunset XC Classic on Friday night at Hillcrest Golf Club.
DHS won both the boys and girls individual and team races under the lights after a 9 p.m. Friday start.
Benjamin Lachelt took first in the boys individual race in 16 minutes, 52.6 seconds.
He edged teammate Nicholas Turco in second by seven seconds.
"They're competitive, Benji wasn't going to let Nick sneak ahead of him at the end," DHS head coach David McMillan said.
William Chandler finished third for the Demons in 17:06.3, Jordan Helms was fourth at 17:10.9 and David Moenning rounded out the top five in 17:13.9.
Isaac Ducker took 11th in 17:53.5.
The Demons' dominating performance left them with 10 points, which far outpaced Alamosa in second with 44.
"They're a group of kids that, as a unit, they want to accomplish the ultimate this year," McMillan said. "They're a machine with interdependent parts. These guys are all running for each other."
It was Durango's third consecutive meet win to start the season.
The Demons' girls team won for the first time, just edging Pagosa Springs with 24 points compared to the Pirates' 29.
Abby Scott won the individual race in 21:11.4 followed by Sarah Smagacz in second at 21:22.4.
Mary Fenberg took 10th in 22:22.7, and Anna Smagacz was 11th at 22:25.7.
Lilah Slaugther finished 23rd in 23:03.9, and Alle McKown was 30th at 24:04.4,
"We're underclassmen through our top 12 (runners)," McMillan said. "They're starting to pull together."
Bayfield High School finished seventh as a girls team and 11th as a boys team.
Bridget Goddard paced the Wolverines in 25th at 23:07.9, Lexa Fleming was 32nd in 24:07.3, Rachel Cooper took 35th in 24:48.3, Amber Johnson finished 46th in 26:33.9, Sarah Ruybal was 61st in 30:23.8, Mylee Sanders took 33:27.9 and Jade Sanders finished 66th in 34:52.4.
Sloan Mazur finished 33rd in 19:42 to lead Bayfield's boys team, Bryan Gram was 48th in 20:52.2, Joey Sandrey took 53rd in 21:2.6, Brandon Stuever finished 63rd in 22:43.9, Jackson Sibley took 68th in 24:30.6, Justis Herrera was 69th at 25:14.8 and Daniel Jenkins rounded out BHS in 70th at 25:29.4.
Friday night's event marked a drastic change from the traditional Southwest XC Challenge BHS and DHS have typically hosted.
Instead of running a Saturday morning at Saul's Creek, organizers decided to put together a primetime race at night at Hillcrest.
It featured not only the two high school varsity races, but multiple middle school events and a community five-kilometer race.
"They hung around afterward and watched the high school races.," McMillan said. "It was all I imagined it could be for a first time through."
Farmington's Brandon Levi won the community 5K in 16:55.2, outpacing Durango assistant cross country coach Brett Wilson, who crossed the line in 17:36.3.
Most of the runners donned glow sticks to help illuminate the dark and pick each other out of the crowd.
"The coach from Cortez came up to me and said 'our kids are never going to forget this,'" McMillan said. "It's a unique event, and the kids really rose to that."
kgrabowski@durangoherald.com