Win comes on heels of mountain bike national titles last weekend
Quinn Simmons needs a bigger closet to hold all of his cycling national championship jerseys.
The 18-year-old from Durango claimed Saturday's USA Cycling Amateur Road National Championships men's 17-18 road race in Clear Springs, Maryland. In a sprint to the finish after 75.8 miles, Simmons was first to the line in 3 hours, 1 minute, 13 seconds. The Lux Cycling Development Team rider finished just ahead of Lane Maher of Connecticut.
Last weekend in West Virginia, Simmons claimed the junior men's cross-country and short-track mountain bike national titles, giving him four junior national titles in his career and now a fifth and first on the road bike.
"Going into the year, winning the cross-country and short-track mountain bike national championships were the big goal," Simmons said. "I wasn't really sure what would happen on the road. To win a national championship, it's a great feeling for sure.
"I'm going to be able to wear the Stars and Stripes jersey in a lot of races next year no matter which bike I'm on."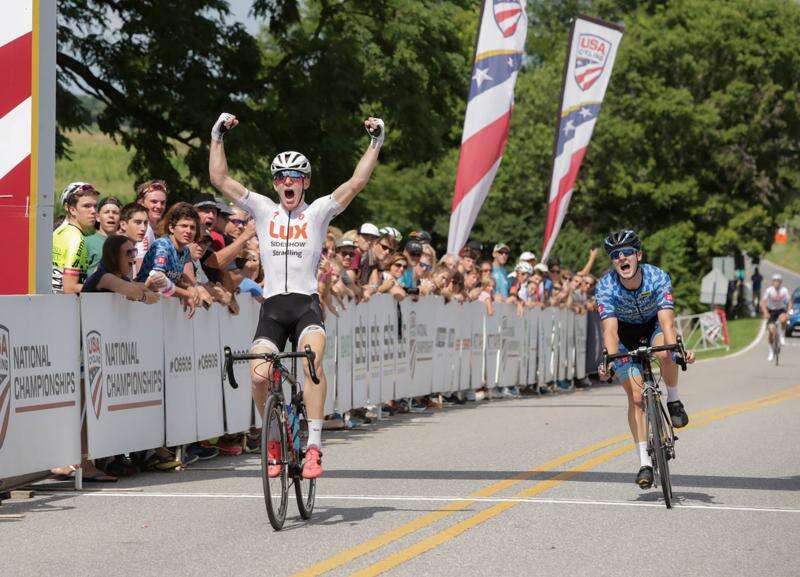 Simmons is in his first year of competitive road cycling with a team. His first stage race was the Valley of the Sun in Phoenix. He won the event and gained USA Cycling national team status. He then finished third at two races in Belgium and was seventh in the Paris-Roubaix Juniors road race in April despite a crash and a flat tire.
"Going into this year, I had no idea what to expect on the road," Simmons said. "I was using it more as cross training for mountain bike season. When I won at Valley of the Sun, it kind of led me to more races in Europe and now to this."
On Saturday, Lux's Sean Quinn and Isaac Bryant, two Lux riders, finished third and fourth, respectively. Quinn was nine seconds back of Simmons, while Bryant was 2:03 back. Those two riders helped the team send Simmons to the win. In Thursday's time trial, Lux won as a team, and Simmons finished seventh as an individual.
"The guys on the team helped me a lot today and protected me," Simmons said.
The course was rolling with six laps around a loop that featured two sustained climbs on the first half of each lap. Simmons and his team wanted to push the pace on those inclines to establish a gap. A four-man break was established that boasted a lead of more than two minutes on the peloton, and it held to the finish line.
Thursday, Simmons finished seventh in the individual time trial while Lux won as a team. The team made claimed another national title Sunday, as Riley Sheehan won the 60-minute criterium race. Sheehan also won Thursday's time trial. Simmons did not finish the criterium
Now, Simmons will fly to Belgium for another road race and then on to France for more.
Simmons, son of Holly and Scott Simmons, has taken class at Southwest Colorado eSchool and is completing high school and college course work. He will complete his high school work in December and race full time beginning next spring. He admitted the road racing opportunities could draw him away from mountain biking, and he expects to begin talking with pro road teams by this time next year.
"The opportunities of road racing in Europe are a big draw, especially if I want to make a career of this with what the money looks like," Simmons said. "I still love racing my mountain bike. We will see what next year's schedule looks like. I'm definitely really getting into the road."
jlivingston@durangoherald.com