Easter brothers take 303Project team into big race
A day in the overall leader's yellow jersey and a top-10 finish at last year's Tour of Utah helped gain Durango's Sepp Kuss an offer to join a pro World Tour team in 2018. On Monday, Kuss will get a second start in Utah, this time as a key piece of Team LottoNL-Jumbo.
The 23-year-old from Durango is still young to professional road cycling in only his third full season. Still, he is one of the names to watch when the seven-day International Cycling Union (UCI) American Tour stage race kicks off Monday with the prologue in St. George.
Kuss won't be working alongside Rob Britton this year, though. Last year as a member of the Rally Cycling Pro Continental Team, Kuss finished second on the second stage at the Tour of Utah and went into the leader's yellow jersey for the first time in his UCI stage racing career. A day later, he handed the yellow over to his teammate Britton, who wore it all the way to the finish line en route to victory. Kuss went on to finish ninth in the general classification standings. Kuss said the race a year ago was one of his greatest learning experiences, and he will take many of those lessons into this year's edition.
"Last year was a really good opportunity, and it was really cool to kind of be there working for Rob Britton," Kuss said Sunday in a phone interview with The Durango Herald. "That's one of the better learning experiences you can have is kind of being in that supporting role and being there with the guy that's winning the race. It's usually not super realistic to win your first go-round, so I've taken a lot of that with me in this year's race. Those moments where you need to step up and recognizing those other moments where you can be more calm and relaxed."
Kuss hasn't competed in a race since the Critérium du Dauphiné in early June in France. He finished 34th in the GC in a race considered the warmup for the Tour de France. It was won by this year's Tour de France winner Geraint Thomas. Kuss' top finish was 26th on the race's sixth stage. He was the second overall American in the GC standings two places behind Ian Boswell.
He spent the last month in Boulder, where he graduated from the University of Colorado in 2017. He also has spent time in Durango training with childhood friends such as mountain bike Olympian Howard Grotts and multi-discipline national champion Christopher Blevins.
"Dauphiné was my last race, and I feel really good right now," Kuss said. "I had a nice little midseason break after Dauphiné and was riding pretty well there. I think I was able to help the team out a good bit there. I kind of carried a lot of confidence out of that race and was able to get back in the U.S. and had a lot of really nice training and just kind of do my thing. I'm in a good mental place in preparation for the races coming up."
Team morale is high for LottoNL-Jumbo. The squad claimed three stage wins at the Tour de France, and two riders finished in the top five in the general classification standings. While none of the team's riders who competed at the Tour de France will ride in Utah, the strong showing was felt by the entire team, including Kuss.
"Early this season, we've had lots of really big wins," Kuss said. "To be one of the top teams in the Tour was really cool, and for me, watching from home, it was pretty exciting. Normally, I'm not super interested in watching the Tour for whatever reason, but this year I felt a lot more invested because I'm actually on a team with a lot of those guys. It was awesome to see them mix it up every day and it made for an exciting race. I kind of felt like I was part of it almost."
Tejay van Garderen, the top-American at this year's Tour de France with a 32nd-place finish in the GC, will compete this year with the BMC Racing Team. He hasn't competed at Tour of Utah since 2011, when he finished 42nd. He is joined on BMC by fellow Americans Brent Bookwalter and Joey Rosskopf.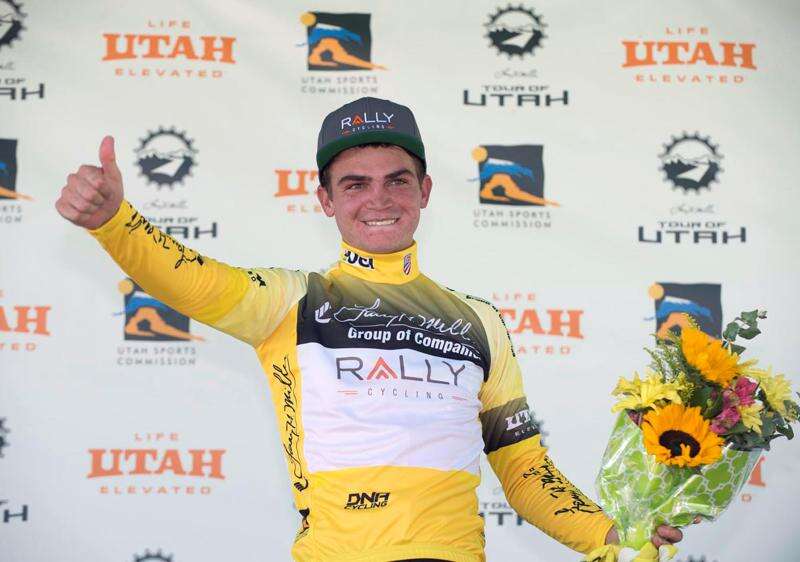 Rally Cycling, headed by Canada's Britton, will once again form a formidable team with strong riders that include Evan Huffman of the U.S. The UnitedHealthcare Pro Cycling Team also will be formidable with Colombian riders Janier Acevedo and Daniel Jaramillo along with American Travis McCabe and Romania's Serghei Tvetcov.
Competing for the Jelly Belly/Maxxis team are Fort Lewis College cycling alum Cormac McGeough along with 2018 Iron Horse Bicycle Classic runner-up and 2015 IHBC champion Keegan Swirbul of Basalt.
The 303Project team out of Denver will boast a pair of Durango-based riders in FLC alum Griffin Easter and his brother, Colorado Mesa University alum Cullen Easter. The pair have shown impressive results this year at Tour de Beauce in Canada as well as the Tour of the Gila earlier in the season in New Mexico.
Durango's Blevins won't join the Axeon Hagens Berman team in Utah, as he instead will race in a mountain bike World Cup event at Mont-Sainte-Anne in Canada.
Monday's prologue is only a 3.3-mile out-and-back that will feature a fast downhill finish. In all, the Tour of Utah features 548.3 miles of racing with lots of big climbing days. Stage 4 features 10 laps around a 6.8-mile loop through Salt Lake City. Stage 5's finish comes at Snowbird Resort with a climbing finish, and the final stage Sunday will climb and descend Empire Pass to the finish line. There are several climbs along the route with 15 percent grades, playing into Kuss' strength.
"We've got a lot of options and a really strong team for the mountains," Kuss said. "A lot of the guys have been at high altitude in Austria leading into this race. We don't really have a set leader because it's a pretty young team, but I think the challenging nature of the course will naturally select us.
"I don't have any specific results-based goals or number-based goals, just give it my best. I'm really happy and confident in the training I've done the past month or so. I feel confident, but this year there's a lot of really strong riders; I think one of strongest fields they've had in the history of the race, which is really exciting because it brings it up another level. You have to rise to the occasion, and that's exciting for me."
jlivingston@durangoherald.com