Durango's Kuss sprints in Stage 3, keeps overall lead
Sepp Kuss wasn't going to surrender the yellow jersey he worked so hard to obtain Wednesday. His team protected him well, and he was in the thick of a sprint finish Thursday at the Tour of Utah.
Kuss, a 23-year-old professional road cyclist from Durango, won Wednesday's second stage of the seven-day Tour of Utah. It was his first professional stage win, and it came at one of the marquee International Cycling Union (UCI) American Tour stage races. Kuss kept the leader's yellow jersey Thursday and maintained a 19-second lead in the general classification standings.
"I'm feeling really good," Kuss said Thursday night in a phone interview with The Durango Herald. "It's nice to have a stage win. I think that was our main goal going in, was to win a stage. Really anything that happens after that is a bonus. Yeah, of course we will go for the (general classification). The team is riding super strong. If we keep going like we are, I think we can pull it off, but we will see how it goes. There's good energy on the team right now."
During Thursday's Stage 3, the longest-distance stage of the week with a 116-mile route from Antelope Island to the town of Layton, Kuss rode alongside his teammates in the main peloton and stayed safe along the way. Kuss found himself in the thick of the mass sprint finish, and he placed 14th. UnitedHealthcare team rider Travis McCabe, who already was in the sprinter's jersey entering Thursday, won the sprint finish in a time of 4 hours, 4 minutes, 7 seconds.
A total of 79 riders finished in the same time. McCabe edged Jasper Philipsen of Hagens Axeon Berman, as the Axeon team set up a beautiful lead-out for Philipsen in the closing stretch. But it was a lead-out from Sebastian Haedo of UnitedHealthcare that helped send McCabe to a stage win, his record-setting fourth stage win in his career at the Tour of Utah. He also won Stage 1 this year in Cedar City.
"The team was in front all day, so it was pretty easy to be near the front in the last 5K just in case there were any incidents. For me, I don't really sprint with the guys, just kind of do my own thing and try not to bang elbows with anybody," Kuss said. "It's important for me to not take any risks or anything. To be up there in the top 20 is a matter of positioning, and it's nice to be one day closer to the end."
Kuss' four-day total time of 11:54:24 has him in the yellow jersey and 19 seconds ahead of his Team LottoNL-Jumbo teammate Neilson Powless of California. Kuss and Powless are the lone Americans on the Netherlands-based team and have enjoyed a strong showing together in Utah, as they finished first and second on Wednesday's Stage 2. The team is riding a high after strong showings this season, including three stage wins at the Tour de France last month.
"The team rode awesome today, covering moves and keeping the break in check and still having enough energy to help out in the final bit," Kuss said. "They are riding super well. The thing about this race, it's totally different from any race you'd have in Europe or anything because the altitude and the pretty unique climate. You're at altitude, but it's also so hot and dry. For these guys coming from Europe, it's a shock to the system, and for them to be riding as well as they are is pretty awesome."
A year ago, Kuss finished second on Stage 2 at the Tour of Utah with a different route that featured a climbing finish atop Snowbasin Resort. He took over the yellow jersey for one day before he surrendered it on Stage 3. He went on to finish ninth last year, and that helped propel him to a contract with a World Tour team. This year, Kuss is staying humble but optimistic about his chances to land on the podium after Sunday's final stage in Park City.
"The nice thing now is that Neilson and I are one and two on GC, so we're definitely in the driver's seat," Kuss said. "All we have to really is follow, and being ahead is easier than being behind. Still, I'm excited for the weekend stages. Just because you have the yellow jersey doesn't mean you can't attack. There's still lots to play for."
Thursday, defending champion Rob Britton of Rally Cycling was part of an early 10-man break Thursday and then rode out on a two-man break late in the stage along with Jonny Clarke of the UnitedHealthcare Pro Team. But the peloton caught the break riders and closed down a 1-minute gap in a matter of a couple miles. As the peloton closed to within 15 seconds, Britton looked back and gave Clarke a handshake before they were absorbed. Britton went on to finish 43rd on the stage but claimed the red jersey as the most aggressive rider, a jersey he took from 303Porject rider and Fort Lewis College cycling alum Griffin Easter, who earned the jersey after an early solo surge on the climb on Wednesday's second stage. Clarke fell to 92nd and finished 2:39 off of his teammate's winning time.
During his Stage 2 win Wednesday, Kuss powered his way to a 29-second victory ahead of Powless by forming a solo break over the top of the route's climb to more than 9,000 feet. First, Kuss had to reel in Easter, who had gone on a break of his own early in the climb.
After he caught Easter, Kuss kept going and dropped the fellow Durangoan as he pushed to the top of the climb. He got to the top alone and rode solo to the finish.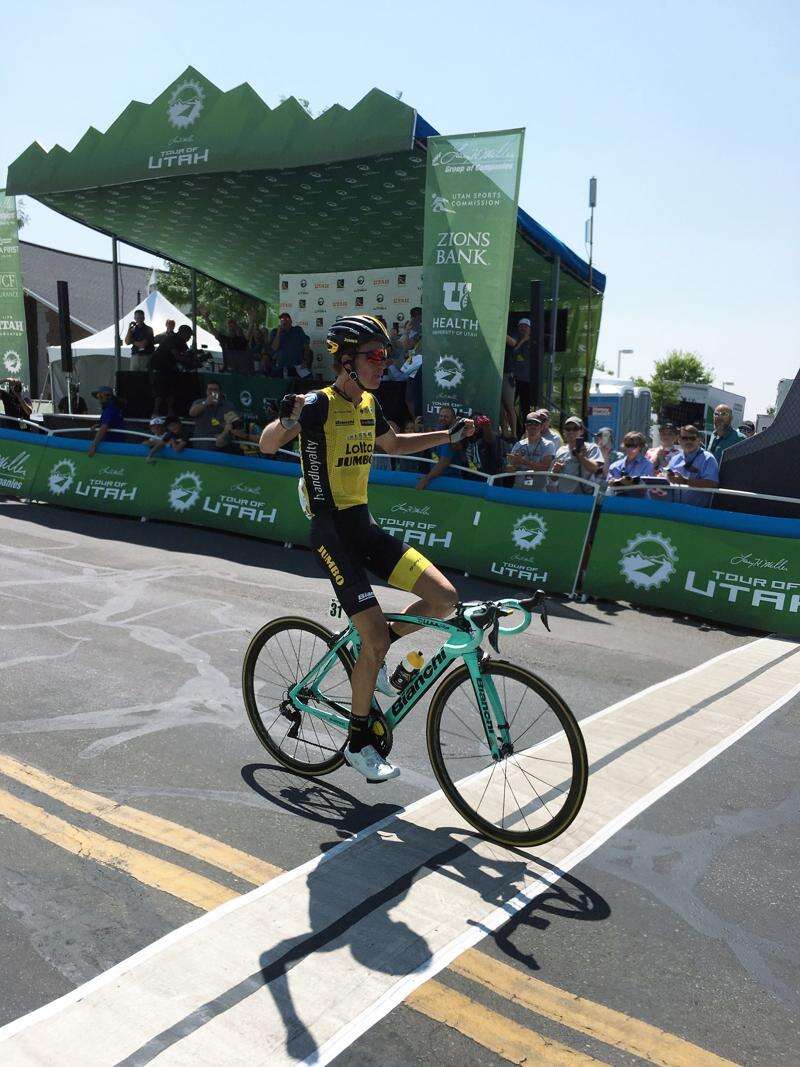 "Sepp going up the road, that was insane," Powless said of his teammate in the post-race press conference. "The whole time I could hear the director in my ear piece. Sepp was incredible, definitely the strongest climber in the race right now. That's insane. I'm incredibly happy and at a loss for words going one-two in the stage."
Kuss faced a tough headwind, but the nearly 30-mile descent back into the town of Payson kept him away from the chase group behind him. He maintained a gap of at least 50 seconds all the way back into Payson before he faced a mostly flat ride through town to the finish. The chase was able to gain some time back on him through town, but Kuss still finished with the 29-second advantage.
"Sepp showed he's the best climber in this peloton," Team LottoNL-Jumbo Sports Director Sierk Jan de Haan said Wednesday in a news release. "The last (40 kilometers) were mostly downhill, but it was hard because of the headwind and short climbs. That he managed to win this stage after (50 kilometers) solo, is a great achievement."
Though Easter lost his red jersey Thursday, he still finished 16th on Stage 3 after another strong effort. He is in 31st overall, 5:08 back of Kuss. Easter suffered a small heartbreak on Tuesday's Stage 1 in Cedar City, as he posted up and celebrated what he thought was a stage win when there was still one lap through town remaining. He went on to finish 78th and was 1:09 back of McCabe's winning time that day.
Wednesday, Easter was in an early six-man break with another FLC cycling alum in Cormac McGeough, an Irishman competing for Jelly Belly/Maxxis team. McGeough quickly faded on the climb, but Easter went solo for the opening third up Mount Nebo before Kuss reeled him in and dropped him. Easter credited team mechanic Carson Jones Wilkins, another Fort Lewis College guy, for helping him with an early front flat tire before the climb up Mount Nebo.
"After (Tuesday's) accidental post up, I wanted to try to redeem myself," Easter said of Wednesday's Stage 2 effort. "The goal from the team was to get into the break and, depending on the situation on the road, go for it until I get caught.
"After some time off the front, I looked back and Sepp Kuss was with me on my wheel. I rode with him for as long as I could then sent him on his way. Overall, it was a great day and experience, and I was happy to pull on that jersey. I'm looking forward to the rest of the week and can't wait to see Sepp defend that jersey."
Durango's Sepp Kuss wins Stage 2 of the 2018 Tour of Utah! He's into the yellow jersey in Utah once more! @TourofUtah #TOU2018 @seppkuss @LottoJumbo_road pic.twitter.com/aFSgcDqvsM

— John Livingston (@jlivi2) August 8, 2018
Easter's brother, Cullen Easter, is in 48th place overall, 14:52 back of Kuss. He finished 94th on Stage 3, 3:38 back of the winning time. McGeough is in 101st place, 38:24 back. He was 88th on Thursday, 1:47 back of McCabe and the peloton. His Jelly Belly teammate Keegan Swirbul, the 2015 Iron Horse Bicycle Classic road race winner and 2018 IHBC runner-up, is in 13th overall, 52 seconds off the lead. He finished 37th on Thursday.
Colorado Springs-based mountain biker Russell Finsterwald dropped out of the race Thursday. It was his first Tour of Utah appearance.
Friday's Stage 4 is a downtown circuit race in Salt Lake City. It will feature 10 laps around a 6.8-mile route. It will feature 450 feet of climbing each lap with a quick descent back to the start/finish line. Like Thursday, it will be a day for sprinters with three sprint time bonus zones.
Kuss will enjoy Saturday's 98-mile Stage 5 with a two big climbs, including Guardsman Pass, from Canyons Village to Snowbird Resort with a climbing finish up Little Cottonwood Canyon. Sunday's Stage 6 finale also will suit Kuss well.
At 76 miles, the route will feature two climbs at an altitude of more than 8,500 feet.
Many in the peloton recognize Kuss as the strongest climber at the Tour of Utah. Still, he's not getting overly confident about his chances this weekend.
"I'm not crazily invested in it," Kuss said of the yellow jersey. "To win a stage is awesome, and I have a lot of other big goals later in the season, as well. It's not a make or break for me, but I think this is a super special race and, given the quality of guys that are here, it would be super awesome to pull it off and keep the yellow at the end of the race.
"There's no extra pressure on myself, and the team isn't, either. If you relax and are having fun, then it all comes easing. I'm keeping with that mentality."
jlivingston@durangoherald.com