Jornet, Schlarb conquer 100 miles together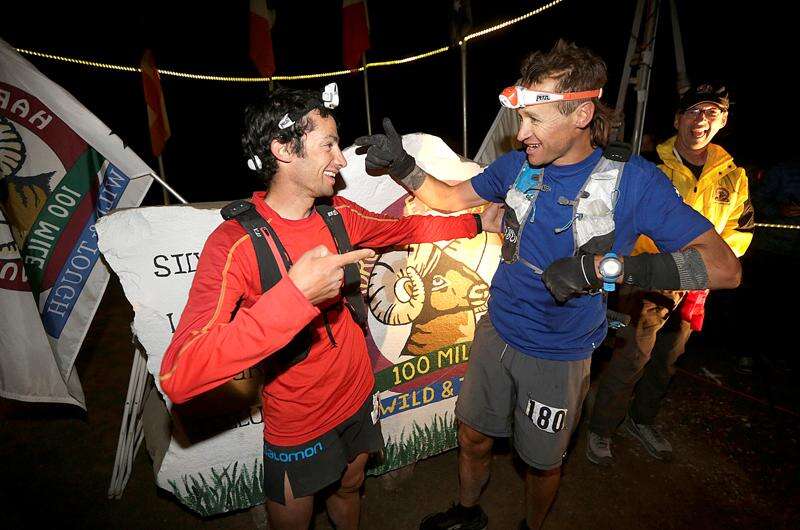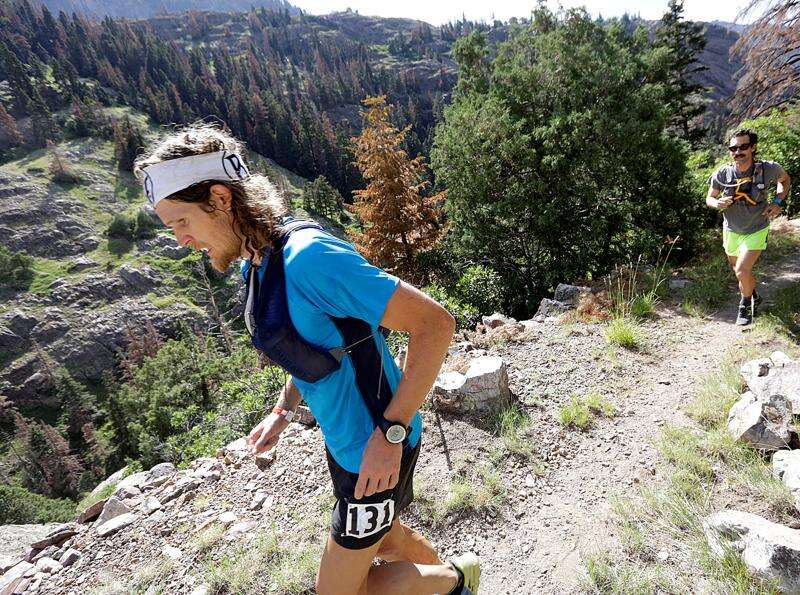 It didn't take a record-breaking performance to create an unforgettable finish.
Two-time defending Hardrock Hundred Mile Endurance Run champion Kilian Jornet of Spain had company at the finish line before the sun rose Saturday morning in Silverton. Running side-by-side and holding hands to the finisher's rock, Jornet and Durango's Jason Schlarb kissed the rock together to finish as co-champions.
They crossed the finish line in 22 hours, 58 minutes, 28 seconds.
"It's the biggest competitive racing athletic accomplishment of my life," said Schlarb, who has called Durango home for almost two years. "To be able to run with the best in the world, undisputed, and be able to come in together with him and run an impressive time at the course and race I wanted to run the most in the world and be able to do that, it's tough to beat."
The dual-finish wasn't unprecedented. English runners Mark Hartell and Mark McDermott finished together in 1997 in 30:33:31.
The 100-mile race starts and ends in Silverton after traversing to Telluride, Ouray and Lake City at an average elevation of more than 11,000 feet.
Jornet had a chance to break away descending Handies Peak, the 14,048-foot mountain near Lake City and high-point on the course. But Jornet waited for Schlarb, and the two were together every step of the way from there.
The winners credited each other and their pacers for waiting at times or pushing the pace when necessary.
"I think it makes no sense to finish in a sprint after 23 hours sharing a race," Jornet said. "…The thing is, when you have been running together all the course almost all the night. It's like they say, it's not to make a sprint to finish like 1 minute in front. Come on."
Race director Dale Garland was nearly brought to tears by the display of sportsmanship.
"I think it says something when there are people that are so competitive and they come together and say, 'Let's do this together,'" Garland said. "It's a tribute to both of them, the sportsmanship of the sport and the nature of what Hardrock is that they wanted to come in together."
Schlarb, 38, joined Jornet, 28, as the only men to finish the Hardrock 100 course in less than 23 hours. Jornet set the clockwise course record of 22:41 in 2014. Jornet's 2014 record broke the previous mark held by Kyle Skaggs, who finished in 23:23 in 2008. This year's time wasn't far behind it, and the two men said they made a big push the final 8 kilometers to finish under 23 hours.
"We were running almost the fastest of the whole race the last 8K," Schlarb said. "I was interested in seeing if I could run as fast as Kyle, who is another hero of mine. We were running so fast, and I pushed absolutely as hard as I could the last climb out of Cunningham. It made it so under 23 was a reality."
The co-champions finished nearly an hour ahead of third-place Xavier Thévenard of France, who crossed in 23:57.10.
Thévenard, 28, pushed hard the first 50 miles and on through Grouse Gulch before facing some difficulty on the climb up Handies Peak. Schlarb passed him on the climb and said Thévenard didn't register his presence when he passed by.
"Very difficult, very tough," Thévenard said through a translator moments after finishing. "Like the name, Hardrock, very hard, very tough."
Jornet and Schlarb were happy to hear Thévenard didn't drop out of the race and that he was able to recover and finish strong. It was Thévenard's first Hardrock start and finish and his first high-altitude ultra in the United States. He is one of the top trail runners in the world, backed up by a 2015 Ultra Trail du Mont Blanc victory. That race is considered the Super Bowl of the sport.
Fourth-place Jeff Browning of Bend, Oregon, made history of his own Saturday. He finished in 25:42:05 to set a new record for the Western States 100/Hardrock 100 double. The Western States 100-Mile Endurance Run is held in California. Browning took third at the event this year in 16:30:40 only 19 days earlier. His combined time was 42:12:45. The previous mark was set in 2011 by Nick Clark, who finished in 43:33:23. The Hardrock results were the big difference maker, as Browning was nearly four hours faster. However, Clark only had 12 days rest, and Browning had 19.
Browning, 44, beat the previous mark that was held by Nick Clark, who dropped from this year's Hardrock.
"I just put a stamp on the double," Browning said emphatically at the finish line. "I pushed hard. …I had no climbing legs at the end, I was just trudging."
Ryan Kaiser (27:39:16) took fifth, Bryan Williams (28:41:21) finished sixth and Ted Mahon (28:52:18) was seventh before the first two women, Anna Frost (29:02:09) and Emma Roca (29:36), crossed the line. Grant Guise (30:36) finished 10th overall. Timothy Olson once again had a rough Hardrock, finishing 11th overall in 31:54.
Joe Grant was running in the top five through Ouray, but he hit his head running through a rock tunnel and retreated back to Ouray. After spending time trying to heal up enough to continue, Grant dropped out of the race Friday. He said he was feeling OK, but his head was still hurting as he watched the leaders finish Saturday.
Each year, the winner earns automatic entry into the race the next year, bypassing the lottery system that shows no bias as it reserves spots for returning champions, veterans and rookies. Garland joked something could be worked out to make sure Jornet and Schlarb both get a spot next year.
jlivingston@durangoherald.com