Gratitude was the theme at holiday gatherings open to all
The Thanksgiving spirit shined as bright as the sun Thursday in Durango with warm smiles and well wishes among strangers enjoying the weather and mingling at community meals.
"Nice thing about today is it's sunny and warm and people just kind of want to gather," said Wanda Ellingson as she handed out boxed Thanksgiving dinners in front of Manna soup kitchen.
Ellingson was among the army of volunteers who rallied to provide holiday dinners to the masses under the guidance of cowboy hat-wearing Manna chef Mitchell Lipska.
"I couldn't ask for a better team," Lipska said. "It's going so smooth, almost to the point where I'm standing around, and I'm used to being the one that's running and getting stuff done, but now I have such a great group of volunteers. I couldn't have pulled Thanksgiving off without them. I'm thankful for each and every one of them."
One hundred volunteers prepared food for two weeks leading up to Thanksgiving Day. Fifteen volunteers served food at Manna while another 15 delivered meals throughout the community.
"We had about 400 deliveries already set before we started the day and we are still in the process of doing that right now," Lipska said. "We are taking it to a lot of the businesses that are open, for employees that are working on Thanksgiving. So the gas stations, hotels, the movie theater, just a little bit of everywhere."
A steady stream of cars and foot traffic picked up another 250 meals at Manna by 11 a.m. And by the time festivities wrapped up at 1 p.m., a total of 780 meals had been passed out and delivered.
The amount of food prepared for such an undertaking is enough to dent the supply chain. Manna prepared 75 turkeys (350 pounds of meat), 300 pounds of potatoes, 25 gallons of gravy, 300 pounds of sausage, celery and onion stuffing, 70 pies and 200 pounds of carrots.
Inside each dinner box was slow-roasted turkey breast, stuffing – "which is to die for," Lipska said. "And then we have our tried-and-true mashed potatoes – lots of cream, lots of butter, some maple-glazed candied carrots, and then gravy made from all of the drippings of the turkey we cooked off."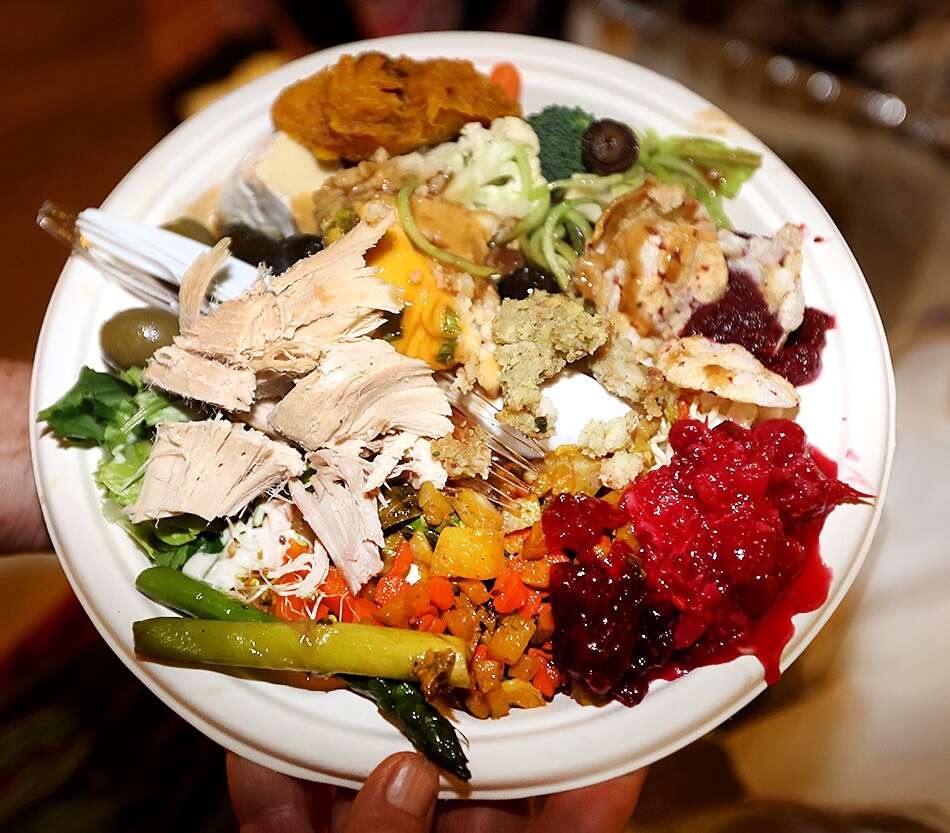 Louis Jordon was one of the walk-up diners. He's been living houseless in different parts of Durango.
"I've met quite a few good people here," he said after collecting a box of food. "A lot of support here. And I can't wait to eat this."
He defined Thanksgiving as, "Giving to others and supporting others in any way you can, and going the Lord's way and believing in yourself and believing in others around you."
Manna wasn't the only community Thanksgiving dinner in town.
Agape Durango, a spiritual-centered group, hosted its annual Thanksgiving-eve dinner at Durango's Veterans of Foreign Wars Post 4031. The potluck-style gathering, open to one-and-all swelled to nearly 100 people who enjoyed an evening of food and dancing. There was even a performance by Durango Hula Ohana.
The evening began just past 5 p.m. with people joining hands in a prayer circle centered on gratitude.
Karen Lovelien of Mancos and a member of Agape co-hosted the event with her husband, Fred Boshardt. She closed the prayer before turning everyone loose to enjoy the cornucopia of food sprawled across the banquet tables that ran the length of one wall of the hall.
"There is so much love in the dishes that people brought," she said. "It's a bountiful meal. Food itself is a blessing."
The agape gathering was a first for Kimberley Lynn of Durango and her two small children. She grew up in the Netherlands and moved to the United States in 2003 when she was 16. Her grandfather died in 2008 just three weeks after Thanksgiving so it made the holiday kind of sad, she said. And after that the family never gathered for the holiday.
"But to me it's a time to reflect on what you're grateful for and to me that's family and coming together and enjoying a good meal and company," she said. "Because I didn't grow up here I don't really – I mean I watched Charlie Brown one time, but otherwise I don't really know about the pilgrims and all of that."
Her grandfather's passing aside, Thanksgiving marks a special and unique time for her young family.
"My daughter Lydia turns 5 on Sunday," Lynn said. "And my son Levi turned 6 last Sunday. So yeah, I got to spend two Thanksgivings in the hospital."
Lynn and her children were invited to the dinner by Diana Williams, who is a family advocate for the La Plata County Regional Collaborative Management Program.
"We are some of the displaced Purple Cliffs families," Lynn said. "She invited quite a few of us. We are staying in a motel now all because of Diana and Manna. They are amazing."
Agape hosted Thanksgiving-eve dinners from 2005-19 then stopped because of the pandemic. Wednesday night's gathering was its return. The dance floor was outlined with white lights. And a man played Native flute leading up to and into dinner. That gave way to a performance by Durango Hula Ohana and then dancing.
In the meantime, people shared with The Durango Herald what Thanksgiving means to them.
Maya Goodson of Durango: "It is a day to reflect on what I'm grateful for in my life. However, as a vegetarian I woke up this morning thinking about all the turkeys that get slaughtered and that makes me sad. I do want to remember the Indigenous people as well. It marks the beginning of the genocide of Indigenous people and I admire their resiliency as they continue to teach us."
Crystal Carol of Durango: "Recognizing and being grateful for all the family and friends I have and joining together with them for good times. And being grateful for where I live. I was born here and I'm very grateful that I was able to come back. My grandparents homesteaded here."
Jim Selbe of Durango: "Mainly gratitude. Recognizing gratitude."
Beth McMacken of Durango: "It's definitely about gratitude for me, being thankful for everything – the good and the challenging times. Without the challenging times I wouldn't be able to see all I'm grateful for. Mostly wonderful family and husband, good life and good health and good connection to that which created me, the source."
McMacken's husband Dominic Schiavone: "Beth said it all. It's gratitude for the abundance we have. And in my family growing up it was all about skiing so I still really feel that. I'm going skiing tomorrow. So I'm grateful for snow."
Keri Bliss of Durango: "Good food and good company."
James Cudworth of Durango: "Getting together, breaking bread, the simplicity of life."
And finally from the co-hosts, who said putting it all together this year was easy after doing it for so many years.
Lovelien: "For me, it's nationwide recognition of people's pausing to feel gratitude. And I feel that when you get many, many, many people focusing on one thing, it's making a change, it's supporting the world, it's supporting us individually. We are pausing with our families, we're pausing with our bigger communities. For me, it's just a big heart-opening time for people to stop and pay attention to what's really important."
Boshardt: "It's a way to express your heart and that's what we do at Agape every Sunday. ... It's all about operating out of the heart. And this is just another way to do it."
The VFW hosted a dinner for veterans and their families that was attended by 75 people. The dinner was hosted by the Birds, Liles and Martins. Leftovers will go to the Hilltop House.
gjaros@durangoherald.com