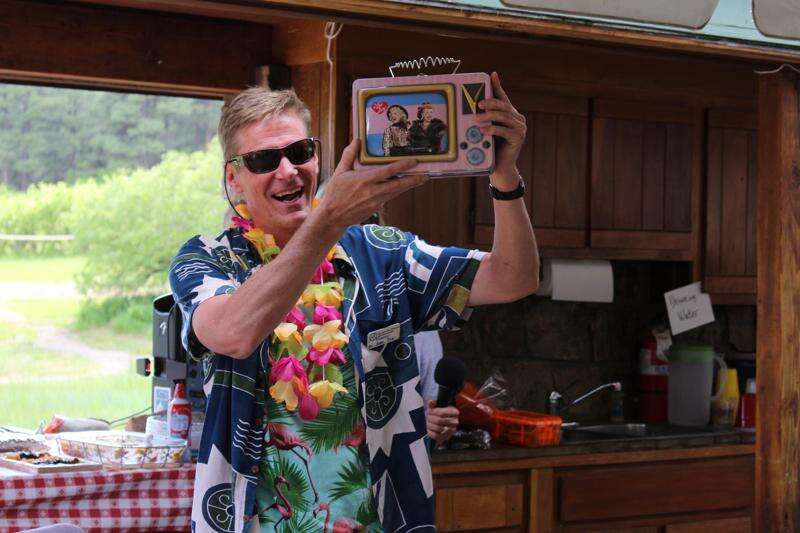 He has led the Durango Adaptive Sports Association through remodels, vehicle purchases and program expansions benefitting hundreds of participants, and now Tim Kroes is stepping down after 25 years with the organization.
Adaptive Sports provides summer and winter recreational opportunities for people with cognitive and physical disabilities.
"I'll probably be back where I started, volunteering," he said at his recent retirement party. "This is a good time to pass the torch because we have this amazing young team ready to take it."
Kroes, who is from Michigan, met his wife, Susan, at the University of Colorado-Boulder. The couple moved to Durango after spending seven years in San Francisco, where she was the one who discovered Adaptive Sports, and preceded him in serving as the organization's executive director.
"We stayed at the Caboose Motel and didn't know a single person," Kroes said. "While I looked for a job, I volunteered for Adaptive to get cheaper skiing and to give something back. I'm the one who got something back. For 25 years, there wasn't a week that went by when I didn't get a little choked up reading a letter, getting a phone call or a hug from a student."
Kroes, 57, held just about every position in the organization. Starting as a volunteer, he was assistant program director and program director before becoming the executive director, a position he held for more than a decade in two different stints. He took a two-year hiatus in the middle while he and his family traveled the world, and returned in 2007.
"A lot of nonprofit directors in the area look at Tim as the example of a perfect nonprofit executive director," said Lynn Martens, who sits on the Adaptive Sports board and works with numerous nonprofits in her communications business. "He's the executive director role model."
The work Kroes has done has changed people's lives.
Alana Nichols, who broke her back while snowboarding at 17, while a student at Farmington High School, is a soon-to-be five-time Paralympian.
"Tim Kroes' work at the Adaptive Sports Association over the last 25 years has made an immeasurable impact on the mountain community, the city of Durango and, most importantly, the participants of the programs he was an integral part of running," she said. "The amazing volunteers and instructors at the ASA taught me how to adapt to my new challenges and overcome obstacles, but they also taught me that, with the right resources in place and the desire, anything is possible. And for that life lesson, I am eternally grateful."
Nichols, the first American woman to win gold medals in both the summer – wheelchair basketball – and winter – Alpine skiing – Paralympics, will head to the Rio de Janeiro Games in September to compete in the canoe category.
"Thank you for all that you did, Tim Kroes," she said. "I continue to reap the benefits of your labor."
How Kroes leads is equal parts seriousness and playfulness, his staff and board members said at the party, which was full of hijinks and heartfelt reminiscences.
"I came in last Tuesday (June 1) to my new office, and everything was pink," said Adaptive Sports longtime program director Ann Marie Meighan, who assumed the mantle as executive director that day. "Pink, pink polka dots, pink everything, with rose petals going up the stairs to the office. As if I didn't have enough to do on my first day, I had to vacuum the stairs."
The playfulness is a calculated strategy, Kroes said, to help the 250 volunteers have fun. Another element of fun is the many costumes he has worn at the Dave Spencer Classic, Adaptive Sport's biggest fundraiser each year, and other events. Many were displayed on mannequins around the Edgemont Picnic Grounds at his June 5 retirement.
His fondness for labels was another recollection that brought nods from the 125 people or so who attended the party.
"Tim labels things that don't need it, like 'refrigerator' and 'light switch,'" Meighan said. "I can't figure out his filing system for grants, but I know where the trash can is."
Kroes received numerous parting gifts, including several tongue-in-cheek, but the one that threw him for a loop was a lifetime pass to Purgatory Resort, Adaptive Sports' longtime partner for winter sports. Lifetime passes are generally given only to longtime employees of the resort.
The Kroeses have two children. Jess, 21, is a junior at Ithaca College studying gerontology in New York. Dylan, 18, just graduated from Animas High School and is headed to the University of Denver to study engineering. Before he gets there, though, he and classmate Domi Frideger will be headed to Texas for the Solar Car Challenge, racing a solar car they built, with the Kroeses driving an escort car, one of many adventures on the horizon.
Kroes just graduated from the Leadership La Plata class of 2015-2016, which he took, in part, he said, because he wanted to see what other opportunities there are for volunteering in the community. He will continue working with two semi-official groups, one dubbed the accessible community team, which writes grants and raises money to help businesses performing accessibility remodels. The second originally helped create the now-defunct nonprofit certificate program at Fort Lewis College and is now working with Durango Learns to create the Professional Nonprofit Institute.
"I did LLP to get to know aspects of the community I didn't know as well," Kroes said. "I'm not looking for a 'job' job, but I wanted to do this while I'm still young enough to be involved in other stuff. I have a lot of role models here (looking around the party) on how to live a full, meaningful retirement where you are visible, and you are contributing."
abutler@durangoherald.com Herald Sports Editor John Livingston contributed to this story.
While training sessions for volunteers for the summer season are complete, the Durango Adaptive Sports Association is accepting applications. Call the office at 259-0374 for more information.
To learn more about ASA, visit
www.asadurango.com
.