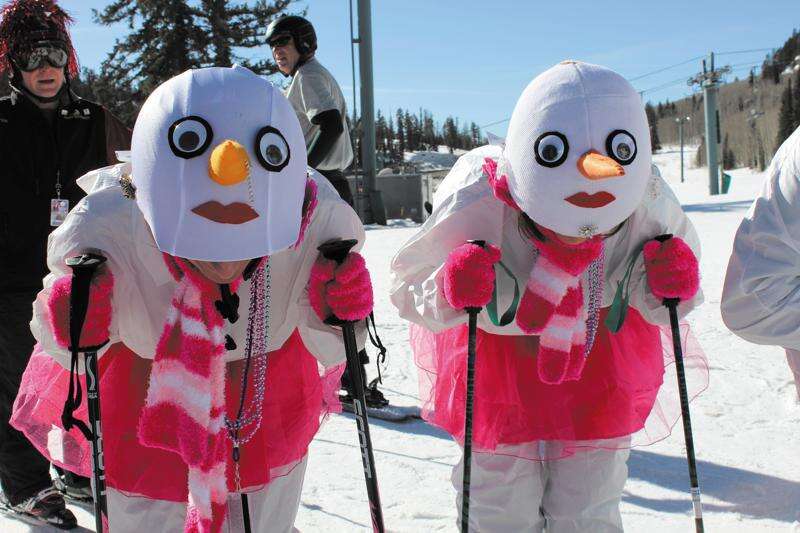 What do the Abominable Snowmen, Bookworms, Fur Balls and the Gold King Swim Team have in common?
Stumped? They were all team names for the 18th annual Dave Spencer Ski Classic, that one-of-a-kind fundraiser for the Durango Adaptive Sports Association on the last weekend in February.
And what a fundraiser it was. The weekend of activities brought in more than $100,000 – for the third year in a row. And even better than that, it brought out a lot of smiles and laughter.
Twenty-seven teams participated in the weekend Race Day and Mountain Rally, with most getting into the spirit with themes and costumes. The awards banquet at the DoubleTree Hotel topped 175 attendees for the first time, and 21 sponsors, either for the annual, winter or Dave Spencer classic itself, helped make it a success.
For Race Day, individuals and teams estimate what their time will be on the course, so it's not only the fastest but also the best guessers. Pat Barrett, on the April Fools team, was only 0.01 seconds off his estimate, which merits a "Holy cow!" The Williams Co. team of five members was only 0.29 seconds off its cumulative estimate, which is thiiiiis close to meriting its own exclamation point.
The Wild Ones, also known as the Abominable Snowmen, took home best costume honors, which is saying something in this duded-out crowd. Made up of Adaptive participants Kristin Ingle, Lucas Talbot and Luciano Trujillo, with assistance from volunteers Mary Lasser and Ally Kaufman, you could have put an eye out with those "carrot" noses. The Fur Balls took wackiest costume, which, once again, is saying something.
Shawn Glasco lived up to his Bombers team's name as the fastest man, and Isabelle Washburn of the Coca-Cola Kids Team was the fastest woman down the course.
Of course, the event is all about raising money for Adaptive Sports, which provides outdoor recreation opportunities for people with cognitive and physical disabilities. So awards went to the top fundraisers, too.
The top fundraising kids team was the Bookworms, who raised $5,600. (They had book jackets taped all over their ski clothes, which also makes them the most erudite team in my book. So kudos to Jacob Papi, Brandon Papi, Kyler Harbison, Carson Harbison and Austin Romero.)
The undisputed champion of fundraising, Brian Shafer, was the top fundraising Adaptive Sports participant, bringing in $8,235. His teammate, Dave Trautmann, reprised his role as top fundraising adult with $5,210, and their Gold King Swim Team pulled in $17,660 to win team fundraising honors.
Each year, ASA honors one person for contributions over the years who has shaped the organization with the Dave Spencer Award. This year's honoree was definitely deserving.
Karen Esser isn't a skier, but for 19 years, she has worked behind the scenes at Adaptive Sports, helping coordinate the Harvest Gala fundraiser for 19 years and the Dave Spencer Ski Classic for 16 years, nine of those as event coordinator. To top it all off, she has donated countless special meals to the fundraisers, which have brought in thousands of dollars at auction.
And she did it all with a smile.
HHH
The wind may blow out the birthday candles for Dan Hopper, Mary Richards, Geri Mulligan, Kathie Bowers, Krystal Gunkelman, Beverly Darmour, Janet Enge, Billie Gardner, Joseph Toledo, Jim Robertson, Glenn Rodey, Mary Brown, Buff Rogers, Virginia Rohr, Mary Marugg, Joyce Watt, Jack Kloepfer, Shirley Drover, Dana Siekman, Michael Kevin Swinderman, Rick Kniffin, Ben Roberts, Paul Wainwright, Peter Rudolph, Vicki Armstrong, Sheila Casey, Sunny Pulliam, Sue Cowan, Katie Kloepfer, Bette Hart, Paige Porter, Martha Simpson, Chris Aaland, Wanda Caldwell, Mary Foreman, Irene Short, Emrys Tyler, Alex Salter, Marty Knickerbocker, Matthew Lavengood, Craig Wright, Amy Wilson, Andy Schaaf, Christopher Van Dyck, Tracy Sochia and Megan Krischke.
HHH
A few weeks ago, I wrote a talk item about Durango High School students Aubrey Hirst and Julia Ion, whose photographs won regional gold keys from the Scholastic Art & Writing Awards. Both young women have won silver medals at the national level, and Ion also was given an American Visions Medal, which comes with an invitation to the National Awards Ceremony at Carnegie Hall in New York City. It was an invitation she has accepted, so she's in for a fun adventure.
The awards put them in the top 1 percent of the almost 320,000 creations nominated by teachers from across the nation.
Meanwhile, Layne Clements' flash fiction Arrival, nominated by teacher Kevinanne Curmano, was also awarded a regional gold key. Flash fiction is described as "highly-focused stories characterized by brevity."
HHH
The daffodils are peaking out for the anniversaries of Bill and Pam Brown, John and Vi Kessell, Gordon Cheesewright and Diane Calfas, Tim and Diane Williams, Bob and Scattie McGrath, Kermit and Karen Knudsen and Jack and Lauri Kloepfer.
HHH
There are raffles, and then there are Raffles, and this one definitely deserves the capital letter, both for the cause and for the prize.
Concert promoter Gary Penington has put together a package that includes four primo seats at a May 7 concert at Chase Field in Phoenix featuring Kenny Chesney, Miranda Lambert, Sam Hunt and Old Dominion. Talk about an all-star lineup. The package also includes two rooms for two nights at Hotel Palomar, located near Chase Field, on May 6 and 7.
The cause? Veterans of Foreign Wars Post 4031.
Tickets are $30 each or four for $100, and the drawing will be held April 23 at the Farquahrts Reunion Party at the VFW. (You don't need to be present to win.) They're available at the VFW, Kelly's Cowboy Co. and Kroegers Ace Hardware.
HHH
Here's how to reach me: neighbors@durangoherald.com; phone 375-4584; mail items to the Herald; or drop them off at the front desk. Follow me on Twitter @Ann_Neighbors.