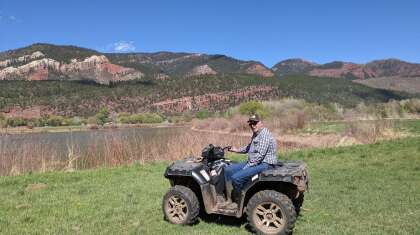 George Vandenberg has followed animals to far reaches of San Juan Mountains
Roller rink opens with disco night
Information and agendas about local meetings City of Durango: www.durangogov.org or call 375-5000. La Plata County: www.co.laplata.co.us or call 382-6210. Town of Bayfield:...
Woman taken to hospital with minor injuries
HB 21-1151 lets Native American tribes certify foster homes in Colorado
Risha VanderWey to start the job July 1
No appointment needed at Southwest Walk-In Care on Monday
ALBUQUERQUE – An Albuquerque police SWAT team arrested a man on a federal arrest warrant who they say was involved in a shooting where three people were killed earlier in the week, authoriti...
DENVER – A man died after a shooting involving Denver Police officers in the Barnum neighborhood on Friday afternoon. The Denver Police Department said the shooting happened in the area of W...
Conservationists, business leaders list key concerns and priorities
La Plata County Sheriff's Office Thursday 4:59 p.m. A truck was reported stolen in the area of Highway 172. 7:30 p.m. A fake ID was reported in the 20100 block of U.S. Highway...
Former Colorado governor highlights outdoor industry for Public Lands Day