Fourth bear euthanized this summer in otherwise quiet season
Bears pay price of human carelessness
When grizzly bears in Montana can't break into bear-resistant trash cans, yet black bears in Durango can, it raises the question – what's going on here? Bryan Peterson, executive ...
Remember to keep food and trash out of reach
If there's a post-Halloween jack-o'-lantern still leering on your front porch, bears and other wildlife are more than happy to steal it. Rather than leave those squashy orange go...
Gwen Lachelt says regulation is best way to represent gas, natural lands
Working group establishes ursine plan
Attracting the animals can create nuisance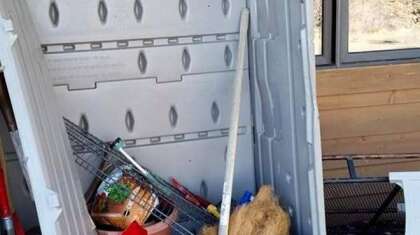 A recent photo suggests a bear waddled onto a Pagosa Springs resident's property and pillaged its trash can. Bryan Peterson, of Bear Smart Durango, said he saw the photograph on F...
A bear broke out a car window in south Durango early Tuesday morning, absconding with 2 quart bags of trail mix that had been left in the front seat. The window may have been left...
Ursine-resistant trash cans delivered to Durango West I