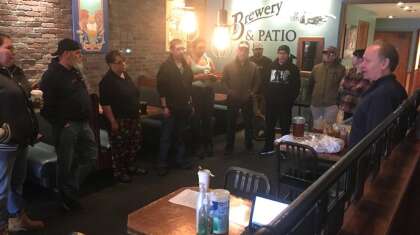 Restaurants, resorts look for a 'recipe for success'
ROSWELL, N.M. – The downturn in the commercial air travel industry has turned into a boon for a former military base in New Mexico. The Roswell International Air Center has emerge...
EXIT Realty Colorado has named John Gillam as regional director and compliance officer. Gillam has been with EXIT Realty for almost three years as a supervising broker/qualifying...
DENVER – Russell Stover Chocolates has announced its candy plant in Montrose will close seven months ahead of schedule because of the coronavirus pandemic, a decision that will leave 217 emp...
Centura Health-Mercy Regional Medical Center has welcomed fellowship-trained, board-certified cardiologist Dr. Eugena Miller to Mercy Cardiology Associates, 1 Mercado St., Suite 130. ...
Every destination management and marketing organization across the globe, like Visit Durango, is in a pickle right now. The business community is urging DMMOs to invite visitors b...
'The people who are most creative will excel during this'
ALBUQUERQUE – Construction has started on a Amazon fulfillment center that is expected to bring 1,000 full-time jobs to the region, company officials said. Amazon said Tuesday tha...
Mercy Health Foundation has named Lexie Stetson-Lee as senior philanthropy officer, effective June 8. She will lead the foundation's efforts to support the vision and priority initiatives of...
Licensed Acupuncturist Caleb Gates will move his practice, Durango Acupuncture and Allergy Relief, across the hall to Suite 220 in the Bank of Colorado, 1199 Main Ave., as of June 2. ...
For its leadership in optometry and delivery of exceptional care to its patients, Advanced EyeCare has been named a 2020 Best Practices honoree by CooperVision. The Best Practices initiative...
Durango Hot Springs Resort & Spa has announced Julia Gullotti as director of spa and wellness to head the newly redesigned spa and oversight of Durango Hot Springs wellness programs. ...