Feat rarely accomplished since five-class system started in 1981
Accomplishments like this don't come around often, especially for a public school from a small town.
Last Saturday, the Bayfield High School boys basketball team capped off an unforgettable run to a Colorado High School Activities Association Class 3A boys basketball state championship. When the seventh-seeded Wolverines took down No. 12 Lutheran 68-57 at Hamilton Gymnasium on the campus of the University of Denver, a large group of the team celebrated their second state championship of the school year, as BHS also claimed the Class 2A state football championship in the fall.
The football title was the third in BHS history, while the basketball state championship win was the school's first in three trips to the championship game.
"Winning state in anything is special no matter what," said Bayfield senior Ryan Phelps, a captain of both title-winning teams. "It's definitely more special though when it is the first time ever. It's not something Bayfield has always been known for. Bayfield has gotten to state a few times and we've done a few things, but we had never won the state championship and had never been expected to win the state championship, whereas in football you can kind of expect us to get there every once in awhile. Basketball, you're not really expecting it."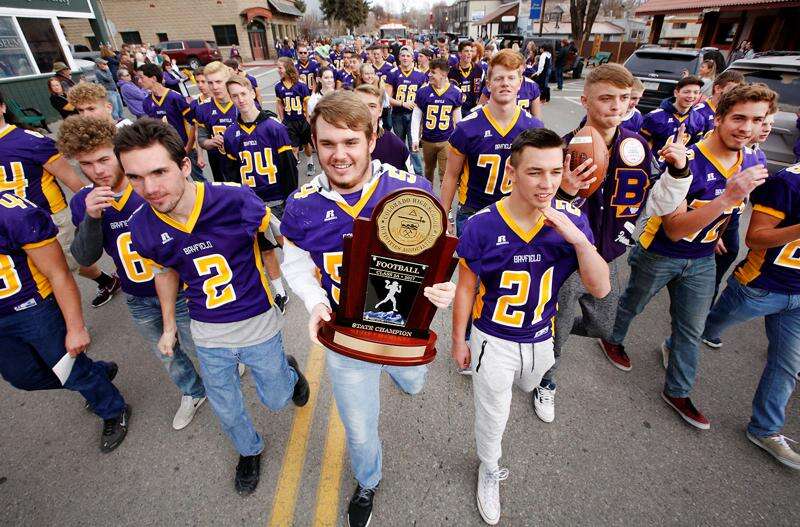 Until Bayfield, no public school had accomplished the feat in Class 2A and 3A. Class 5A Valor Christian was the last school to accomplish the double during the 2016-17 school year. According to local historian Dan Ford, the only 3A basketball team and 2A football team to win basketball and football state championships since CHSAA went to the five-classification system in 1981 was the 2009-10 Faith Christian team.
Interestingly enough, Bayfield beat Faith Christian 45-42 in the semifinals of basketball thanks to a late steal by Hayden Farmer that set up a Dax Snooks game-winning layup. Farmer is the football team's quarterback, and Snooks was his go-to receiver who set a BHS single-season record with 15 touchdown receptions, and Farmer set the single-season record of 35 touchdown passes in 2017.
While nobody in the state may have expected Bayfield to raise a basketball state championship trophy, the Bayfield boys demanded it of themselves.
"Growing up winning, that was our mentality," Farmer said. "We were taught that we don't take losing as an option. If you do lose, we're gonna learn what we did wrong and how to fix it to be able to win. Nobody likes to lose. If you like to lose, then just stop playing the game because that's what it is about.
"We grew up with the culture of, 'We're gonna play some good teams, we're gonna compete and go win tournaments.' That's what our mentality has been, and it has paid off."
The current class of Wolverines learned well from a generation before them. Many of the boys had fathers and mothers involved in Bayfield athletics who wrote history of their own, including the 1996 football state championship team that claimed the school's first football state trophy. Phelps doesn't have to look far at the school's trophy case and all-state wall of fame to find photos of his father, Trent Phelps, an assistant coach on this year's basketball team.
"My dad's up on the all-state wall, my sister is on the wall, I've got uncles on the wall, so many people I know on that wall," said Phelps, an all-state football selection who set the state record, regardless of classification, with 24 quarterback sacks in 2017. "I know that they'll be proud of me no matter what, but if I really want to make them proud I need to get up there just like they did. That's what I aim to do, to get up on the wall and be successful with my team."
Phelps is sure to get on the wall as an all-state basketball selection this year to go with his record-breaking football performance. He, along with fellow seniors Carl and Dawson Heide and Snooks, and juniors Farmer and Keyon Prior, now have three state championship rings to claim after winning the football title in 2015, too.
While this Bayfield group will live on in history for the games won, including the varsity football team's first-ever win against cross-county rival Durango, these Wolverines hope to see the upcoming classes surpass their own achievements.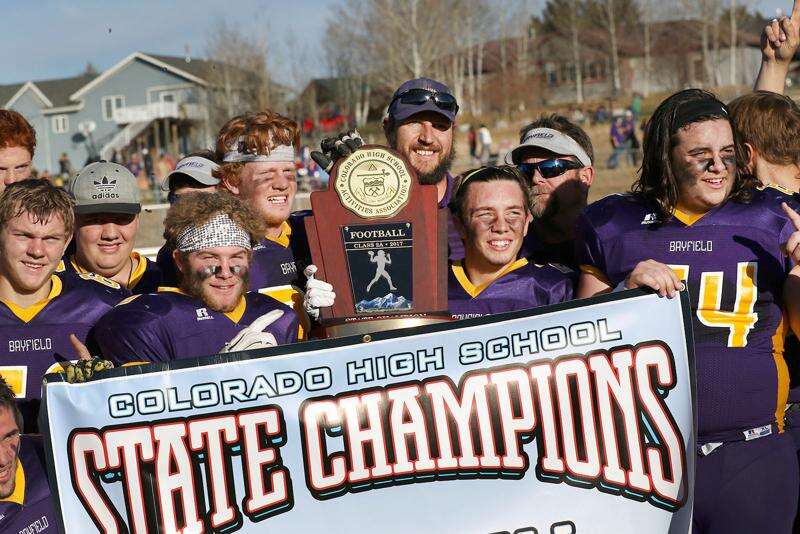 "Going down as a greatest class ever at Bayfield would be awesome, but I'm also wishing for the younger generation," Prior said. "It would be awesome to come back and watch Bayfield's younger generations produce, too."
These Wolverines aren't done yet, either. The group that jumped directly into tough competition in basketball only three days after the end of football season has already begun the spring sports schedule. While Farmer will be the ace of the baseball team's pitching staff, it is the boys track and field team that will be the focus of many of the basketball and football stars, with Phelps leading a strong throwing team, Snooks soaring in the jumping events and Carl Heide running as one of the top hurdlers in the state. They are only three boys on a loaded track team that will look to make it three state titles in one school year.
"After getting two in a row, you gotta get that third one," Heide said.
Nobody can count them out now.
jlivingston@durangoherald.com