Race attracts first-timers and old-timers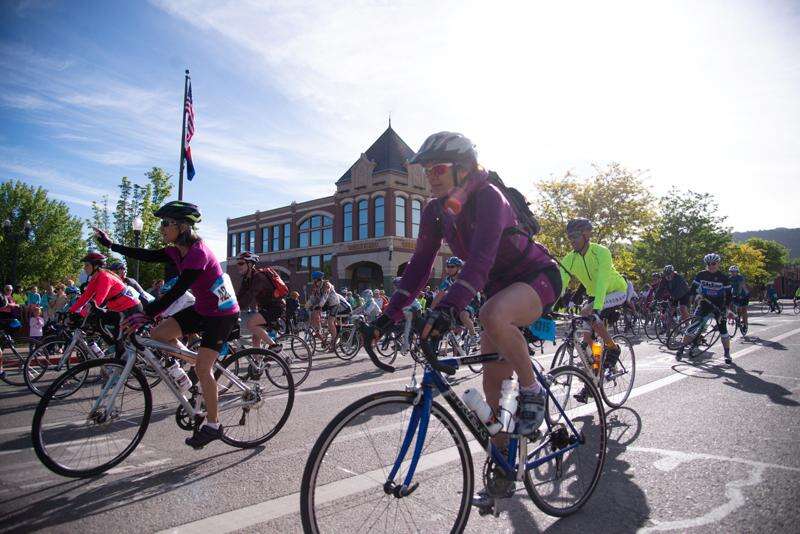 With the blow of the iconic Durango train whistle, a flock of cyclists set off on their way to Silverton on Saturday morning as a part of the Iron Horse Bicycle Classic.
After 50 miles and two mountain passes, the riders will finish in Silverton, some ahead of the train and some behind.
The citizen's tour pits cyclists against the train, just like Tom Mayer did as he pioneered a Durango tradition 47 years ago.
Riders lined up in front of McDonald's before leaving at 8 a.m. sharp. The race against the train attracts experienced riders, as well as first-time bike racers.
Jessica Rice of Albuquerque said this was her first ever bike race.
On her bike there is a sticker honoring her friend Dawn Sanchez, who currently has breast cancer.
Rice, a mother of four, says she anticipated the hardest part of the course to be the beginning, because she does not have a lot of practice riding in a large group of people.
Brian Lally and Bradon Shelman were in town for the race from Salida. It is Shelman's first time participating in the race. Lally is an experienced cyclist who rode 5,000 miles last year.
The two men said that the hardest part of the course will be the uphill.
"We're just trying to get there," Lally said referring to the finish line in Silverton.
Greg Mathews of Albuquerque said this was his sixth year riding the Iron Horse.
He was riding with his church group with about five other people, who all had matching jerseys.
He said his favorite part of the course is the top of Molas Pass, and his goal was just to finish the race.
Mark Riley said this was his sixth time doing the race. The excitement around the race and the tradition is what keeps bringing him back.
He said we was looking forward to finishing the race in Silverton and drinking a post-race beer.
Check back to durangoherald.com for Iron Horse coverage all weekend.