2015 champ Keegan Swirbul runs out of room at the line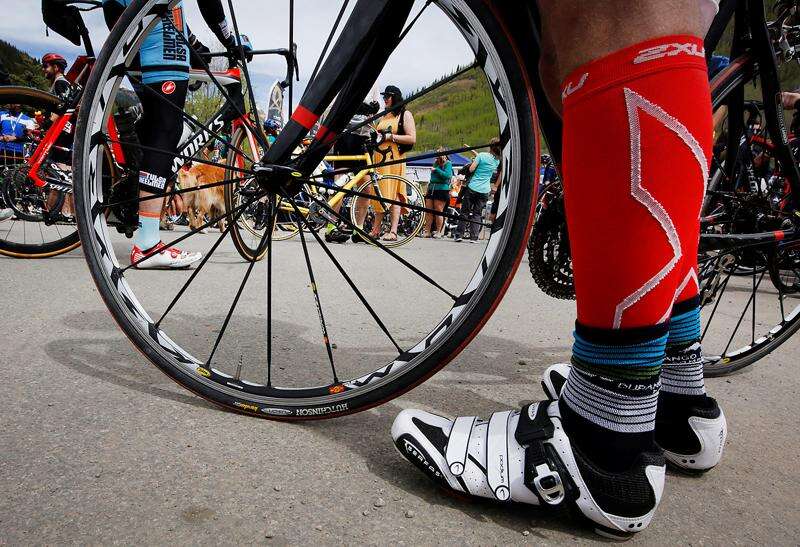 SILVERTON – Howard Grotts wouldn't let his window to claim glory in his hometown race slip away in 2018.
One year after he finished third in the Iron Horse Bicycle Classic Coca-Cola Road Race from Durango to Silverton, Grotts climbed to the front and sprinted past professional road cyclist Keegan Swirbul to win the 47th running of the 47-mile road cycling race by one-tenth of a second.
"It's sweet to show up and perform in front of all my friends and family, and, yeah, it's just awesome to have a race like this in your hometown," Grotts said.
Grotts won the race in 2 hours, 19 minutes, 25.4 seconds. Swirbul finished in 2:19:25.5. That was 10 minutes faster than Swirbul's winning time in the 2015 IHBC road race. Last year, Grotts was third in 2:24:44.9, while fellow Durango native Sepp Kuss, now of Team LottoNL-Jumbo WorldTour, won in 2:20:50.9.
Grotts, a 25-year-old Durango native, had a two-year window to compete in the IHBC coming off his 2016 Summer Olympics where he represented USA Cycling in Rio de Janeiro. The Specialized Racing team rider was able to skip World Cup races in Europe held during the same weekend as the Iron Horse, with the new points cycle for the 2020 Olympics not set to begin until June. It is likely he won't be back to the IHBC until 2021, after the 2020 Tokyo Olympics.
Grotts, the three-time defending cross-country mountain bike national champion and reigning short-track national champ, was untouchable in the 6,700 feet of climbing Saturday. He put in attacks and made Swirbul, the 2015 Iron Horse road race champion and Jelly Belly-Maxxis Pro Cycling Team rider, suffer along the way.
The two came to the top of Molas Pass at 10,910 feet above sea level together. Swirbul was stronger in the descents Saturday, but he wasn't able to build a gap on Grotts big enough to prevent an all-out sprint finish on Greene Street.
"I didn't feel great," Swirbul said. "I was kind of suffering all day. I was able to stay with him, and there was never a point where I was dying, but I never attacked him. He was going fast, that's for sure."
Swirbul, a 22-year-old from outside the Aspen area, said it was his first true sprint finish with a win on the line. Grotts has grown accustomed to sprint finishes with close friend Payson McElveen, the 2016 IHBC road race champ, who had beat Grotts in a hard-fought sprint at the last two marathon mountain bike national championship races.
"I led it out, which wasn't my plan," Grotts said of the sprint. "I wanted to kind of be second wheel. I don't know, maybe sprinting against Payson has taught me at least a couple things. It's nicer to be sprinting against a climber like myself so it's more even.
"It's tough. Sprints, I've learned you have to commit all the way to the line. He for sure was coming up on me, but luckily I had enough gas."
Swirbul looked like he would come around Grotts if the race went another 10 yards. Still, Grotts held him off by half a wheel.
"I think I was one gear too high when he started his last sprint, and he got a little room on me and I had to close it," Swirbul said. "I just ran out of ground. Oh well."
Swirbul also didn't attack on the climbs because he hoped Jelly Belly teammate Cormac McGeough of Fort Lewis College would bridge the gap up to them so the pair could work together against Grotts. Had McGeough been able to bridge the gap, Grotts would have been in trouble. McGeough wasn't able to catch the break riders at altitude, though, as they maintained a solid 20-second advantage.
McGeough finished third in 2:20:30.8.
"Keegan and Howard went, and I sat and let it go," McGeough said. "When they got a bit of gap, I tried to bridge. I was stuck in the middle just dying. The altitude was really killing me. It's hard to go to the level you need to go to bridge a gap like that where you need to get it done really quickly. Guys came up to me, but I was able to drop them at the very end and come in for third at least."
Durango's Levi Kurlander was third at the top of Molas. He finished fourth in 2:21:06.1. Albuquerque's Fortunato Ferrara was fifth in 2:21:11.6.
"I knew I had been riding well the last couple of weeks, just had some bad luck in the last couple of weekends," Kurlander said, referencing a crash in the Grand Junction Off-Road fat-tire crit race that led to vertebrate damage only eight days earlier. "I wanted to ride smart today, not get in any trouble and try to control the pace as much as I could on Coal Bank. I gunned it from the bottom of Coal Bank and tried to set a fast enough pace that nobody could make too much of an attack. That played out well for me."
Kurlander said he could see Grotts and Swirbul from the top of Molas, but he didn't have the mass to descend fast enough to catch them.
"I just don't weigh enough," he said. "Cormac is a big dude. He had more inertia to get him down the hill for third."
Durango's 62-year-old cycling legend Ned Overend, the record holder with five IHBC men's road race titles, finished sixth in 2:21:20.8. Rolando Gonzalez, 2006 IHBC road race champ, was seventh in 2:21:21.1, and Durango pro mountain biker Benjamin Sonntag was eighth in 2:22:37.8. Last year's runner-up, Mark Aasmundstad of Albuquerque, finished ninth in 2:22:39.8. Last year, Aasmundstad went on a big break and was unnoticed until the climbs up Coal Bank and Molas, when Kuss finally reeled him in.
Overend was happy to see Grotts, a Specialized teammate, win his first IHBC and join him among the lofty list of champions.
"That's really cool," Overend said. "I knew Keegan would give him a run for his money. It's good he had some competition. Those two guys were kind of a little bit in a class by themselves in this field, but we did have a lot of strong guys."
Overend said the pace this year to Purgatory Resort before the climb up Coal Bank was much faster with riders trying to avoid another break rider. The pace was especially high considering there was a headwind the majority of the ride until Molas, where finally there was a tailwind.
Much of the race until Coal Bank, the peloton was content to let Grotts work at the front in an effort to exert himself and perhaps tap into his energy reserves for the climbs, but it didn't work.
"I would pull through and no one really wanted to come in after me," Grotts said. "I felt like I had the legs today, so I didn't feel like I was wasting too much energy."
Grotts, the defending IHBC mountain bike champion who claimed the King of the Mountain prize last year for his combined result in the road and mountain bike races, will look to defend those crowns Sunday in the famed race through Steamworks Brewing Co. and up Chapman Hill. Kurlander will enter the event second in the King of the Mountain standings.
"It's really cool to get back to hometown racing," Grotts said. "And the biking circle and community is great. I'll be looking forward to the mountain bike race tomorrow."
jlivingston@durangoherald.com