Lanning wins third title, Demons finish sixth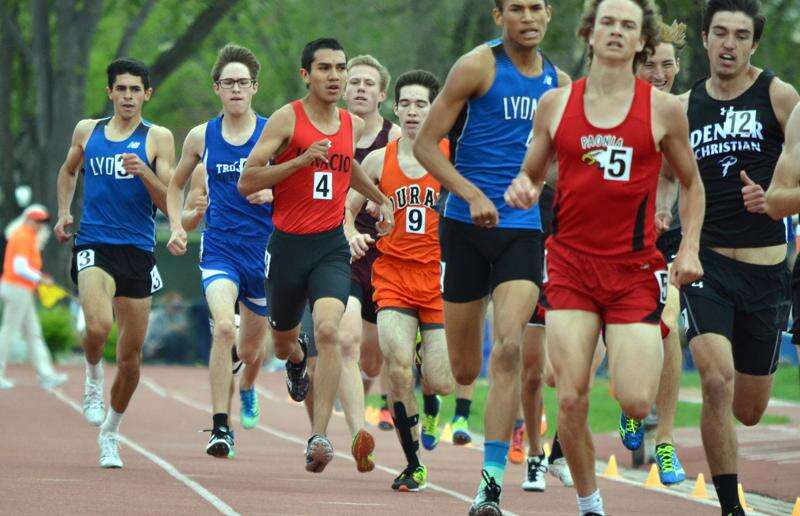 Jordan Lanning wrapped up her historic high school track and field career on Saturday and did so on her terms, and more importantly, in her style. The Bayfield High School senior won her third state title of the weekend with a win in the 100-meter hurdles, which followed wins in the long jump and high jump. In her final event, she took third and capped off a memorable weekend at the Colorado High School Activities Association's State Track and Field Championships held at Jefferson County Stadium in Lakewood.
Lanning set a new class 3A meet record in the 100-hurdles after she finished in 14.20 seconds after she beat out Esther Diza-mbelolo of D'Eveleyn, who took second in 14.54 seconds, while Caitlin Simmons of Lutheran High School was third in 15.11 seconds. The previous 3A meet record was 14.23, set by Alexa Chacon of the Classical Academy in 2013.
In her final event, the 300-hurdles, she ran a 44.91 to take home the bronze medal. Ashten Loekes of Elizabeth won in 43.63 and Megan Jenkins of Cedaredge was second in 44.89. The 300-hurdles proved to be Lanning's most elusive event, after she took third in the same race last year. She finished her career with four state championships including three this weekend, and also added one silver and two bronze medals.
"I think the thing that I'm most proud of is how I got here," Lanning said. "It wasn't until my sophomore year when I jumped a 5-7 that I realized my potential and I just kept working hard to get to this point. My parents and coaches have been there for me all the way, through the training, practices and meets, they've never stopped supporting me. It was a really special weekend, and to have three state championships, repeating the high jump, the long jump and getting a new record in the 100-hurdles, … It's hard to put into words."
Lanning was not the only Wolverine competing on the final day of the state championships. Mikayla Barnes finished in 11th-place in the discus throw after she threw 107-feet, 7 inches. Katie Dack-howell of Lutheran won with a throw of 139-07.
In the final competition of the year for the boys, Crosby Edwards finished in 14th-place in the high jump after he leaped to a 5-11 jump. Skye Ciccarelli of Woodland Park won with a 6-06.
The Wolverines wrapped up the season tied for eighth-place on the girls side as they scored 38.50 points – Lanning scored 36 of them with her three wins and the third-place finish, and Hannah Whitmer got 1.5 points from her podium performance in the pole vault. The boys finished tied for 11th with Manitou Springs and racked up 23 points.
"Overall, I'm just extremely proud of all seven kids and how they competed out there," said BHS head coach Josh Walton. "For the seniors to wrap up the way they did was fantastic. Four state titles between them and three made the podium, it was so great to see, and it was even more special because that was the first group I've seen from start to finish since I took over as head coach.
Going forward, we've got some kids who will be back and will want to go for that state title like Dawson French in the pole vault, he's a junior, and Crosby Edwards is just a sophomore and he had a great showing today in the high jump. We brought in three new coaches this year, and I'm just so thankful for the work that they put in and look forward to working with them in the future."
Durango High School
Heading into the final day of competition, the Durango High School track and field team were still in the hunt for a team title after the boys started off the morning in fourth-place, and the girls were in fifth. It wasn't meant to be even after a number of good showings and podium finishes, as the boys team tied for sixth-place along with Silver Creek with 44 points, while the girls team also took sixth with 40 points.
Head coach Johnny Bertrand was looking for the most out of his team and got it on Saturday.
"It was one of our most successful state meets in a long time, and to come away with two state champions, three runner-ups and a lot of other podium finishes, I couldn't be more proud of the way they performed," Bertrand said. "This weekend was really special from everybody, from the coaching staff to the athletes, and we've seen what they can do, and they exceeded our expectations. We'll always remember the hard work they put in, and the dedication and sacrifice they gave for this team and their teammates."
Senior sprinter Alex Hise got DHS off to a fast start and finished fifth in the 100-meter dash in 11.07 seconds. It was his second podium finish of the weekend after he took second in the long jump on Thursday.
In the girls 100-meter dash, Cassandra Blau finished in ninth-place with a sprint of 12.86 seconds.
The Demons had its "fab four" seniors compete in their final individual race, the boys 1,600-meter run. Durango had the most competitors in one event in the Class 4A field, as all four had strong finishes. Aidan Fitzgerald ran a 4:23.26 to a seventh-place finish, while teammate Luke Tichi was right behind Fitzgerald and crossed the line in eighth with a time of 4:24.74. Noah Bodewes was 13th in 4:32.11 and Marcus Flint took 15th in 4:33.31. Cruz Culpepper of Niwot won the event in 4:16.69 and took down second-place finisher Cal Banta of Air Academy, who finished in 4:18.25.
In the girls 1,600, Madeleine Burns had another strong finish as she took third with a time of 5:00.09. She won the 3,200 on Thursday. Battle Mountain had the top-two finishers as Lizzy Harding won in 4:58.49, while Naomi Harding took second in 5:00.38.
"I think in the final day of a three-day meet, in an event like the 1,600, it's all about who's got the legs and energy to finish strong," Burns said. "One of the biggest takeaways I had from this weekend was that I have a much better kick than I originally thought. I was coming down the homestretch and kicked like crazy and almost caught one of the Battle Mountain girls at the end. I just ran out of track, but overall, I was really pleased with my weekend and I know that I can compete with the best of them heading into cross-country season."
In the girls 4x400 relay, the Demons finished in third-place after they ran a 4:02.83. The team of Cassandra Blau, Halle Moore and Emma Fitzgerald and Bekah Moenning had another strong kick, and Moenning got the baton in fifth-place but passed two runners on her way to the bronze medal. Niwot won in 3:54.85.
The boys 4x400 relay was one of the closest finishes of the day, as Niwot was able to edge DHS to take the gold. Alex Hise ran his fastest 400-meter run in his career and had a personal record by more than two seconds, handed off the baton to Marcus Flint and was able to catch up and get the Demons back near the front. Maxton Warman then took off in full sprint and had a strong finish and passed it to Aidan Fitzgerald, who took the baton in second-place and started to pull away, but Niwot's Jack Kenkel was able to catch up. It was nip-and-tuck down the homestretch, and at the finish line, Fitzgerald leaned forward and fell just short of the finish line, but Kenkel dove across the finish line. Kenkel's dive was the difference, as he crossed the finish line first with a time of 3:22.86, and Durango was second in 3:23.10.
"One more step and Aidan would've had it," Bertrand said. "He gave it his all and is so spent, but the effort from him this weekend and in that 4x400 was remarkable. He put it all on the line. He left it all on the track, including some skin."
Ignacio High School
The Ignacio High School track and field team had its final day of competition at the state meet and both runners did well.
Elco Garcia finished in fourth-place in the 1,600 with a time of 4:37.71, while Jonas Nanaeto just missed out on a podium spot but still had a top-10 finish as he took ninth in the same event in 4:42.39.
bploen@durangoherald.com