Nelson leads FLC with four more goals
Jean-Baptiste, Legendre get on scoresheet for Skyhawks
Four different Skyhawks score in 4-1 win
INDIANAPOLIS – Chances are, you can fit Colorado's entire NCAA Tournament history on the back of an old Patrick Ewing jersey. And now, Ewing is part of that history, too. The Buff...
Work of Candelaria, Ruetschle leads to Division I rewards
FLC swipes victory on neutral field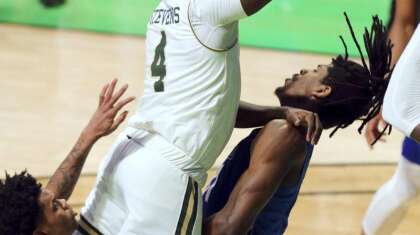 DENTON, Texas – David Roddy had 17 points and eight rebounds, Isaiah Stevens added 14 points with nine assists and top-seeded Colorado State beat Buffalo 75-73 on Friday night in the first r...
Skyhawks aim to compete in spring season, not look ahead to fall
Metro State junior defender awarded for second time in career
SAN ANTONIO – The teams had barely landed in Texas when complaints of inequity between the women's and men's tournaments roared over social media posts noting the women's weight training fac...
ALBUQUERQUE – Richard Pitino is barely taking over at New Mexico and he's already fielding a challenge for his Lobos. The would-be opponent is Iona, the program coached by Pitino'...
Who: No. 12 seed Georgetown (13-12) vs. No. 5 seed Colorado (22-8) What: NCAA Tournament First Round When: 10:15 a.m. Saturday, CBS Where: Hinkl...