Rule approved last month applies to State Wildlife Areas and State Trust Lands
'The bible of hiking for this part of the world'
Arborglyph Grove and Burnt Timber Trail a warmup for the high-alpine season
It's been a few years since I have written my column. Some things have changed: Goose has a 2-year-old little brother and adventure partner in crime – I shall call him Huckleberry. And I nee...
Hunters now have the option to apply to draw a license in Colorado Parks and Wildlife's new secondary big-game draw. Application are open from Friday to July 7. The secondary dra...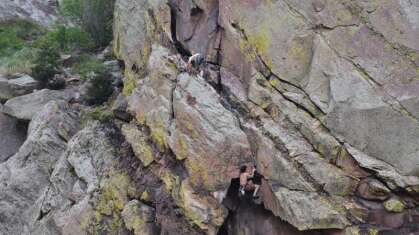 Wilbur teams with Ebers to set new mark in Eldorado Canyon
The snow was soft, the sun was shining and the lift lines were short. Besides mask-wearing and social distancing, it felt like a normal day of late spring skiing.
Memorial Day opening was four years in the works
Tickets, legal battles loom
Some communities fining outsiders; Polis urges patience
Conservationists supportive as long as hunters and fishers stay within approved areas
Turn a hike into a learning lesson for kids