Sen. Bennet aims to improve the Emergency Watershed Protection Program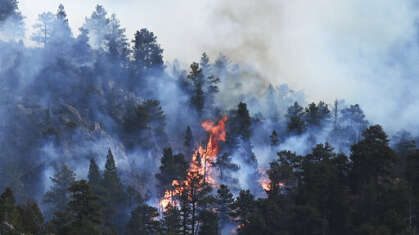 DENVER – Authorities on Wednesday were investigating the death of a pilot who crashed while fighting a wildfire near Rocky Mountain National Park at night, the second person to die amid wind...
Outdoor workshop breaks down issues around fuels, topography and weather
Proposal recommends consolidation from six dispatch centers to three in Colorado
A handful of state lawmakers are interested in the idea, in part to secure more federal dollars
$146,000 grant will help reduce fire risk near residential structures
Interactive maps help residents see address-by-address where mitigation is needed
San Juan National Forest crews cleared more than 5 miles of debris
Blazes start in April and extend through November: 'We're all missing our kids' birthdays'
Senator discusses potential benefit of Outdoor Restoration Partnership Act for Southwest Colorado
DENVER – A judge has approved the forced medication of a mentally ill Danish man accused of starting a wildfire that burned 149 homes in Colorado in 2018, lawyers said Wednesday. The develop...
Senator promotes $60 billion Outdoor Restoration Partnership Act in tour around Colorado