Dry and windy weather will likely postpone the preventive measures until at least fall
More than 1,000 firefighters backed by bulldozers and aircraft battled the largest active wildfire in the U.S. on Saturday after strong winds pushed it across some containment lines and clos...
Multiday simulation includes mock evacuations of hospital, subdivisions
ALBUQUERQUE – More of the dry, windy weather that helped fan rare spring wildfires from New Mexico to Nebraska is expected to threaten the progress that firefighters have made in controlling...
OMAHA, Neb. – Beefed up fire crews made major progress on a large prairie fire burning near the Nebraska-Kansas line on Tuesday and lighter winds allowed firefighters to keep flames from adv...
Air quality could decline as smoke drifts this way from Arizona and New Mexico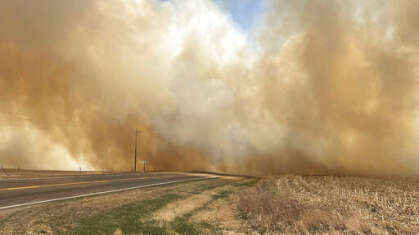 OMAHA, Neb. – Firefighters across the country are battling growing wildfires as tinder-dry conditions and high winds whip up flames from Arizona to Florida — including a wildfire in rural so...
Projections suggest peak of the fire season will start in mid-May
FLAGSTAFF, Ariz. – Destructive fires in the U.S. Southwest have burned dozens of homes in northern Arizona and put numerous small villages in New Mexico in the path of danger, as wind-fueled...
Douglas Siddens' mother was among those who made it out with just the clothes on her back when a deadly, wind-fueled wildfire ripped through a mountain community in southern New Mexico. The ...
Preparations will begin mid-April and trails will close during the wildfire operations just north of Durango
More than 200 residences charred near Ruidoso