Early break by Ferrara doesn't get to line but gets New Mexico rider second; Howard Grotts third
It was nearly identical to four years earlier in the eyes of former Olympian Howard Grotts. An early breakaway was allowed to get away. A young phenom from Durango had to chase down an older rider from New Mexico, and Grotts had the best view to watch it all happen.
At the 2017 Iron Horse Bicycle Classic professional men's road race, that young Durango cyclist was Sepp Kuss, who chased down Albuquerque's Mark Aasmundstad, then 42 years old, on the final climb of Molas Pass and went on to win his first IHBC before going on to worldwide fame at the Tour de France and Spanish Vuelta.
At the 49th edition of the famed 47-mile race Saturday, it was 19-year-old Riley Amos who chased down 42-year-old rider Fortunato Ferrara of Santa Fe as the race climbed Molas Pass at 10,910 feet above sea level.
Amos, two weeks removed from a second-place finish at an under-23 World Cup mountain bike race in the Czech Republic, never looked back once he found out Ferrara was the last man to pass, and he slapped hands with adoring spectators in downtown Silverton as he completed the long stretch up historic Greene Street to the finish line with a winning time of 2 hours, 17 minutes, 53 seconds.
Riley Amos wins the 49th Iron Horse Bicycle Classic!!!! #IHBC! 2:18 is the time. That's unreal! @DurangoHerald pic.twitter.com/Zke2jWQUmO

— John Livingston (@jlivi2) May 29, 2021
While IHBC records from the 1970s don't list age, it is believed Amos is the youngest road race champion in the history of the event.
"We were on the limit on Coal Bank trying to catch up," Amos said. "I knew if I could catch (Ferrara), I could leave him, and that had me excited. I had that little bit of snap in my mountain bike legs today, and it feels so good to get this win.
"I woke up this morning excited to race – didn't sleep much last night and probably less than I did for those first two World Cups this year. I was so excited to race with Howard Grotts, Todd Wells, Ned Overend. To be in this race with those guys was incredible, and to win it feels amazing."
Amos' time was more than three minutes faster than Kuss in 2017, but this year's race started 1.2 miles closer to Silverton by avoiding the North Main Avenue stretch of Durango. Still, Amos' speedy time was indicative of the grueling effort it took on Coal Bank Pass – with a summit of 10,610 feet – to reel in a group of three breakaway riders with the two New Mexicans Joseph Bacala and Ferrara along with Fort Lewis College alum James Hilyer, a former collegiate road and track cycling national champion for the Skyhawks.
As the race neared Purgatory Resort, Grotts surged to the front of the chasing peloton along with Scott Simmons. Amos said he could sense Grotts was getting anxious about the break riders getting too far away.
Eventually, the chase group whittled down to Grotts, the 2018 IHBC champion, Amos' Bear National Team comrade Robbie Day and Wildlife Generation Pro Cycling rider Cormac McGeough, another FLC cycling alum.
"We knew we were running out of time once we got to Coal Bank," Amos said. "We had to turn it on if we were going to catch him."
As the race came within a mile of the Coal Bank summit, it was Grotts and Amos who dropped Day and McGeough, just as Grotts and Kuss had done in 2017 in an effort to chase down the solo leader.
"The race was almost a carbon copy of four years ago," Grotts said. "One breakaway from the very beginning, Riley caught him, I couldn't catch. This time, we did know there was a break, and four years ago we didn't. But in 2017, the time gap was huge, like 10 minutes or something. This time, Ned (Overend) was telling us we had to go, and we were getting the time splits."
Amos would put in an attack shortly before the summit of Coal Bank to get away from Grotts, and he used his larger frame to close the gap to Ferrara on the ripping downhill at speeds near 50 mph.
"I knew if I attacked Howard over the top of Coal Bank it would be hard for him to come back, so I put in an extra effort atop Coal Bank as hard as I could," Amos said. "I caught eyes on the leader right at the bottom of Molas and just held steady and didn't look back."
As U.S. Highway 550 hit a switchback right turn to begin the climb of Molas Pass, Amos was within a few hundred yards of Ferrara, and Grotts could look up the pass and see the winning move being made.
As Amos absorbed Ferrara, the former Tour of the Gila winner looked to Amos and asked his name.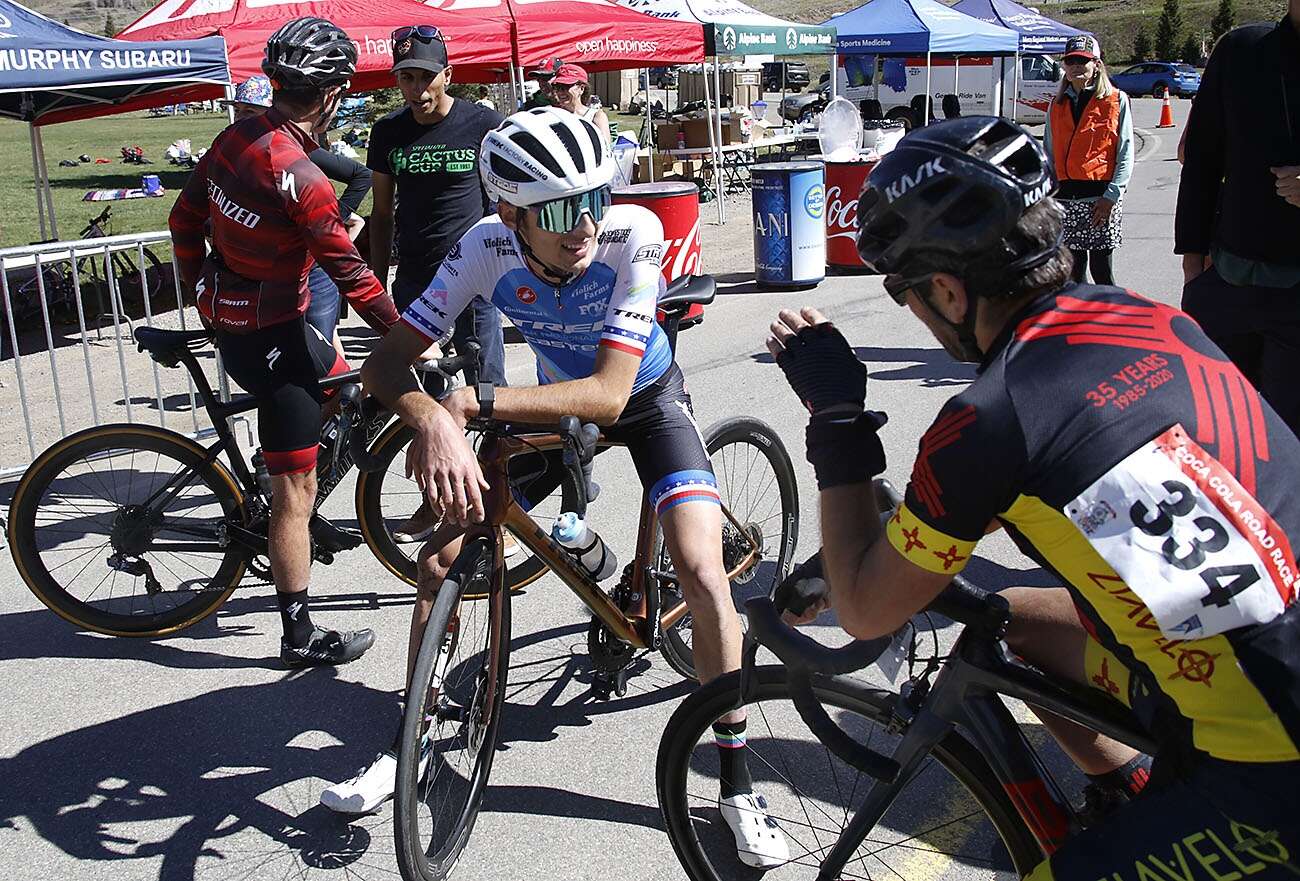 "Riley," the young Durangoan said.
"Huh?"
"Riley Amos."
A name that won't be forgotten.
Amos had time to savor his win as he reached Silverton. Ferrara, who was strong all day and never once cracked, marveled at the strength of Amos, but he could be proud of his gutsy ride from the front that started only a few miles into the race.
He also could revel in his second-place finish ahead of Grotts in 2:19:33.
"I feel pretty happy," Ferrara said. "It was a nice move to go in the break and have that gap at the beginning of the climb because those young kids are very fast. In this way, I could do Coal Bank at my pace and save energy. I am pretty good at pacing myself and wanted to time trial the two main climbs. On Molas, when the young kid passed me, I said, 'Well, I think second is good enough.' There was nothing I could do. He was faster, fresher. To be second with these very good riders, it is very good."
Grotts finished in 2:20:18 in his first big race since the 2019 Leadville 100. He stepped away from full-time pro mountain biking and back into the world of academics in Montana.
"I definitely maybe spent a little too much on Coal Bank," Grotts said. "Riley clearly was stronger, and he did the smart road racing thing by attacking me. It would have been better for me if I could have sat in behind him on the descent and worked with him a bit more, but I'm sure he felt he was strong enough to go solo from there, so it made sense to do that, and I could just watch the whole thing play out as we were going up Molas.
"Every single year, Riley becomes a more mature racer. If you perform well at a mountain bike World Cup, it translates well to doing the Iron Horse. He lives at altitude, and that transition isn't too different, either. He's on an upward trajectory, and it will be cool to see what he does the rest of this year and beyond."
Five-time IHBC winner Ned Overend, 65, noticed the break immediately in the Animas Valley. As he did in 2017, Overend urged the peloton to work harder to bridge the gap and not make the race so dramatic, but the strength of this year's break with Bacala working hard for Ferrara and Hilyer in his element on home roads was much stronger than that of Aasmundstad in 2017.
Overend finished seventh overall in yet another top-10 showing. He has raced the event every year since 1982, with his first win in 1983 and last in 2011.
"I thought our local guys blew it by letting that break go," Overend said. "I thought Fortunato was going to win because he's pretty smart and he won Mount Evans a couple years ago, so he can climb. And I know James Hilyer is super strong in that break. It's frustrating to me. The guys who are thinking about the race need to pay attention to that break earlier. This year, I didn't care so much because I knew I wasn't going to be in contention to win it. I hoped maybe (Hilyer) would win it on a long shot. Fortunato wouldn't have bothered me with the incentive he showed getting in that early break, but it's great Riley Amos caught him. It made the race interesting."
McGeough would finish fourth after fading a bit on Coal Bank alongside Day, as Amos and Grotts surged. He recovered well to cross the line in 2:21:03.
"It always surprises me how the race kind of happens in slow motion at altitude," McGeough said. "You can't make those high-level accelerations. The group drifted away from me halfway up Coal Bank. I attacked on the downhill of Molas and caught Robbie to come in solo for fourth.
"The break made us have to go harder on Coal Bank. It wasn't punchy with attacks, it was just steadily hard. Hearing Riley Amos hooting and whooping and smiling up Coal Bank, it was impressive seeing how much fun he was having. It's cool for the future for Durango cycling and good to see him winning, enjoying it and making the most of it."
Todd Wells, 45, came up short of his first IHBC road race win. The three-time mountain bike Olympian did win a sprint for fifth ahead of Day in 2:21:33.
Rounding out the top 10 was Durango's Stephan Davoust in eighth, Leroy Popowski of Colorado Springs ninth and Henry Nadell, another FLC cycling alum, in 10th.
Amos, who will leave in a week for for another mountain bike World Cup race in Austria, put his name alongside some of the most prestigious in Durango's famed cycling lore with a win that won't be forgotten going into next year's 50th anniversary of the second-longest running road race in the country.
"I continue to be pleasantly surprised with myself. That list of people who have won this race, it feels good to finally perform on a professional level and be among those guys," Amos said. "Making bike racing my career is what I want to do, so to be up with guys like Howard, Todd, Ned and Sepp, hopefully I can keep it going for years to come."
But before he travels back to Europe, Amos and Grotts will duke it out one more time Sunday in the IHBC men's pro mountain bike race in Horse Gulch and the Durango Mesa Park.
"That's going to be interesting. Time to ice the legs and suffer in the sun with Riley again tomorrow," Grotts said
jlivingston@durangoherald.com