Mother: 'He was way more than a pilot'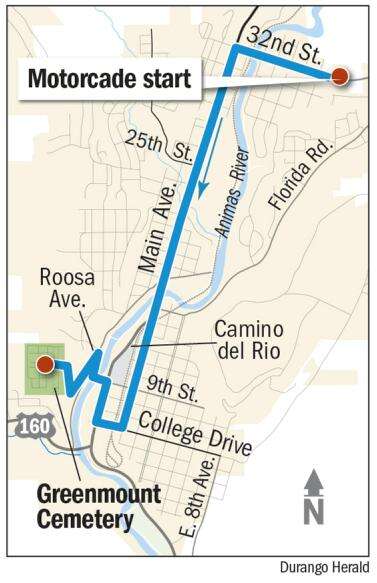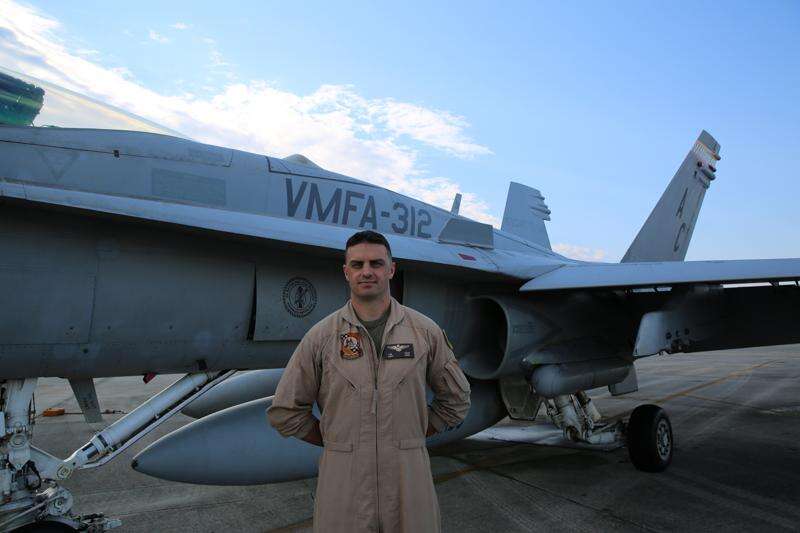 For five days, the coverage of the death of Marine Capt. Jeff Kuss, a member of the Blue Angels has focused on his life as a pilot. But for La Plata County residents, the Durango native was the kid they watched grow up in a deeply rooted local family.
"We want the world to know who he was. He was way more than a pilot," his mother, Janet Kuss, said from Pensacola, Florida, in a phone interview Tuesday. "He was humble, humorous and handsome. He made everyone feel like he was their best friend. We learned so much from him."
Jeff Kuss died Thursday when his plane crashed shortly after takeoff for a Blue Angels practice session for an airshow in Tennessee.
His personality and commitment are what his family will most remember.
"He was such a positive guy, the positive kid who worked hard," Janet Kuss said. "It didn't come easy, he worked hard for all his goals, and he took it very, very seriously."
In addition to his mother, wife, Christina, and children Calvin, 4, and Sloane, 1, Jeff Kuss' father, Michael Kuss, and brother, Eric Kuss, are in Pensacola. When they bring Jeff Kuss' body back to Durango on Friday, it will truly be a return home.
"We were a Sunnyside family," Janet Kuss said. "He had the best teachers and support group at Sunnyside Elementary School."
Everything started, she said, when her son attended Sunnyside Farms Preschool.
"Ginny Benton didn't just start his love of flying and jets, she was an important character builder, taught him manners, really groomed him to be what he grew into," Janet Kuss said.
His mother doesn't have many memories of Jeff Kuss' time at Escalante Middle School – those are years parents just try to get through, she said.
"But he played the violin through middle school and high school," she said. "And at the time of his death, he had become quite an accomplished guitar player. One of his favorite things was playing to his kids in the evening."
While Jeff Kuss' involvement with the Durango High School tennis team has been recounted, his most beloved sport was soccer, Janet Kuss said, and Jeff Kuss played on the DHS varsity soccer team.
"He started when the kids were young," Janet Kuss said, "and at first I was his coach, and then Michael was his coach."
One of the family's favorite memories is climbing all 54 of Colorado's Fourteeners with the Kent and Becky Wigton family over a period of many summers. They finished when Jeff Kuss was a student at Fort Lewis College.
"That was a big deal," Janet Kuss said. "Everyone has to pull their weight, learn how to set camp, climb and be safe. There's a lot of camaraderie."
Jeff Kuss graduated from Durango High School in 2002 and from Fort Lewis College in 2006 with a bachelor's degree in economics.
His wife, Christina Ferrarese, who also grew up in Durango, also graduated from DHS in 2002 and earned a bachelor's degree from FLC. The couple married circa 2009, Janet Kuss said.
Jeff Kuss talked about his philosophy of life in an interview with a Durango Herald reporter at the end of January as he prepared to fly over the Super Bowl.
"We're excited to represent the men and women in our military and just show people a brief glimpse of the discipline and the focus we have in our formation and our flight demonstration and hopefully pique some interest in the crowd about serving our country either in the military or just public service of some sort," he said. "Our goal is just to inspire and have kids and youth strive for excellence and just try to be good people. So if you want to go out and be a doctor or plumber or lawyer or a fighter pilot – whatever you want to do – you just go out and work your hardest and be a good person and make those around you better."
His Durango roots always mattered to him.
"It's an honor for me coming from Durango," Jeff Kuss said in January, "and now being here and looking back and saying, 'Gosh, if I were 7-year-old me and looking at what I was able to do, it would be pretty cool.' I'm pretty proud to be from Durango."
In Pensacola
Before Jeff Kuss comes home, his adopted home of Pensacola, where the Blue Angels are stationed, will mourn him. After a full military memorial service in the morning, a public candlelight vigil will be held from 7:30 to 8:30 p.m. at Veterans Park in Pensacola on Thursday.
His family's time in Pensacola has been overwhelming, Janet Kuss said.
"The whole town of Pensacola has been unbelievably kind to us," Janet Kuss said, "but every turn here reminds you of him."
On Tuesday, the Blue Angels announced cancellations at two more air shows, one in Syracuse, New York, and another in Ohio, in addition to last weekend's scheduled event in Smyrna, Tennessee, where the crash occurred.
Jeff Kuss' commanding officer released a statement:
"Jeff absolutely loved our Sunday evening arrivals," Cmdr. Ryan J. Bernacchi said. "Flying in over downtown, 'smokin' the beach' from Pensacola to Perdido (Key), and then the hitting the Delta Pitch Up Break at sunset into Naval Air Station Pensacola. The smile I would see radiating from under that gold visor was truly spectacular. It emanated the pride, passion and pure joy that he felt representing the Navy and Marine Corps, flying Blue Angel 6 ... As Jeff's family and the Blue Angels have navigated this immensely difficult time, a constant gift has been the unwavering support from our hometown of Pensacola and from all across this great nation. This great city, and also this great nation, have lost a Blue Angel. We are all grieving this tremendous loss and inspired by the life he lived so incredibly well."
abutler@durangoherald.com
A GoFundMe site has been set up to benefit the family of Marine Capt. Jeff Kuss, a Durango native.
The fundraiser was set up by Kuss' sister-in-law, Nicole Perino.
"Captain Kuss made the ultimate sacrifice and has left behind his precious wife, Christina, and two small children, Calvin, 4, and Sloane, 1," the page reads. "This family needs all of our support and Jeff is a true American hero who saved the lives of thousands in this terrible tragedy. Jeff was born and raised in Durango, Colorado, and learned to fly before he could drive."
By Tuesday afternoon, 3,360 donors had contributed more than $271,000 toward the goal of $500,000.
To donate, visit
www.gofundme.com/jeffkuss.
Also, the International Council of Air Shows has established a fund for the family, according to its website. The organization provides financial assistance to members of the air show community after a death or other catastrophe. Donors may contribute money to the Capt. Jeff Kuss Foundation at
www.icasfoundation.org
.
The schedule for Capt. Jeff Kuss' services has been established:
Tuesday
Pensacola flyover: 5:45 p.m. CDT. Fat Albert, the Blue Angels' C-130 Hercules, has been renamed No. 6, Kuss' flight number, Kuss' mother, Janet Kuss, said. Accompanied by one F/A-18 Hornet, the planes the Blue Angels fly, No. 6 flew over downtown Pensacola, Pensacola Beach and Perdido Key, Florida, to bring his body to Naval Air Station Pensacola, the Blue Angels' home base. Blue Angels Lead Solo Lt. Ryan Chamberlain flew the Hornet.
Thursday
Memorial service: 11 a.m. CDT at the Naval Air Station Pensacola Chapel. "It will be a full-on military ceremony, with military honors and a military chaplain," Kuss' mother, Janet Kuss, said. "Jeff was a detail guy, and he would have wanted all the details." A candlelight vigil is planned for 7:30 p.m. at Veterans Memorial Park in Pensacola.
Friday
Return to Durango: No. 6 will fly Kuss' body home to the Durango-La Plata County Airport. The family prefers a private return, his mother said.
Saturday
Motorcade: Beginning at 11 a.m. on 32nd Street, a motorcade will drive along Main Avenue south to College Drive. It will run west on College to Camino del Rio, where it will turn right and proceed to the 9th Street Bridge, where it will turn left and go to Greenmount Cemetery. Residents are encouraged to line the motorcade route. Road closures and traffic delays are likely, but the Durango Police Department is working out the details on managing the 4-mile route, Lt. Ray Shupe said.
Graveside service: The service – and the cemetery – will be closed to the public, but residents may hear the 21-gun salute. Marine Fighter Attack Squadron 312, the famous Checkerboards and Kuss' unit before the Blue Angels, will fly over in the Missing Man formation. The Rim at Fort Lewis College will be one good viewing point for the flyover.
Reception: 2-4 p.m. at the Student Union at Fort Lewis College. The family will receive friends. "I want to greet the public and give a handshake or a hug to everyone," Janet Kuss said, "to help the community heal."