Naval demonstration team was practicing for show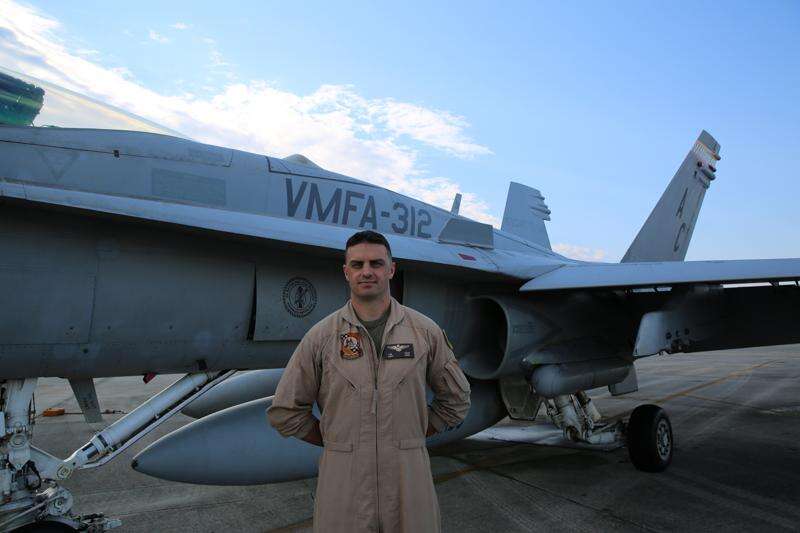 A U.S. Navy Blue Angels pilot from Durango was killed in a fiery jet crash near Smyrna, Tennessee, on Thursday afternoon.
According to an unnamed U.S. official who confirmed to the Associated Press, Marine Capt. Jeff Kuss, 32, was killed in the 3 p.m. crash. The Blue Angels, the U.S. Navy's flight demonstration team, were preparing to perform in the Great Tennessee Air Show this weekend. The Blue Angels team has been grounded and will not participate in the show, the Naval Air Forces said after the crash.
U.S. Navy Commander Jeannie Groeneveld, a spokeswoman for the Naval Air Forces, said policy requires a 24-hour wait after notifying next-of-kin before releasing the name and side number of the aircraft, so she would not confirm Kuss as the victim.
She said the jet, an F/A-18 Hornet, was taking off for a practice flight when it went down, and the victim was the sole occupant.
"There were five other aircrafts in flight, but they landed safely," Groeneveld said.
A fireball and thick black plume of smoke from the crash could be seen just beyond the runway at Smyrna Airport and from Interstate 24 in the minutes after the crash, The Tennessean reported. First responders reported that some live power lines came down in the crash and caused some additional fires and power outages in the area. The crash occurred about two miles from the airport and it was not close to any homes, officials said.
There was no collision involved in the crash and the cause is under investigation. The results may not be available for months, Groeneveld said.
Kuss, a Durango native and graduate of Durango High School, where he played tennis. He was a graduate of Fort Lewis College, and joined the Blue Angels team in September 2014.
He registered more than 1,400 flight hours and 175 carrier-arrested landings, and received flight training at Naval Air Stations in Pensacola and Corpus Christi.
"He grew up in Durango, and his family was so proud of him. He made Durango proud," said Mike Elliott, a family friend. "He was a talented young man, and I'm so sorry at the news."
Late Thursday afternoon, Fort Lewis College posted on its Facebook page: "We are deeply saddened by the loss of one of our own, alum Captain Jeff Kuss. Our thoughts are with his family and friends."
Also, FLC President Dene Thomas relayed condolences on Twitter, "This is a difficult day for the Fort Lewis College family. Our thoughts are with Captain Kuss' family and friends."
Kuss received the Strike Flight Air Medal and the Navy and Marine Corps Achievement Medal, though in February, he received one of the highest honors a Coloradoan can have, by his standards: he was one of six pilots to sweep over Levi's Stadium in Santa Clara, California, just before kickoff at the 2016 Superbowl, in which the Broncos were victorious.
Since he was a toddler, Kuss loved jets, and he learned to fly in Durango before he was 16 years old.
He is survived by his wife, Christina, and two young children, as well as his parents, Michael and Janet Kuss of Durango.
His family could not be reached for comment.
"The Navy is deeply saddened by the loss of this service member," the Naval Air Forces said in a statement. "We extend our heartfelt thoughts and prayers to the family of the pilot, and those he served with."
The biography of Capt. Jeff Kuss posted on the Blue Angels website:
Captain Jeff Kuss is a native of Durango, Colorado, and graduated from Durango High School in 2002. He attended Fort Lewis College, Durango, Colorado, and graduated with a Bachelor of Arts degree in Economics in 2006. Jeff was commissioned a Second Lieutenant in the U.S. Marine Corps through the Officer Candidate Course in 2006 and reported to The Basic School at Marine Corps Base Quantico, Virginia, to complete training.
Jeff reported to Naval Air Station (NAS) Pensacola, Florida, for aviation indoctrination in July 2007. He completed primary flight training in the T-34C Turbo Mentor at NAS Corpus Christi, Texas, and completed advanced training in the T-45A Goshawk at NAS Kingsville, Texas. He received his wings of gold in November 2009.
Jeff then reported to Strike Fighter Squadron 125 (VFA-125), the "Rough Raiders," at NAS Lemoore, California, for initial training in the F/A-18 Hornet. He reported to Marine Fighter Attack Squadron 312 (VMFA-312), the "Checkerboards," at Marine Corps Air Station Beaufort, South Carolina, in February 2011, where he served as Squadron Mess Officer, Naval Air Training and Operation Procedures Standardization Officer (NATOPS), Powerline Division Officer, and Pilot Training Officer. Jeff reported to U.S. Navy Fighter Weapons School (TOPGUN), NAS Fallon, Nevada, in July 2012 and graduated in September 2012. While assigned to VMFA-312, Jeff deployed with Carrier Air Wing THREE (CVW-3) aboard USS Harry S. Truman (CVN-75) in support of Operation Enduring Freedom. VMFA-312 earned the 2013 Robert M. Hanson Award as the Marine Corps Association's Fighter Attack Squadron of the Year.
Jeff joined the Blue Angels in September 2014. He has accumulated more than 1,400 flight hours and 175 carrier-arrested landings. His decorations include the Strike Flight Air Medal, the Navy and Marine Corps Achievement Medal, and various personal and unit awards.