Town prepares for family to bring Blue Angel pilot home for burial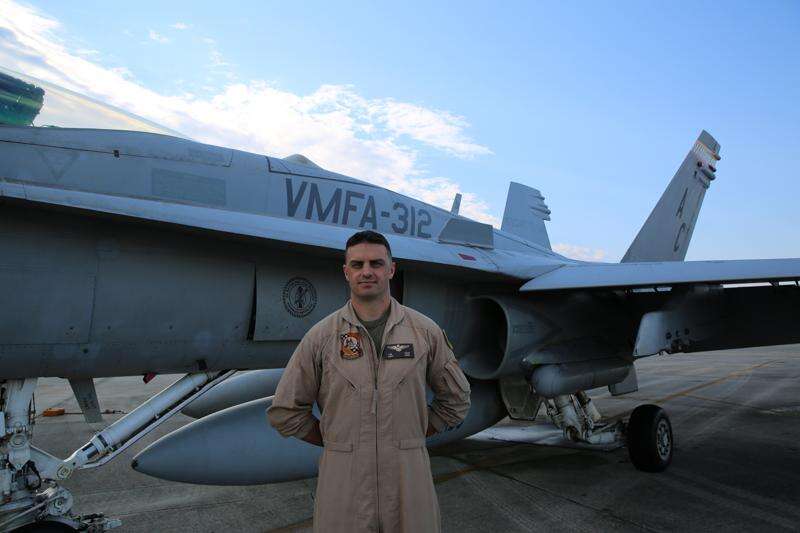 More ways to honor Durango native Capt. Jeff Kuss have been created as family and friends begin to process his death.
Kuss, 32, died June 2 when his plane crashed shortly after takeoff during a Blue Angels practice session for an airshow in Tennessee.
Two scholarships have been founded in his name:
The Jeff Kuss Memorial Scholarship has been founded by the family through the Fort Lewis College Foundation. Kuss graduated from FLC in 2006, and the scholarship will be used to help veterans get their degrees."We would like to create something permanent to remember Jeff," said Kuss' uncle John Byrd, "and help those men and women who have, like Jeff, given precious years serving their country."
"There is a great need for scholarships for veterans," said Sandy Jameson, scholarship manager for the foundation. "I just checked with the records office, and about 150 students are registered as veterans. The registrar explained that most likely there are more out there that don't register but need the assistance."
The Captain Jeff "Kooch" Kuss USMC Memorial Scholarship has been established by the Marine Corps Scholarship Foundation. In addition to the scholarship, which will benefit the children of fallen Marines or Navy corpsmen, the foundation has pledged up to $30,000 in post-high school scholarship funding to Kuss' children, Calvin and Sloane, once they reach college age. That funding will be made available through its Heroes Tribute Scholarship Program.The foundation, founded in 1954, has provided more than 35,000 scholarships valued at almost $100,000,000 to eligible students.
•••
In other news, as the town prepares for Kuss to be brought home by his family for services Saturday, it's also gearing up for 300 Marines to arrive.
Steamworks Brewing Co. announced it will be closed after lunch service Saturday to accommodate a private memorial gathering for military personnel and family and friends.
"Capt. Kuss is a fallen hero and a native son," said Kris Oyler, Steamworks co-founder. "Typically, we would not completely close the restaurant and inconvenience our patrons who often make Steamworks a destination, particularly on a weekend, but we felt it important to support those who serve and sacrifice much for the country."
abutler@durangoherald.com
Flags, ribbons to line motorcade
American flags and blue and yellow ribbons are planned to line the motorcade route in honor of Jeff Kuss.
A group will gather from 6 to 8 p.m. Friday at the bottom of Greenmount Cemetery Hill to help decorate the motorcade route with blue and yellow ribbons through downtown to the cemetery gate.
Parking may be limited at Greenmount Hill, so attendees are asked to carpool and park near the Ninth Street bridge.
Those planning on attending Saturday's motorcade procession can also pick up free American flags at the Chamber of Commerce and Durango Olive Oil Company.
There are 100 American flags available at each location. There are also blue and yellow ribbons to decorate the motorcade route, and a limited number of memorial wrist bands and pins available at the Chamber of Commerce.
The motorcade will start at 11 a.m. on 32nd Street and drive along Main Avenue south to College Drive. It will run west on College to Camino del Rio, where it will turn right and proceed to the Ninth Street bridge, where it will turn left and go to Greenmount Cemetery. Residents are encouraged to line the motorcade route.
The Chamber of Commerce is open from 8 a.m. to 5 p.m. in Santa Rita Park.
The Olive Oil Co., 640 Main Avenue, is open from 10 a.m. to 5:30 p.m.
There are several ways to support the Kuss family as they bring Marine Capt. Jeff Kuss home this weekend. They would prefer the following options to flowers:
A GoFundMe site has been set up to benefit the family of Marine Capt. Jeff Kuss, a Durango native.
The fundraiser was set up by Kuss' sister-in-law, Nicole Perino.
By Wednesday afternoon, more than 3,650 donors had contributed almost $298,000 toward the goal of $500,000.
To donate, visit
The International Council of Air Shows has established a fund for the family, according to its website. The organization provides financial assistance to members of the air show community after a death or other catastrophe. Donors may contribute money to the Capt. Jeff Kuss Foundation at
.
A separate fund has been created to help the family pay for expenses related to the memorial service in Durango and the public reception Saturday afternoon. Donations to the Jeff Kuss Memorial Fund may be made at the Bank of the San Juans/Division of Glacier Bank, 144 E. Eighth St., Durango, CO 81301.
The Jeff Kuss Memorial Scholarship has been founded by the family through the
to help veterans get their college degrees. Donations may be made at
www.https://apps.fortlewis.edu/makeagift
.
The
Marine Corps Scholarship Foundation
has set up the Captain Jeff "Kooch" Kuss USMC Memorial Scholarship and will accept donations to help the children of fallen Marine or Navy corpsmen pay for post-high school education. Donations may also be made to the foundation's
Heroes Tribute Scholarship Program
, which has committed to up to $30,000 for Kuss' children Calvin and Sloane when they reach college age.