Tribute to Durango native Jeff Kuss spreads downtown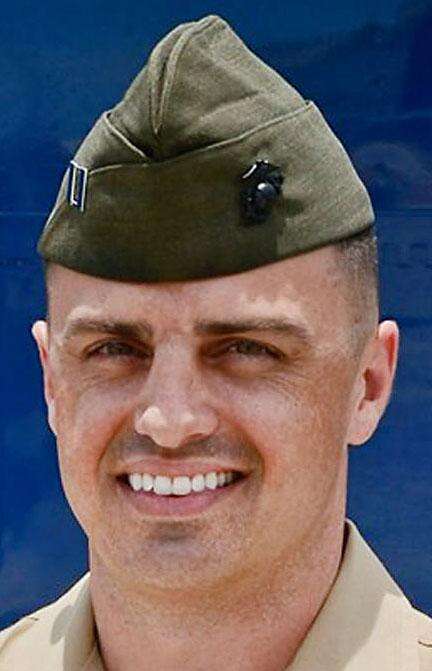 Blue and yellow ribbons were waving on downtown Durango storefronts Friday evening in honor of
The Durango Chamber of Commerce, Fort Lewis College and the Durango Business Improvement District are displaying ribbons in blue and yellow to represent the Blue Angels and Fort Lewis College, where Kuss received his diploma.
"We want people to show support for Marine Capt. Jeff Kuss and his family in putting up blue and yellow ribbons in their homes, place of business or any place to show support for this tragic loss," said Jack Llewellyn, executive director of the Durango Chamber of Commerce, who organized the event with his wife, Cherie Morris-Llewellyn.
"I have friends who were friends of Jeff's," said Josiah Williams, who joined other community members Friday in hanging ribbons. "It's a good cause, and the right thing to do."
Ellen Schneider, a local pilot, was among the participants.
"I want to show support for the military," she said. "My son is in the Marine Corps, and I can only imagine how I would feel in this situation."
Also Friday, the leader of the U.S. Navy Blue Angels appeared at a news briefing to pay tribute to his fallen colleague, calling him "an incredible husband, father, son, Marine and teammate," the Tennessean reported.
Blue Angels Flight Leader Cmdr. Ryan Bernacchi confirmed that Kuss was the pilot who died Thursday when his F/8-18 Hornet crashed at 3:01 p.m. in a field off Sam Davis Road in Smyrna. He was practicing with five other Blue Angels pilots for the Great Tennessee Airshow this weekend.
Kuss "embodied and inspired in all of us an incredible spirit of compassion, courage and resiliency," Bernacchi said.
"We lost an aviator that believed so deeply in the mission of inspiring others," Bernacchi added. "We need time to grieve this tremendous loss."
Speaking to a crowd of reporters, Bernacchi thanked first responders, emergency crews and the people of Smyrna, who have responded to the crash with an outpouring of grief and patriotism.
"You will never know how much your support means to us," Bernacchi said. "On behalf of the Blue Angels, thank you."
Kuss, 32, who joined the Naval flight demonstration team in 2014, is survived by his wife, Christina, and two young children, as well as his parents, Janet and Michael Kuss, and other family members in Durango.
His grandfather, reached at his Durango home late Thursday, struggled to gather his thoughts, The Associated Press reported.
"It's hard to put into words right now, but it's beautiful that a person can live and die engaged in their life's pursuits," said Dolph Kuss. "This was his dream since he was a child, to be an aviator, a flier.
"It's hard to celebrate someone's life in this way," he said, choking back tears. "It is certainly a shock. Everything in life has its dangers, I guess."
Kuss was a decorated Marine captain who received his flight training at Naval Air Stations in Pensacola and Corpus Christi. In February, he was among six pilots to fly over Levi's Stadium just before the 2016 Superbowl kickoff, which was a win for the Denver Broncos.
Kuss graduated from Fort Lewis College in 2006 and left a lasting impression.
"Every faculty member has some students that they think of as being one of theirs. He was one of mine," economics professor Stephanie Owings-Edwards wrote in an email. "I can tell you exactly where Jeff sat in my Principles class. He was the only student in that class who seemed interested in what I was saying."
Owings-Edwards said Kuss did not immediately excel in economics, but he rose to the challenge and that quickly changed.
"I remember driving by Jeff on winter mornings, his face flushed, jogging along Goeglein Gulch. Absolutely no one else was out," she wrote. "But he knew that the physical training regime for the Marines would be demanding and he was going to be prepared. He was a case study in how far determination and dedication could take someone."
In Smyrna, hundreds of people attended a candlelit memorial service Thursday evening to honor Kuss, according to the Tennessean.
"Our hearts are deeply saddened by today's (Thursday's) tragic and devastating accident," John Black, executive director of the Smyrna/Rutherford County Airport, said in a statement posted on the air show's Facebook page. "Show management has discussed the relative advantages and disadvantages of continuing the show. After close consultation with the Blue Angels, regulatory officials and the performers, we have made the decision to carry on with this weekend's show."
The Blue Angels team was grounded after the crash and will not perform this weekend.
jpace@durangoherald.com
A gofundme site has been set up to benefit the family of Marine Capt. Jeff Kuss, a Durango native.
The fundraiser was set up by Kuss' sister-in-law, Nicole Perino.
"Captain Kuss made the ultimate sacrifice and has left behind his precious wife, Christina, and two small children, Calvin, 4, and Sloane, 1," the page reads. "This family needs all of our support and Jeff is a true American hero who saved the lives of thousands in this terrible tragedy. Jeff was born and raised in Durango, Colorado, and learned to fly before he could drive."
By Friday evening, donors had contributed $89,000 toward the $250,000 goal.
To donate, visit
www.gofundme.com/jeffkuss.
Also, the International Council of Air Shows has established a fund for the family, according to its website. The organization provides financial assistance to members of the air show community after a death or other catastrophe. Donors can contribute money to the Capt. Jeff Kuss Foundation at
www.icasfoundation.org
.