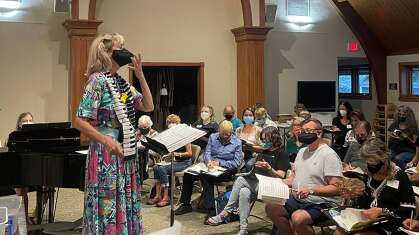 50th season anniversary resumes with 'Viva Vivaldi!'
NEW YORK – Since returning to Broadway's "American Utopia" after the pandemic pause, David Byrne has noticed a few things about his audience: It seems younger, a little more diverse and peo...
Recital series opens with chamber trio celebrating the visual arts
Southwest Apple Fest will be held from 11 a.m. to dusk Thursday and Friday Sept. 30-Oct. 1 at Orchard Park in downtown Farmington, with the fall Downtown Art Walk also taking place from 5 to...
Annual festival hits town next weekend
LOS ANGELES – Britney Spears' father filed Tuesday to end the court conservatorship that has controlled the singer's life and money for 13 years. James Spears filed his petition to terminat...
Chapman Hill will host Concert on the Hill at 2 p.m. Saturday Sept. 11 at Chapman Hill Ice Rink & Ski Area, 500 Florida Road. The concert will feature music by Red Eyed Djinn, The Dole Boys,...
Three-day music festival takes over Tico Time
The 32nd annual Totah Festival and Indian Marketwill take place this from 10 a.m .to 6 p.m. Saturday and from 8 a.m. to 4 p.m. Sunday at Farmington Civis Center, 200 W. Arrington St. Feature...
NASHVILLE, Tenn. – Heavy rains from Hurricane Ida have forced Bonnaroo Music & Arts Festival in Tennessee to cancel as organizers say the waterlogged festival grounds are unsafe for driving...
San Juan Jazz Society will present the Farmington Jazz Festival from 5:30 to 10 p.m. Saturday, Aug. 28, at Farmington Civic Center, 200 W. Arrington St. The event will featuring free live ...
NEW YORK – The Rolling Stones are celebrating the 40th anniversary of their album "Tattoo You" with a remastered collection that includes nine previously unreleased tracks. The newly-remas...