Singer-songwriter to headline La Plata County Fair concert
San Juan County Fair kicks off Friday and runs through Aug. 13 at McGee Park, 41 County Road 5568. The fair will feature livestock shows, a parade, vendors and live musical performances. The...
Concert hall reopens to in-person shows
The Connie Mack World Series is underway at Ricketts Park this week. Pool play wrapped up over the week and the championship tournament is in full swing. The semi-final and final games will ...
NEW YORK – Federal prosecutors in R. Kelly's sex trafficking case say he had sexual contact with an underage boy in addition to girls, and the government wants jurors in his upcoming sex tra...
SunRay Park and Casino will resume hosting Comedy Nights at 7 p.m. Saturday, July 24, at the casino, 39 County Road 5568. Listen to the comedy of Don Barnhart and Guy Fessenden while enjoyi...
Rochester Hotel's Secret Garden will again host The Community Foundation's Community Concerts series from 5 to 7 p.m. Wednesdays in August. Nonprofits to be benefited by the series are Bear ...
Summer Fest and arts and crafts bazaar feature 80 vendors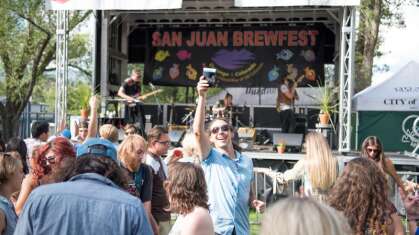 August 2021 festival will feature fewer breweries but same number of beers
DATE: Jul 13, 2021 | CATEGORY: Food
The American Indian Cultural ArtsFest will take place from 10 a.m. to 3 p.m. Saturday, July 24, at Aztec Ruins National Monument, 725 Ruins Road, Aztec. The event will feature diverse artis...
Northwest New Mexico Arts Council and Downtown Farmington will host an Art Walk from 5 to 9 p.m. July 16 in Downtown Farmington. The art walk will feature a variety of local artists and wil...
Fundraiser Saturday features music, poetry, climbing, scavenger hunt